Since the dawn of time, there have always been two roles when it comes to conquering kingdoms: attackers and defenders. Large armies try to penetrate impressive fortresses with walls full of archers, traps and soldiers guarding the integrity of the besieged city. Habitually, which had only one end, one side ended up being defeated. Over the years, the attackers had better weapons and tactics; but it also happened on the defense side. Each time, the defenses were a little more sophisticated, it is something that presents us kingdom rush.
He is tower defense puts us in the shoes of a city attacked by dark forces. Goblins, wizards, gargoyles, demons… All of them will be your enemies and they are ready to use any ability within their reach to achieve their objective: to conquer. Sure, the end result will depend on your strategy skillsthe placement of defense towers will be crucial in saving your world from these evil creatures.
If you are ready to face your destiny, then move with us to try to defeat the dark wizard who wants to take control.
Subscribe to the GX channel on Youtube
---
---
Graphic section
We are faced with a simple game, an aerial view and beautiful and curious graphics, although logically, We are not facing a title that brings out great potential in the console. Remember that this is also on mobile devices, so it is not a milestone in this section. But to be honest, it's a game that looks really nice and it's interesting to watch, especially with the shooting effects offered by the towers or certain enemies. The designs are very well implemented and we can find an interesting variety of rivals.
As for the sound section, it's very simple, we don't have a narrator to use who will tell us our story, but you will discover it as you choose the levels. At this time, a book will be displayed which will teach you the phase turn, and a brief description of what is happening at the village. Does this mean that there is no sound at all? No, we obviously have sound effects and voices in our defense towers, but only when we upgrade them.
---
gameplay
You may think that a game like this could have a difficult adaptation to the console and especially the controller, but the truth is that it does not. We are in front of a delivery which It adapts perfectly to the controls of our Xboxit even offers us two control models: The joystick does all the work or, on the contrary, we can also choose if we want to have a pointer on the screen so that it looks more like wh at we would see on a computer .
Leaving aside the subject of controls, let's move on to what the game offers us. We find ourselves before a story mode that offers us a total of 12 levels which will give you a maximum of five stars. First, you'll get a total of three stars for beating the level in a near-perfect manner; that is to say without any enemy crossing the path of the map. The remaining two stars are obtained through two challenges extra which complicate the game a bit. You will have leveling restrictions, there will be defense towers that you cannot use and you also cannot use your hero. Hero? It's a tower defense, what are you talking about? Hush, calm down, in a moment you'll see what I mean. We go first with another quick note on levels.
Once you complete the story mode, they will be unlocked new more complicated levels to test all your knowledge. Luckily, there are passive upgrades you can unlock to get stronger and even lower the cost of building towers. In fact, to play these levels it is recommended to have at least 50 stars in total in order to have more than decent passive abilities and upgrades. All this will greatly help you to overcome the most demanding levels, so better be well prepared.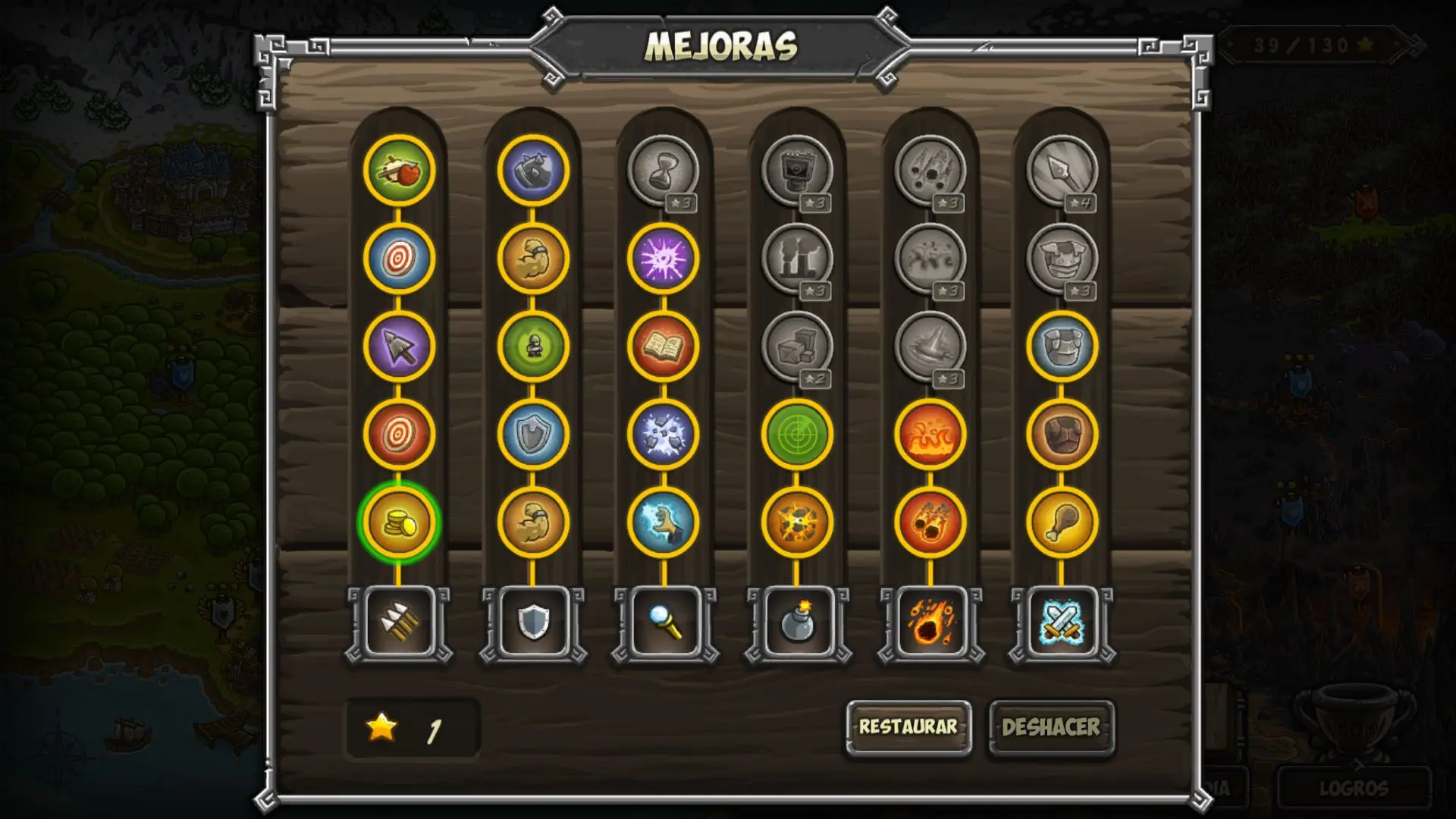 Now yeah, let's talk about the heroes a bit. We can have a character with certain abilities that we can use to cover parts of the path. Logically, we can move it around and tell it to cover certain areas. These heroes are really powerful and they will level up as they come into action. Undoubtedly, they will help us a lot in our mission. Even if, as I have said since the beginning of this analysis, we are facing a tower defense, so we are going to talk a little about the main weapons that will be within our reach.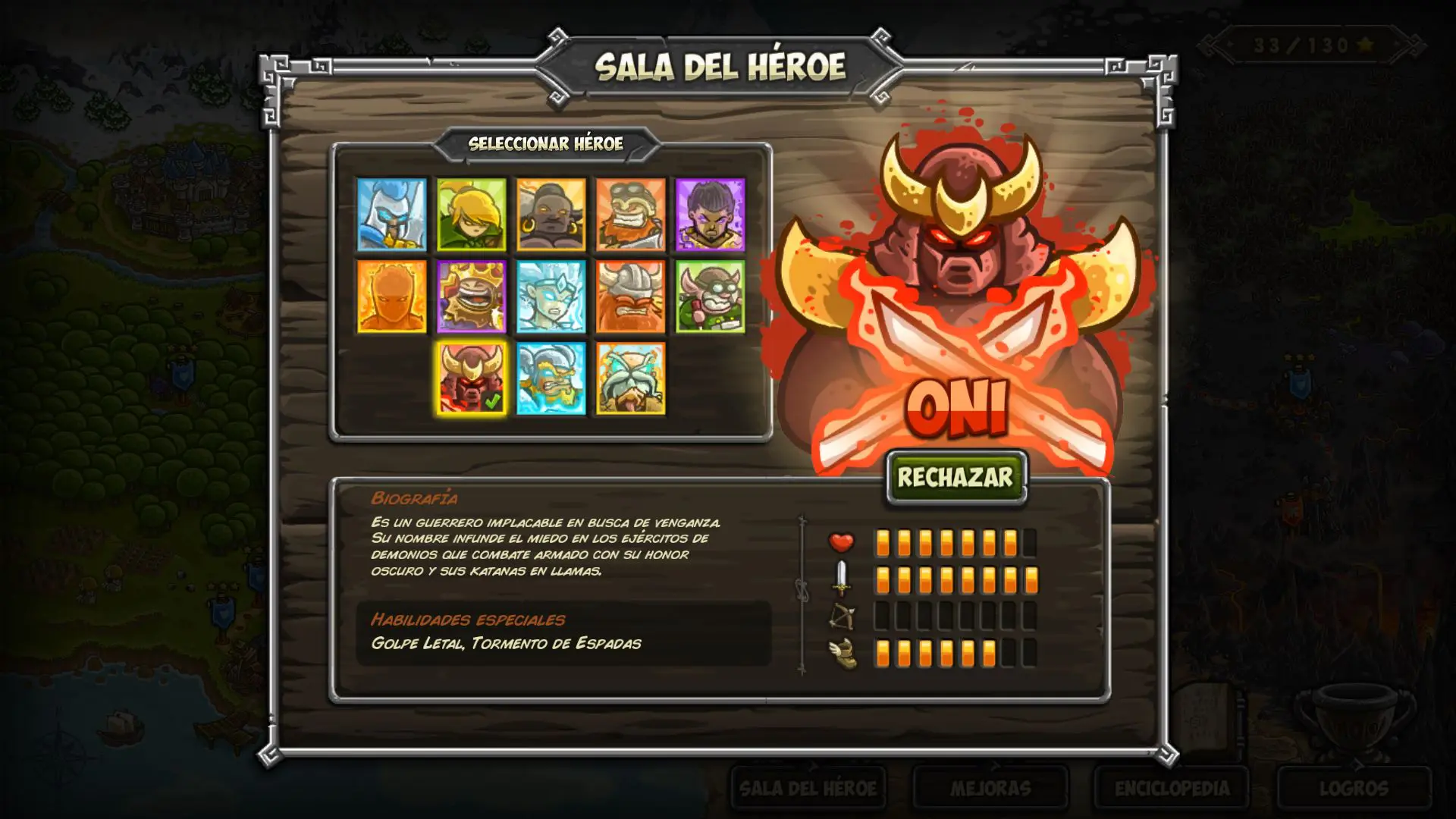 In concrete terms, we can take advantage four towers that will be responsible for disintegrating our enemies on the battlefield. Take good care of its placement, because if you don't have a well thought out strategy, this game will have no mercy for you. The rounds are as follows:
archers tower – They attack ground to air with a relatively high rate and not too much damage. With upgrade levels, you will even be able to poison your enemies.
barracks – On this occasion, the barracks will be responsible for blocking the path of enemies. You will have three soldiers that you can place on the path to fight for you, they will entertain the bad guys as they fight and the rest of the towers will focus fire on them.

magician trick – Another that provides us with land and air protection. Great for attacking enemies that have physical damage protection, upgrading it to max level will allow you to disintegrate enemies without mercy.
Artillery – A defense consisting of a kind of mortar. Ideal for attacking many enemies and ending hordes with a single blow. At its max level, you can even turn it into a tesla tower which will also help you with airborne enemies. A tower that cannot miss in your defense.
As you can see the variety isn't great, but it's more than enough to try and beat every level. As you noticed you can upgrade the towers in the middle of the game with gold, you will get these coins by defeating the enemies and advancing the waves so that they leave before the time. Although it seems that it is not up to the task, Kingdom Rush presents us with a gameplay very entertaining that will make us have good times at all its levels.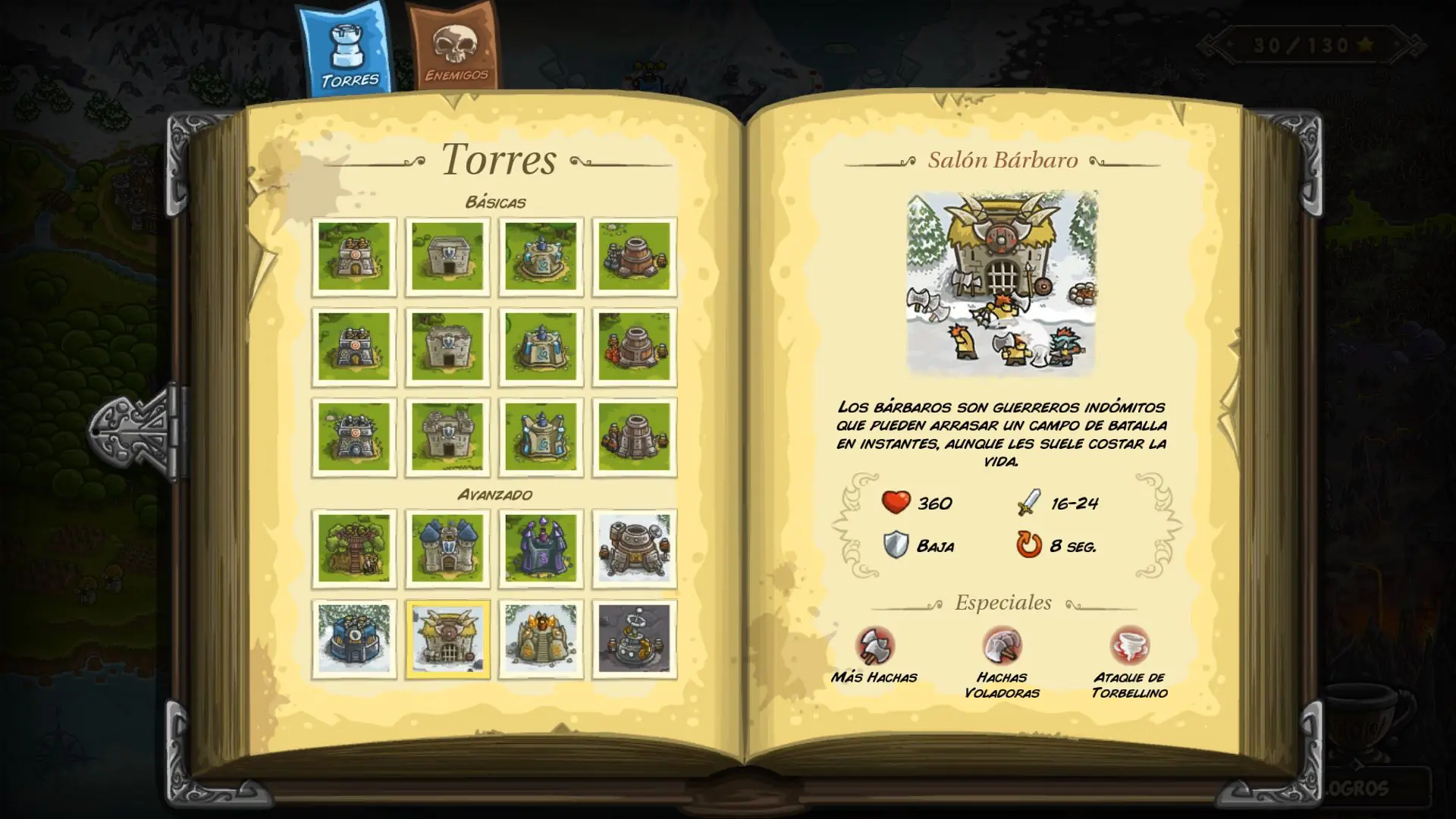 ---
Duration
We are facing a relatively short title at least in its main story. Of course, you will have three difficulty levels, so it all depends on the challenge you choose and of course, your level of ability to overcome the obstacles ahead of you. If we then take into account the additional levels unlocked, we are talking about a game that will give us a few hours of entertainment, fun and frustration when we get stuck on a level. Because I already anticipate what could happen, especially if you decide to play on maximum difficulty.
---
kingdom rush and tower defense very funny that will keep us glued to the screen if we are lovers of the genre. Personally, I've never been a big fan of this style, however, this episode managed to captivate me and amuse me more than I initially thought. In my case, the siege ended with a great defensive victory, the evil forces that dared to attack our beautiful city were cruelly slaughtered.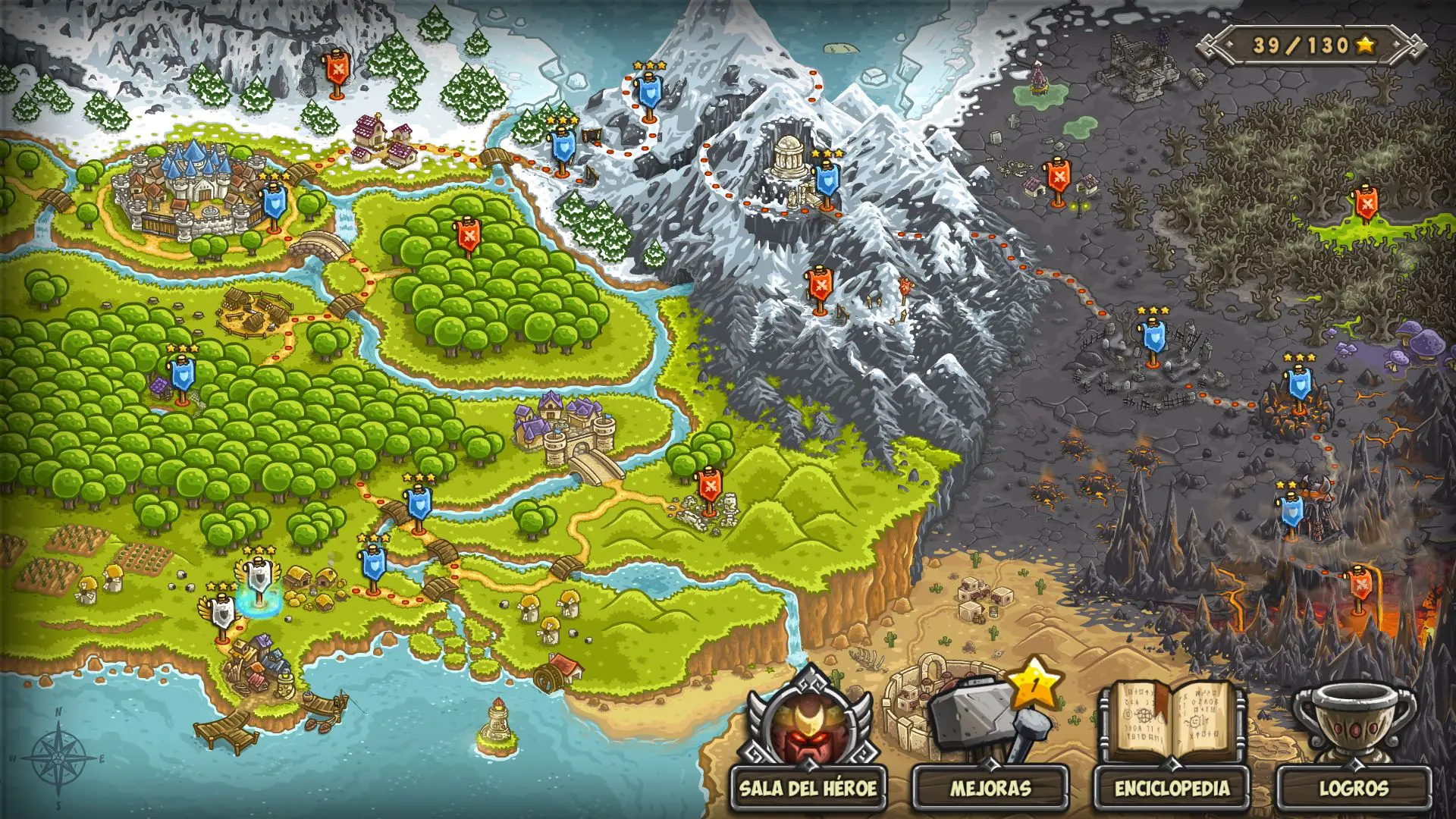 Luis Falcon Saborido
The best
Visually very beautiful delivery
Variety of upgrades and heroes
difficulty and pleasure
Worse
It's a relatively short game
He could use a little more tower defense