The tendency of manufacturers is to generate products that take us to a world without cables (or, at least, that reduce them to the maximum). One of the sectors that benefits the most from their elimination is that of headphones. With Apple leading the way with its AirPods, we're seeing more and more options hitting the market with the callsign TWS (True wireless).
Despite the feeling of freedom you get when you don't have to worry about tangles or tugs, true wireless headphones they also have their problems. The first thing that comes to mind is the diminishing battery life over weeks (and recharges).
Although there are 3.5mm jack adapters for iPhone and iPad, in this article we provide options that have a Lightning connector, i.e. they have been developed specifically for use with Apple mobile devices (except for iPad Pro 2018).
Lightning headphones for iPhone and iPad
Libratone Q Adapt
Of Danish origin, Libratone is a company specializing in sound products such as speakers and headphones. The Q Adapts are available in four different colors and have with CityMix, an adjustable noise reduction. It incorporates a remote control to control the volume of music and calls, as well as four interchangeable tips. On Amazon, they are priced at 73.54 dollars.
Libratone Q Adapt – Auricular InEar Lightning, pink color
Boompods Digibuds Headphones
Constructed with anodized metal for good strength
and long life, the Boompods Digibuds (34.99 dollars) offer a secure fit to wear them comfortably without "fear" of falling. Its cable is 1.3 meters long and the sockets, of different sizes, attenuate outside noise a little.
BOOMPODS Digibuds Lightning MIFI – Digital headphones with Lightning connector for iPhone and iPad, fabric braided cable, sweatproof, with inline wired controls
PALOVUE Lightning Helmet
Cheaper than the Libratone Q Adapt, we have the PALOVUE, with MFi certification (_Made For iPhone_) and with a microphone for noise cancellation, as well as a remote control to control calls, volume and another multi-function button. They are adjustable so that they adapt well to the ears of each user. They are on Amazon for 29.99 dollars.
PALOVUE Lightning Magnetic Sports Headphones MFi Certified with Microphone Driver Noise Cancellation Compatible iPhone X/XR/XS/XS MAX/iPhone 8/P iPhone 7/P NeoflowColor (Grey)
AmazonBasics Lightning MFi Earbuds
Amazon, the e-commerce giant, sells products of all kinds at good value through its AmazonBasics brand. These black headphones are Apple (MFi) certified and are compatible with all Lightning-enabled devices running iOS 10 or later. They have an integrated control and microphone, as well as Moisture protection for improved resistance to sweat and splashes. They can be purchased for 17.22 dollars.
Black Amazon Basics headphones with Lightning connector and Apple MFi certification
Pioneer Rayz
The Pioneer Rayz Plus are Lightning headphones for iPhone or iPad with a good amount of functions. To begin with, they incorporate a charging port so that we do not have to disconnect them if we want to recharge the battery of the device. They have a _Smart Button_ and Hearthru mode to make room for ambient sounds in noise cancellation mode. They also have an automatic pause mode. Its price is 39.99 dollars.
Pioneer Rayz SE-LTC3R-K – Earphones with Lightning cable, black color
PALOVUE Earflow Plus
Another model from the manufacturer PALOVUE. The Earflow Plus are headphones with an integrated DAC and a Φ10 dynamic driver. With MFI certificate, its design is ergonomic, with aluminum body. They're also magnetic to prevent tangles, and their remote lets you control calls, music playback, and Siri. They are on Amazon for 22.99 dollars.
PALOVUE Earflow Plus MFi Certified Lightning In-Ear Headphones with Mic Controller Compatible with iPhone X/XS(MAX)/XR iPhone 8/P iPhone 7/P (Metallic Red)
Sennheiser Ambeo Smart
Sennheiser is another brand specializing in sound products. The Ambeo Smart are some high quality headphones for immersive 3D audio recording. They have a transparency feature to let users hear what's going on around them, and it lets you easily switch between transparent mode, ANC, or turn either of the two off. It also has a remote to control volume, Siri and content. On Amazon you can buy them for $299.00 $49.99.
Sennheiser Ambeo Smart – 3D audio video headphones
Belkin Rockstar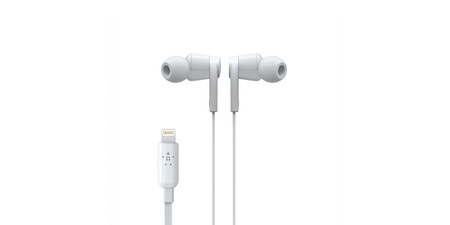 Also featuring a flat cable and MFi certification, the Belkin Rockstar is a headset designed specifically for use with the iPhone or iPad. Its cable is 1.1 meters long and it incorporates several packs of cushions to obtain a good fit in the ears. They are waterproof and noise-isolating.. They have a multifunction button. They are available on Amazon for 28.39 dollars.
Belkin Auriculares Soundform conector Lightning Para Iphone, Cascos Lightning Para Iphone 12, 12 Pro, 12 Pro Max, 12 Mini, 11, 11 Pro, 11 Pro Max, Xs Max, Xs, X, Se, 8 Plus, 8, 7 Plus , 7, White
UGREEN MFi Lightning HiTune Earphones
The famous manufacturer of accessories for mobile devices has in its catalog MFi headphones with Lightning connection for iPhone and iPad, the HiTune (25.99 dollars). Its built-in 10mm dynamic driver delivers clear sound and sound MEMS microphone effectively reduces noise during calls. They come with three pads for a more universal fit.
UGREEN HiTune In-Ear Headphones for iPhone, MFi Certified Lightning Stereo Headphones with Mic and In-Line Control, Compatible with iPhone 13 Pro MAX 12 Mini SE 11 XR XS X 8 7 iPod iPad
Dairle MFi Lightning Earbuds
Also MFi-certified to work seamlessly with iPhones and iPads with a Lightning connector, these Dairle headphones (19.98 dollars) have volume control button, reading and phone calls. They have a quality integrated DAC (depending on the brand) and a 10mm driver.
Dairle Headphones for iPhone, MFi Certified In-Ear Headphones with Built-in Microphone and Volume Control Compatible with iPhone 13Pro Max/12/SE/11/11Pro/XS MAX
NRG MFi Lightning Symphonized Earphones
Some very popular MFi Lightning headphones on Amazon (nearly 2,800 ratings) are the NRG Symphonized (38.99 dollars). Is it so handmade with natural Bubinga wood for better acoustic properties. Its 8mm speakers deliver quality stereo sound and come with different pairs of silicone tips to fit the ears of as many users as possible.
NRG MFI Symphonized, Lightning Certified Headphones Compatible with iPhone/iPad/iPod, Premium Bubinga Wood Sound Isolating Headphones (Black)
Bonus: Anker USB-C to Lightning Audio Adapter
With this Anker adapter we can use any Lightning headset with an iPad Pro from 2018, MacBooks with a USB-C port and other computers with different operating systems with this connector without any problem. It is on Amazon for 27.99 dollars.
Anker USB-C to Lightning Audio Adapter
You can be up to date and at all times informed of all the news from the Apple world and the offers of Applesfera Selección in our profiles of Twitter and Facebook.

Note: Some of the links displayed here are affiliate links. Despite this, none of the items mentioned were offered by either the brands or the stores, their introduction being a sole editorial decision.
Header Photo | unsplash