Stories of AirTags locating lost animals and objects continue to amaze us. The one that concerns us is the most curious, yes, but with a happy ending for the kitten playing itfortunately.
"AirCat" the adventurous kitty
User helenkellerlives posted on Reddit a few days ago that her seven-month-old kitten was missing. the animal wore a collar with an AirTag attached precisely because of his habit of taking long walks around the neighborhood.
Despite the fact that the garden was fenced, the fearless kitty would come out of the dog gate and jump over the fence. He never strayed too far, or took too long to return, but that Sunday the owners saw that after leaving the house in the wee hours of the morning (a feat captured by the doorbell home HomeKit camera), the kitten had not returned for breakfast
.
Several hours later, at 9:34 a.m., our protagonist's AirTag gave a signal about three blocks from the house. About half an hour later the kitten had not returned, its owner went to look around. Disheartened must have been the picture of the collar and AirTag placed in the middle of the sidewalk.
The owner couldn't do much more than ask the neighbor across t he street if he saw anything or if his camera recorded anything, so he had to be patient and wait. Fortunately, a few days later, a neighbor called about one of the posters
that the owner had posted.
The AirTag is not recommended for pet tracking, although it's clearly better than nothing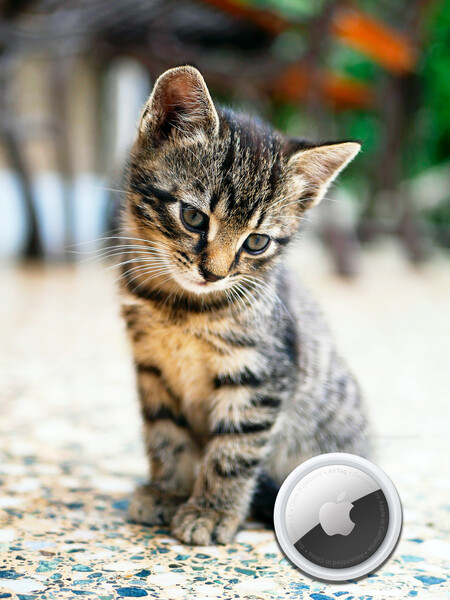 The kitten was back home, terribly hungry too. It was really difficult to remove the collar, but it was designed precisely so that, in the event that the animal was caught by the collar, a powerful tug could free it. Something like this must have happened to the protagonist kitten—whom I may take license to name AirCat—because his collar and AirTag were left behind.
Stories like these remind us that the AirTag this is not a device designed to track pets. The reason for this is that between one place and another the animal may have changed places quite quickly, so following it to locate it can be really complicated. It is true that when in doubt, it is better to place an AirTag on the collar than nothing at all, but without losing sight that it is more of a backup resource than a tracking system.
Fortunately, the story that concerns us today — or that of the lost puppy, also with an AirTag, from a few days ago — had a happy ending. Yeah, maybe the AirTag didn't have much to do but point kitten owners in the right direction to hang up their signs, but, any help is always welcome.