Although the "universal" way to connect your phone to your car and therefore use Android Auto is via cable, more and more cars are compatible with Android Auto wirelessly. If this is not the case in your car and you want to take advantage of this wireless infotainment system, there are alternatives: USB adapters or dongles. If you are not sure which one to buy, in this buying guide we help you choose the best wireless android car adapter to your needs and we offer some recommended models.
How to Choose an Android Auto Wireless Adapter
What do you need to use a wireless Android Auto adapter? The first thing is that your car (or its car stereo) is compatible with Android Auto and has a USB socket. Here is a phone running Android Auto 8.0 0 later. Then make sure Android Auto is up to date in your car and the radio firmware is up to date. Finally, to be able to launch Android Auto wirelessly, you will need a stable connection between the adapter and your car's console.
He How Wireless Android Auto Adapters Work is similar to Bluetooth FM transmitters, in that they take advantage of an existing socket in your car (in this case USB, in the case of the transmitters the cigarette lighter) to connect to the vehicle and your phone s connects to it via Bluetooth or Wi-Fi.
Once these points have been clarified, to choose a good wireless adapter for Android Auto, you have to look at:
Design. It is better to opt for those that are more compact and discreet, since you will have to find a place for it in your car so that it does not bother you while driving.
connectivity. Although the essence is the same, not all cars support the same connectivity. Ideally, bet on a dongle that offers multiple options, for example with Bluetooth, 2.4 GHz and 5 GHz Wi-Fi bands. Keep in mind that newer versions are generally more stable and faster.
additional functions. In addition to allowing us to connect to Android Auto wirelessly, some devices offer other utilities that can enhance your user experience.
Compatibility. Before buying an adapter, check that you can use it with both your phone and your car.
easy to install. Although in general the configuration is not very complex, it is preferable that the configuration process is simple, clear and immediate.
usb type. It is important to ensure that the wireless adapter is compatible with your car's USB port. If in doubt, there are models that offer two types of cables
How is the cable. In addition to quality construction, the cable that connects the adapter core to the car should be long enough for you to leave the dongle in a good place, and at the same time, as short as possible so that it doesn't bother you. Ideally, it should be expandable, so you can collect what you don't use.
Best Wireless Android Auto Adapters: Recommended Models
If you don't play it and want the official accessory, then the one you are interested in is the Motorola MA1 (89 dollars). This device has a compact and stylized aesthetic whose only drawback in the design part is that its cable is fixed.
Stands out for its ease of setup and is suitable for phones running Android 11 or later. It's so popular it's sometimes hard to find.
Motorola MA1 Android Auto car adapter – instant connection with easy installation
Just as sometimes there is no stock of the official accessory (on the official website it is out of stock), another generally available alternative is the Carlinkit adapters. The latest version is this CarlinKit 5.0 (95 dollars with coupon), a model that although it does not stand out for its design (a little raw), yes it gains in versatility compared to the previous one, since it allows to have Android Auto and CarPlay (Apple's counterpart), so that we can also connect an iPhone.
Plug and Play, so you don't need much more than to connect it, one of its advantages is that it has the most modern connectivity standards, especially with Bluetooth 5.0 and 5GHz Wi-Fi
which allows you to enjoy more stable connections with better performance and speed (if your devices are compatible).
CarlinKit wireless 5.0 CarPlay and Android Auto (2 in 1), for cars equipped with Apple CarPlay and Android Auto (year of manufacture: 2017 to 2023) Wi-Fi 5 GHz, automatic connection, online update
If you are overpriced, you can always go for the previous version, the Carlinkit 4.0 (90 dollars with a coupon), a model that will work for both Android Auto and Apple CarPlay if you have a compatible radio and a phone with iOS 10 or later or Android 11 or later. It includes two cables, one USB-A to C and one USB-C to C, so you have everything you need to get started no matter what outlet your car has. It is plug and play and easy to use and has 2.4 GHz Wi-Fi connectivity and a Bluetooth module.
Carlinkit 4.0 Wireless Apple CarPlay and Android Auto Adapter 2 in 1, for Wired CarPlay CarPlay Model Year: 2016-2022, Plug & Play, Support Update Online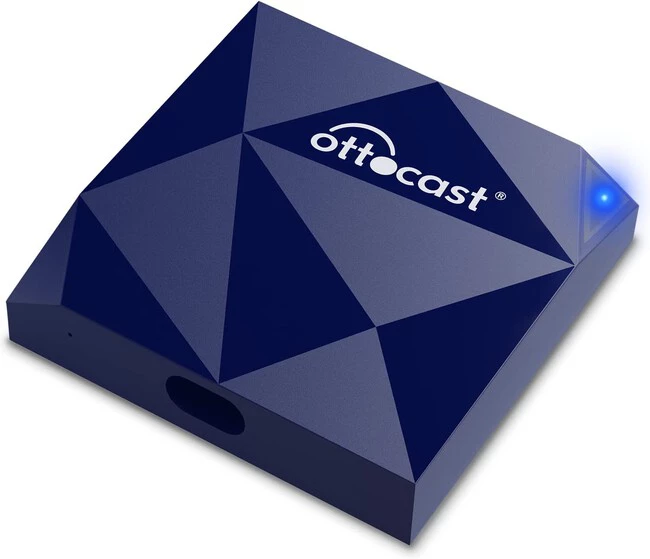 This Ottocast model (80 dollars with coupon) is plug and play and has a very simple initial setup, connecting your car and your mobile via Bluetooth. With a futuristic design in the shape of a 5.5 cm square, stands out for its performance thanks to its dual-core ARM Cortex A7 processor with Bluetooth 5.0 and 5 GHz Wi-Fi connectivity.
OTTOCAST Android Auto Wireless Adapter, Wireless Android Auto Plug & Play Car Dongle AA Wireless for Android Auto Wired Cars (Year of Manufacture: 2016-2023)
Relatively compact and light is this Carsify (83 dollars), which has the most curious feature: a button in its central area that allows to switch the connection between different mobileswhich is interesting if you share the car with other people.
Cover image | Motorola | Brian Erickson on Unsplash
In Xataka Android | The best accessories for Android Auto: dongles, mounts, cables and more