A good part of our life already depends on our permanent connection to the Internet, either because we talk about it, or because we play, watch films and series, read, we inform and work. Many of these tasks are mainly performed from the mobile phone and therefore having a good connection is very important.
So when we go out we want our data connection to be stable and fast, and if possible unlimited, and when we are at home or in the office we want the same to happen with our WiFi. We are going to show you a series of apps for Android that will help us improve the WiFi connection to which we are connected or to locate one of better quality.
OpenSignal – Speedtest y mapas WiFi 5G / 4G / 3G
A very long name for a completely free Android app whose mission is to help us find the best open WiFi available. Imagine you are browsing from your favorite cafeteria but the videos are cut off or the resolution is reduced, here OpenSignal can help you showing you which open WiFi networks are closest to you
, and in addition to indicating their level of quality by measuring values ​​such as download speed, download speed or latency.
OpenSignal will show us a compass on the screen to make it easier for us to locate the WiFi network we are looking for. It will be enough to follow the indicated direction to reach our objective. Inside we find also advice to improve the coverage of our network, if this is what we are looking for, then it becomes a very complete application that is worth installing on our Android.
OpenSignal – Speedtest and Mapas WiFi 5G 4G 3G
WiFi Analyzer
An interesting application whose main mission is to make our WiFi connection as efficient as possible. To do this, 'WiFi Analyzer' scans each of the channels that broadcast WiFi around us (including that of our router) and shows us which one is the least saturated of all and to which we should be connected to have a better connection.
'WiFi Analyzer' also scans for any interference from which our network suffers, while showing us the points with the best connection of the entire coverage area offered by WiFi. Of course, in the comments it is stated that this best connection point locator is not 100% accurate
Well, he fails a few yards. However, a good app to improve WiFi in our home or office.
Wi-Fi Analyzer
WiFi connection manager
In 'WiFi Connection Manager' we find an application very similar to the one we previously recommended, 'WiFi Analyzer'. 'WiFi Connection Manager' is responsible for performing a real-time scan of each of the channels in which the WiFI signal is broadcast around us, indicating which is the most powerful and the least saturated of all so that we can change our router and improve the signal.
'WiFi connection manager' It also helps us remember the WiFi password, if at any time we need to connect to it and we have not stored it, in addition to offering us all kinds of information about the connection such as our ping, the public IP we generate, etc.
WiFi connection manager
Signal strength
Another very handy application is Signal Strength, a utility that can be found in the Google Play Store and that It offers us information about the Wi-Fi signal that reaches a point in the house, that simple. An application that can be configured in light and dark mode and in the menu of which it offers data related to the power with which the nearby Wi-Fi networks arrive, the speed or the information of each of the networks.
By working with all the data it offers us, we can change the location of the router or the device that uses it to get better numbers. And if we dare, enter router configuration to change any setting to improve performance.
Signal strength
Who uses my Wi-Fi?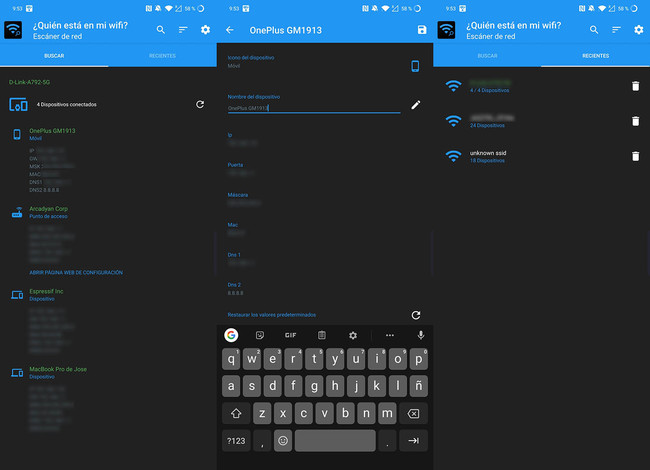 One of the most useful apps that can be found on Android is this app allows you to know if there is a foreign element connected to the home wireless network. Like the previous one, it offers the possibility of a dark mode and its operation is very simple: it scans all devices connected to the home Wi-Fi network.
In many cases, the name suggested is that of the modem that integrates the device in question, so we may not initially identify it. To improve the data you provide, we can activate the function of "Recognize device manufacturer" or if it still doesn't register, add it by hand by checking everyone's Mac or assigned IP.
Who uses my Wi-Fi?