Fourth edition of the Hunting Apps section where we bring together some of the best iOS and macOS apps that have dropped in price or are free. A selection of applications to complete our collection with pieces such as Gunpowder, Affinity Photo for Mac or The Beggar's Ride.
Free apps for iPhone, iPad, Apple Watch, Apple TV and Mac
Gunpowder
A fun game for iPhone and iPad in which your objective is to detonate barrels of powder and advance through the different levels. A puzzle-type game set in the west that we can now acquire for 2.29 dollars free.
Disk Space Analyzer: Inspector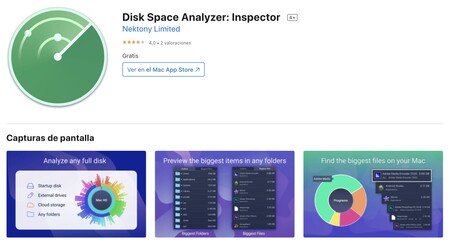 A good application for Mac with which to see the space occupied by our files. A visual way to detect large files and keep our computer tidy. We can acquire the app for 8.99 dollars
free.
Star Walk Kids: Astronomy Game
A curious game for the little ones in the house. An app for Apple TV that explores the solar system and introduces the youngest to astronomy. An app we can buy for 3.49 dollars free.
ColorCamera – Color Picker
A small utility for our iPhone or iPad with which to select the exact colors of a photo and check its hexadecimal value to use it in our creations. We can acquire this application for 1.09 dollars free.
Free apps for iPhone, iPad, Apple Watch, Apple TV and Mac
Affinity photo
One of the best photo editing apps we can find for Mac. A great substitute for Photoshop. Without subscription and with regular updates for 27.99 dollars 54.99 dollars
.
The beggar's turn.
A fun game for our iPhone or iPad with impressive graphics and the most enjoyable design. In the platform category we find four worlds with puzzles to solve and advance while we collect masks and collect world secrets. We can buy this game for 5.49 dollars 2.29 dollars.
Hello human
A puzzle game in which we will advance through different levels with incredible variety. Clues in the form of sentences and the sole objective of showing that we are able to understand them and apply them to solve each level. We can acquire this application for 2.29 dollars 1.09 dollars.
More offers?
Save over 20% on your annual or monthly Disney + membership before February 23
With Amazon Prime, you'll get faster shipping for $ 36 per year, with a 30-day free trial. Get access to Amazon Prime Video original series, movies, and documentaries with the free month trial. You have 60 free days of Kindle Unlimited, with one million titles accessible from a Kindle reader or with the Kindle app on an iPhone or iPad. It can be tried for free for two months, which saves us 19.98 dollars. And with Amazon Music Unlimited, millions of songs are free for 90 days.
In Applesfera Selección we publish the best offers related to Apple products and compatible accessories. Prices and availability may vary after posting.
You can be up to date and at any time informed of all the news from the Apple world and offers from Applesfera Selección in our profiles Twitter and Facebook.
Note: Some of the links shown here are from affiliates. Despite this, none of the articles cited were offered by either the brands or the stores, with their introduction being a sole decision of the editorial team.