Google chrome This is the browser that Android users in Europe use the most. This browser is continuously improved with new features, such as its security controls. In addition, in its experimental functions we find many additional options that allow us to get the most out of this browser.
One of the options that can be found in this menu of experimental functions is the possibility of having a preview panel. Thanks to this panel we can see one website on top of another in google chrome
, without having to open an additional tab for it. This is something that can make navigation easier for many users.
Activate the Google Chrome preview panel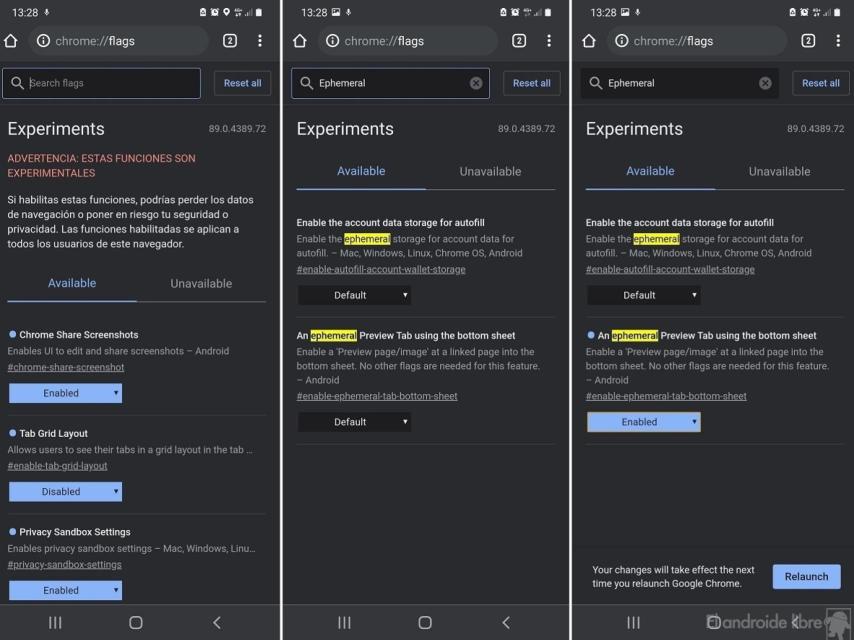 Many users tend to open multiple web pages at the same time in the browser. By having a preview panel in the browser we can see two websites at the same time, which makes its use much more comfortable. This can be ideal if you are comparing information on two different pages, to avoid having to constantly switch tabs, for example. This is an experimental function, so we will have to use this menu to activate it, following these steps:
Open Google Chrome on Android.
Enter chrome: // flags in the address bar.
Go to the search engine.
Enter Ephemeral in the search engine.
Select the option titled A Ephemeral Preview Tab using the bottom sheet.
Set this option to On.
Click on the button to restart the browser.
Open two tabs and you can now use this panel in the browser.
With these steps you may have already said preview panel in Google Chrome on Android. This panel will allow you to have two web pages open at the same time on your Android mobile with total comfort. One of the advantages is that this panel can be adjusted, being able to change its size to be larger or smaller, depending on what you want. It is also possible to slightly modify its position, for a more comfortable reading in the browser.
.