Firefox is one of the most popular browsers among Android users in Europe. In recent months, it has introduced a lot of new features, such as its extensions, which are now easier to add to the browser. One of the aspects in which this browser seeks to differentiate itself from its competitors such as Google Chrome or Microsoft Edge is privacy.
In fact, Firefox has a feature that allows your browsing history will be automatically deleted
. A good way to prevent this kind of data from being stored in the popular browser after you are done using it. Moreover, the way to configure this function is very simple.
Have Firefox automatically delete history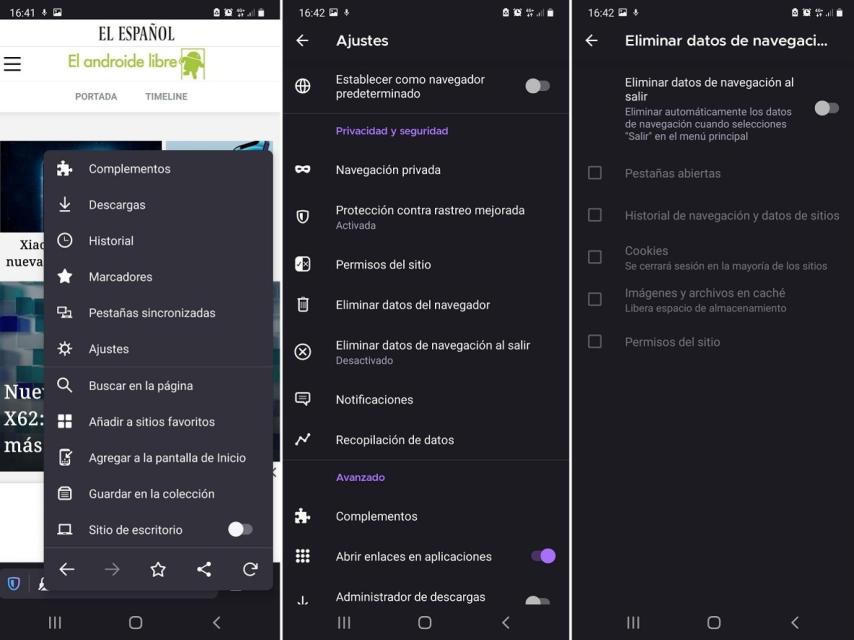 Firefox for Android is a browser which is more focused on privacy, compared to some of its competition. One of the functions it provides is that the browsing history will be automatically deleted when we close it. This is to prevent this type of data from being stored there, as well as to prevent someone from entering and seeing the pages we have visited in the browser.
Open Firefox on your Android phone.
Click on the three vertical dots.
Enter the parameters.
Go to Delete browsing data on exit.
Enter this section.
Activate this option.
Select the data you want to delete after closing the browser.
The browser will allow you to select the types browsing data that will be deleted each time you close it on your phone. There are several options to choose from: open tabs, browsing history, cookies, cached images and files, or site permissions. You can select the ones you want from the list, so that when you close the app, that data is deleted without you having to do anything.
If at any time you want disable this feature in the browser on Android, you just need to follow the same steps you did to activate it. This function is available in all versions of the browser for Android, which you can download for free from the Play Store:
.