IKEA has become one of the reference stores to decorate our home. The first store was opened in Europe in 1978 and in Gran Canaria, but it was not until 1996 that it arrived on the peninsula. Since then, furniture and objects with unpronounceable Swedish names have found their way into thousands of homes.
But IKEA is not just a furniture store. It has fully embraced home automation with devices that connect to our private network and can be controlled from smartphones or speakers with voice assistants. And this is something that may be of interest to users of the Apple ecosystem because your proposals are compatible with Apple HomeKit.
How to Integrate IKEA Appliances into Apple HomeKit
Unlike other brands that do not require an intermediary to establish the connection between the devices and the desired system/voice assistant, TRÅDFRI products (this is the name given to "smart" household items) require a connecting device, also known as a hub, gateway, or controller. The one from IKEA (39 dollars) is essential if we want them to integrate with Amazon Alexa, Apple HomeKit, Google Assistant or Sonos.
TRÅDFRI connecting device
IKEA shared a video to explain in a simple and quick way how to set up the IKEA Home smart app with Siri and Apple HomeKit
, since it is the one that is associated with "intelligent" devices for its control. Here are the steps to follow:
Find the unique Apple HomeKit code of the TRÅDFRI connecting device. It's on the back of the device, but can also be found in the IKEA Home smart app.

When it is located, we open the Apple Home application on our iPhone or iPad and press the "Add Accessory" button to enter the code. Then we selected the TRÅDFRI controller to integrate it.

All devices we have associated with the IKEA Home smart app will appear in Homebe able to control them both through this application and using the voice assistant Siri.
IKEA TRÅDFRI appliances for use with Apple HomeKit
TRÅDFRI wireless "smart" socket
Connect any lamps, coffee machines or other devices to the TRÅDFRI "smart" socket (12 dollars) to be able to control them remotely with our iPhone or using Siri and a "smart" speaker. It is also possible to set timers and schedules to turn it on/off automatically. Like many IKEA appliances, it has a very clean and minimalist design.
TRÅDFRI motion sensor
Have the lights turn on and off automatically as you pass by. The TRÅDFRI motion detector (12 dollars) acts when it detects a presence, so they are activated or deactivated when needed with the resulting energy saving. It can also be used in bathrooms.
TRÅDFRI "wireless" motion detector
TRÅDFRI shortcut key
This accessory is not intended to be controlled by voice, but is useful when you want to quickly perform an action when it is close at hand. The TRÅDFRI shortcut button (8 dollars) allows activate any previously created scene in the IKEA Home smart app
. For example, it can be placed next to the front door of the house and when pressed, the lights can be turned on or off.
TRÅDFRI dimmable white LED bulb
Create a cozy atmosphere with the TRÅDFRI LED bulb (10 dollars) or adapt the lighting to each situation. This bulb, by allowing also adjust the intensity of the lighting and not only the shade of white, it is possible to save energy.
LED bulb E27 806 lumens TRÅDFRI
TRÅDFRI dimmable RGB color LED bulb
An LED bulb (15 dollars) which can be configured with a wide variety of colors to create the desired environment and adapt it to different activities. Light intensity and temperature can also be adjusted.
TRÅDFRI RGB LED bulb E14 470 lumens
TRÅDFRI starter kit
Not sure where to start to automate your home? This TRÅDFRI starter kit (70 dollars) consists of two bulbs, the hub and a remote control to control the lighting manually. The kit is designed for people who want to control the lights both from the smartphone or assistant and with a remote control.
Altavoz Wi-Fi – balda SYMFONISK with AirPlay 2
Functional both vertically and horizontally, since it can be fixed to the wall and used as a shelf, this SYMFONISK Wi-Fi speaker (99 dollars) it is compatible with AirPlay 2 to send content from the iPhone and it is also compatible with Spotify Connectit is therefore possible to listen to music directly on it with the streaming music service application.
STARKVIND air purifier
Improves the air quality of a room with the STARKVIND air purifier (119 dollars). It can be configured manually, in automatic mode (it automatically detects particles (PM2.5) in the air and regulates the fan speed so that we don't have to worry about anything) or we can control it by mobile or by voice assistant if it has already been paired with the IKEA Smart home app and hub.
NORDMÄRKE Qi wireless charger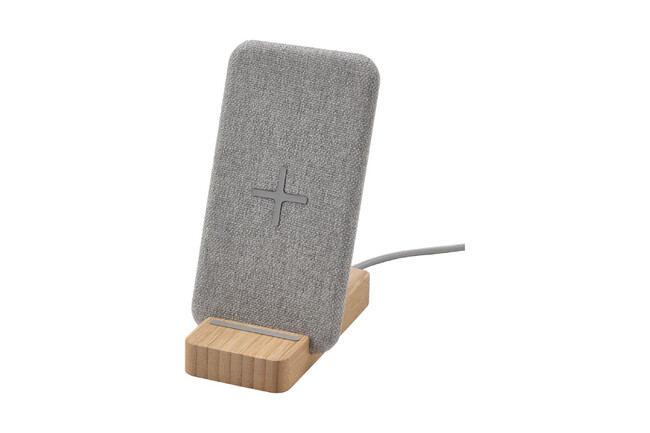 While not controllable over Wi-Fi (but can be used in conjunction with the "smart" plug we mentioned earlier to schedule it to activate at certain times), the NORDMÄRKE Qi Wireless Charger ($15) is one of those "essentials" for its elegant design and functionality, since in addition to recharging the mobile battery, It serves as a support for making video callswatching videos or reading.
NORDMÄRKE wireless charger
In Applesfera Selección we publish the best offers related to Apple products and compatible accessories. Prices and availability may change after publication.
You can be up to date and at all times informed of all the news from the Apple world and the offers of Applesfera Selección in our profiles of Twitter and Facebook.

Note: Some of the links displayed here are affiliate links. Despite this, none of the items mentioned were offered by either the brands or the stores, their introduction being a sole editorial decision.