Apple Music is the most integrated service with our Apple devices, but we don't lose sight of the fact that there are a majority of people who use Spotify for whatever reason. And now that we're entering the final month of the year, it's time for a recap of everything we've heard in 2022.
But I'm not talking about Spotify Wrapped, no. We are still waiting for this official summary to arrive, but some independent developers have come up with the idea to create the Instafest website. With it we can create an imaginary musical tour poster with the artists we have listened to the most this year, and there are already hundreds of these posters circulating on the networks. We will teach you how you can create your own 'Instafest' from the iPhone
.
Your Instafest on iPhone in just three steps
First, make sure you have Spotify installed on your iPhone, with the app connected. Once you've verified that, open Safari and navigate to the official Instafest website, where you'll click the "Connect with Spotify" button:
Next, you must consent to Instafest collecting your Spotify playback history data: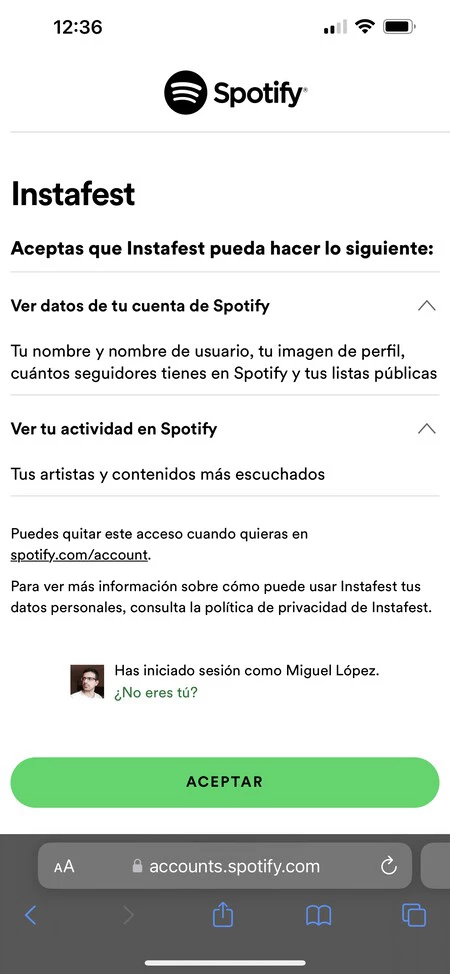 And voilà, the web immediately generates your poster for you. If you scroll down the page, you can choose some customization options, such as choosing a different layout or limiting the monitoring history used to the last six months or the last four weeks:
If you click on the "Save and Share" button, you will get a download button and links to share the poster on social media. If instead of an iPhone you have a Mac, the experience does not change: just open the Instafest site from your favorite browser.
More alternatives to have your own musical summary
If you don't use Spotify, you might be interested in the Replay 2022 album generation that Apple Music has already made available to all of its subscribers. Or if you want to generate a much more specific poster than the one offered by Instafest, you can do it on the Festival poster generator website from any device. There you can choose each artist individually and choose a style in a more visual way.
A final option is EDIT, which has a section for you to choose a style of concert or festival poster and place whatever data you want there. This is already a more serious option, but it can be used for whatever creative time you might have.