Steve Jobs didn't usually sign autographs, so someone sent him a letter and that's what the founder of Apple replied.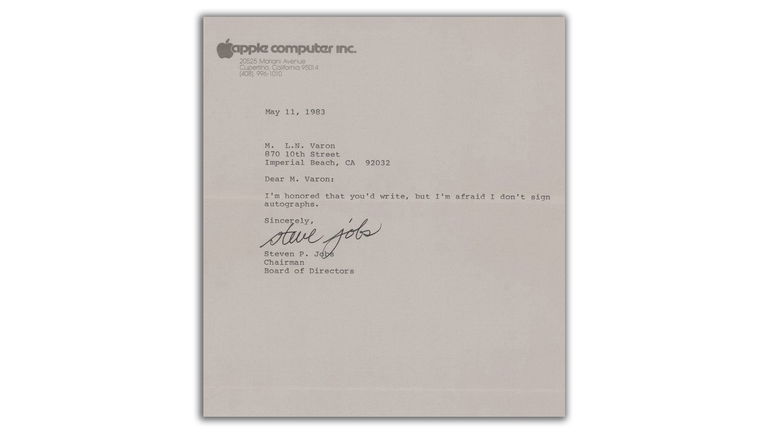 It's no secret that Steve Jobs was a most special person, all the stories we have known over the years prove it. Whether it's laughing at competitors' phones, ruthlessly criticizing the latest Marvel movie, or throwing an iPhone on the floor, laughing at Windows in full display.
And now we've found a new story from the genius of Apple that we didn't know about, one of those stories that only happen to special people. If you knew a little Steve Jobs, did you know that he was not very good at signing autographs?. However, one user got it in an amazing way.
As just revealed, this user wrote a letter Steve Jobs to send an autograph by mail. However, the Apple co-founder himself responded by saying the following:
Dear Mr. Varon, I am honored that you are writing, but I am afraid I am not signing autographs. Sincerely, Steve Jobs
Just below the typed text, Steve Jobs signed the letter. That's to say, Jobs sent an autograph to this user, but in his own way. With a dedicated letter stating that he did not. Something very Jobs-esque.
With curiosity, this signed letter from Steve Jobs is worth more than just an autograph. We can see that it is an official letter from Apple from 1983, with the logo of the time at the top, as well as the address of Apple's headquarters at the time.
In 1983, Steve Jobs typed this response to a letter asking for his autograph. pic.twitter.com/x4n9yX9PbP

— STEM (@stem_feed) November 22, 2022
another of those beautiful stories around Jobs, a very special person. Just like this note which remains glued more than 10 years in front of a microwave or when he threw an iPod in an aquarium to prove that he was right.
With curiosity, These types of items can be worth a lot of money.. Recently, some of her sandals have been auctioned off for thousands of dollars and her business cards have also reached incredible values.