Late yesterday and with the markets closed, Apple once again announced record financial results. The fiscal third quarter of 2021 generated gross income of $ 81,434 million and net income of $ 21,744 million. In this quarter, traditionally the most ample of the year, Apple broke its record in those three months.
The company also far exceeded investor expectations, being the iPhone the main protagonist of this period.
Record revenues and profits with an iPhone on the run
Apple generated almost as much revenue this quarter as it did in the best two fiscal years of two years ago. In the first quarter of 2019 obtained 84,310 million dollars against 81,434 million of the current
.
The contrast is obvious, as we compare the best time of year, where does Christmas coincide with a new iPhone, the quarter having recorded the "worst results", that is to say the one immediately preceding a new generation of iPhone.
Revenue grew 36.4% year-on-year, while profits increased by 93.2% up to $ 21,744 million, almost double the previous year. Individually, the growth of Apple's segments has been as follows:
iPhone: 49.8%.
Growth of clothing, home and accessories: 36%.
Benefits: 32.9%.
Mac: 16.3%.
iPad: 11.9%.
Tim Cook noted that 5G is still in its infancy, as it has only just started to roll out around the world. Additionally, the strong growth of the iPhone has been driven by renewals among existing users and the add new users from android
(the calls
switches
).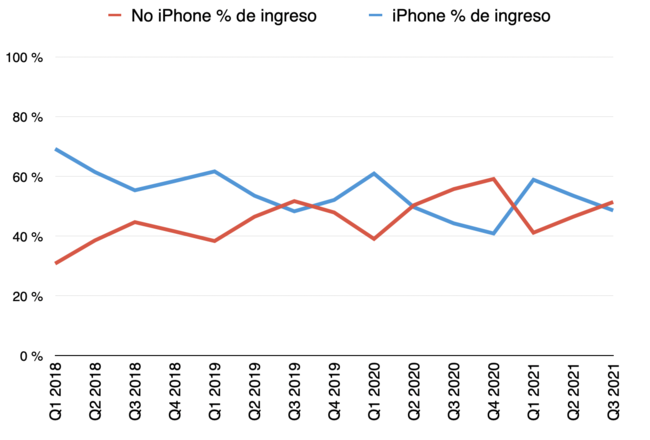 The split between iPhone revenue and the rest of the business balances out again, slightly relative to the terminal. In recent years, Apple has achieved reduce iPhone addiction offering a series of more robust and attractive products and services. But the iPhone continues to rule over each of them individually.
The company said it expects strong demand for the iPhone in September. Without saying it directly, they're hoping to launch the new generation iPhone 13 (or whatever the name is) in the same month, so we go back to the usual schedule
pre-pandemic coronavirus.
If we look at the growth experienced by the iPhone and other segments, we see how the last quarter are particularly high. It is striking that these growths have occurred in the midst of a global chip shortage since late 2020. Tim Cook assured that they only see some tension in the manufacturing of chips from previous generations.
Everything seems to indicate that Jeff Williams and the entire operations team were able to solve or, at least, mitigate the worst effects of this silicon shortage. The real litmus test will take place in September and beyond, as strong demand for the new generation of iPhones is expected.