The Amazon Prime Day of this year 2021 is already among us, inaugurated a few hours ago, and it is not just about cellphones or accessories, it also works for tablets. Big-screen devices are also ditched by a 48-hour bargain fair featuring various brands.
We remind you that to take advantage of Amazon Prime Day offers we must be a Prime account user with the e-commerce giant, but for that we can take advantage of the free trial month they offer and, incidentally, take a tour of Prime Video and see how the alternative to Netflix, HBO, Disney + and company works. .
Best tablets on sale on Amazon Prime Day 2021
Huawei MediaPad T5: We started our list of tablets offered with one of Huawei's budget lines which, thanks to a 39% discount, is even more affordable. 2 GB of RAM and 32 GB of internal space for a 10.1 inch tablet that can be ours for 103.55 dollars if we hurry.
HUAWEI Mediapad T5 – 10.1 "FullHD Tablet (Wi-Fi, 2GB RAM, 32GB ROM, Android 8.0, EMUI 8.0), color Negro
Samsung galaxy tab s7: We have jumped into the garden of high-end Samsung ranges with a direct competitor of Apple's iPad Pro, the Samsung Galaxy Tab S7. 128 GB of internal space, 11 inches of screen and an S Pen included to unleash our imagination and productivity. All for 539 dollars with a 37% discount.
Lenovo Smart Tab M10 HD: We return to the economic lines, or low-cost support, with a tablet manufactured by Lenovo and which has a 10.1-inch screen, 4 GB of RAM and 64 GB of internal space which also has a dock for the place as one smart display where we want. It has a 20% discount and costs 152.93 dollars.

Huawei Matepad 10.4 New Edition: From Huawei catalog we get another midline with very good design, very good sound and performance. The 10.4 inch MatePad with 128 GB of space to store whatever we want but, yes, without Google services. A 29% discount leaves it at 249 dollars.
Lenovo Tab P11 Pro: Another stroll in the medium / high ranges of the market with a tablet signed Lenovo with the Snapdragon 730G, 6 GB of RAM, 128 GB of space and an excellent design. With a 15% discount it can be ours for 469 dollars.
Amazon Fire HD 10: Amazon has its own army of Android tablets that have their own built-in store and that we can buy with or without ads (with ads they are cheaper but we will have ads on the lock screen). The Fire HD 10 is one of them, a cheap online tablet that is now on sale for 89.99 dollars.

10.4 inch Samsung Galaxy Tab A7: Another economic midline, bordering on the bottom line, now signed by Samsung. In this case, it's a 10.4-inch tablet with 3 GB of RAM and 32 GB of space that appears in gray and costs, with a 26% discount, 169 dollars.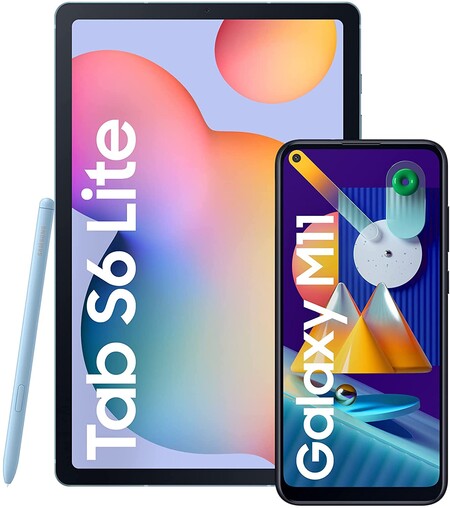 Samsung Galaxy Tab S6 Lite + Galaxy M11 by regalo: Be careful with this offer which is strong because for 299 dollars (a reduction of 48% on its original price) you can get the Galaxy Tab S6 Lite and take a Galaxy M11 from the same brand as a gift. The perfect time to get two devices for the price of one.
SAMSUNG Galaxy Tab S6 Lite – 10.4 "Tablet (WiFi, Exynos 9611 Processor, 4GB RAM, 64GB, Android 10) – Azul Color [Versión española] + Dual SIM Smartphone, 6.4 "Screen, Black Color
More offers?
If, after reading our selection of Amazon Prime Day offers, you haven't found what you were looking for, you may be interested in offers from:
As well as our colleagues from Compradicción. You can see all the great deals they post on Twitter and Facebook, and even subscribe to their advertisements through Telegram.