It's Christmas already, you have opened the gifts that were left under the tree and surprise: you have a brand new iPhone. You might be new to the platform, it might be your first smartphone, or you might just be looking for inspiration to start new habits with this new phone, so we're going to come up with a list of what we are considering. some of the best apps to get your new iPhone out.
Telegram
We know full well that WhatsApp is the queen messaging platform (at least in Europe), but we do not recommend Telegram just to be able to message us. This service has built-in bots, is able to transfer large files to other users, and includes calls. They even test Siri message ads, integrating tightly with the system. With a little skill, you can turn Telegram into a set of "conversational applications"You can download it for free from the App Store.
Balanced
Giving yourself 5-10 minutes a day to close your eyes, breathe deeply, and try to clear your mind can be one of the best resolutions you can make for 2021 after a 2020 year full of stress and anxiety due to the pandemic. The balance includes a basic meditation course
It gives you free for a year so you can be less distracted, focus more, and kick bad habits like taking your iPhone to the bathroom or biting your nails. You can download it for free from the App Store, but to enjoy all the courses you need to make in-app purchases.
Yuka
Another goal that you can have in 2021 is to eat better, and Yuka is one of those apps that lets you achieve that. product barcode scanning from the supermarket to see if they are really healthy or not. You will likely receive bad news about the whims you usually indulge in, but all efforts are limited in maintaining good shape. You have it for free in the App Store.
Giant

If you have a lot of social media activity, Jumbo can help you maintain a minimum of privacy. automatically check the options of each of these networks and clean up the path we leave on the Internet. It's free to download from the App Store, although to use Jumbo without limits you need to pay for an in-app purchase.
VLC Media Player
If you have videos saved on a computer (Mac or PC) and you just want to have them on the iPhone without any links, user accounts or services linked to them, you just need to download VLC Media Player for free from the App Store. It is compatible with all video formats and allows you to transfer files over the same Wi-Fi network. Highly recommended.
Notion
Notion is one of the most flexible services for project and task managementBoth for those who want a simple to-do list and for those who intend to manage teams of dozens of people on a professional level. It takes some learning, but those who master it assure that there is nothing better. Downloading is free in the App Store, although to enjoy the service without limits you need a payment plan that sells for from $ 4 per month.
Genshin impact
If you want a open world game that gives you hours and hours Entertainment based on exploration and mission accomplishment, Genshin Impact is a recommendation for you. Anime aesthetic for anyone who wants an expensive game to complete, free on the App Store.
Fireplace
Another game that can be great for you in downtime is Hearthstone, the absolute king of casual card games. Build decks, challenge players from all over the world, and complete single-player missions in games that typically last no longer than 15 minutes. Free on the App Store, with optional purchases if you want to complete your decks faster.
The battle for polytopia
It costs us very little to recommend this game to have a version light of Age of Empires on your mobile. Turn-based strategy Free to play with three tribes, with the ability to download more tribes through in-app purchases. Almost essential, you have it in the App Store.
Monument Valley (full saga)
If you want an alternative of quieter and more relaxing game, the recommendation becomes Monument Valley from the Ustwo games. Its first and second parts are full of relaxing games in which you will guide the protagonist through puzzles that will reveal the way to his destination. You have the package with the two games for 7.99 dollars in the App Store.
Apple support
No one likes having their iPhone crash or pause, but at least Apple has ways to make it easier to fix these issues with their iPhone. Official support app. If you download it, you will have a good guide on what to do and who to turn to if something happens to your device. The download is completely free from the App Store.
Covid Radar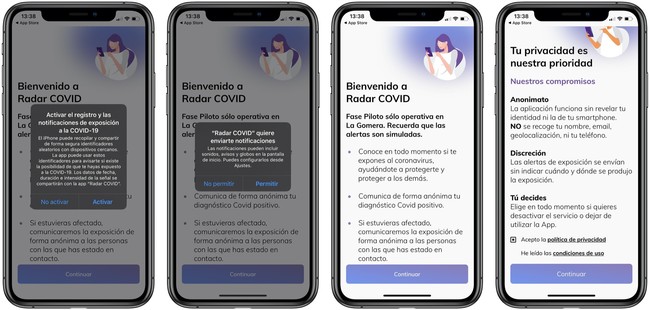 We end with the official request of the Spanish government for detect and trace COVID-19 infections, which we recommend to have installed in case the administration improves this detection in the future and the API that Google and Apple jointly created proves its value in a future where we will have to balance while the vaccination campaigns go on . Completely free on the App Store.