Transfer your photos without losing the original quality!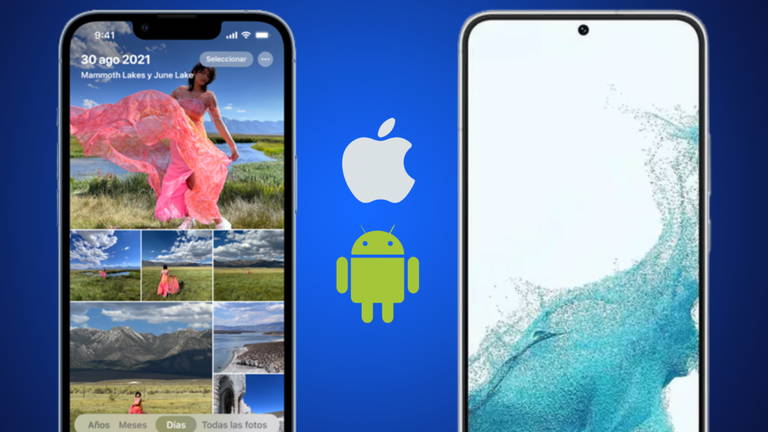 He photo transfer It is one of the activities that we do the most with our mobile devices. And much more if your mobile phone is an iPhone with which you can take beautiful, high-quality photos. But what if you want to share them and your friends or family are using Android phones? Well, we remind you that Apple's AirDrop file sharing feature only works between devices with the bitten apple logoso you will have to use other ways to be able to transfer the files at their original size and without them losing their attributes.
Transfer photos between iPhone and Android
Use instant messaging apps
There are different ways to share photos from iPhone and Android. The most common method is send images via instant messaging applications such as WhatsApp, Telegram or Messenger. However, sending photos in this way may reduce image quality. To ensure that this does not happen and that you can maintain this quality, we suggest that you take the following steps depending on the application you are using.
WhatsApp
First, you need to save app images "Pictures" in the file "Files" of you iPhone.
Open the "Photos" app on your iPhone. Select the images you want to send and tap the share icon located in the lower left corner.
Select "Save to Files". Choose a destination folder and press "Save".
Open WhatsApp on your iPhone and open a conversation with the desired user.
touch icon "+" next to the message box and select "Document".
To select images to send, tap the circle at the bottom of the selected images then press "Open".
Choose "Send" to confirm.
Telegram
open app Telegram on your iPhone and select a conversation.
touch icon "Clip" in the message box, then select the "File" icon.
Toca "Select from gallery".
Select the photos you want to send to the platform. press "Send" in the lower right corner.
Please note that Telegram will share all images in original quality. WhatsApp and Telegram let you send files up to 2 GBwhich is enough for all your photos.
Use cloud storage apps to send multiple photos
There are several cloud storage apps from Apple and a highly recommended option is Google Drive, due to its excellent cross-platform availability and seamless sharing. Besides,It comes with 15GB of free space and you can free up to 2TB of space by subscribing to any of the Google One plans.

Here we explain how to do the process
Download the app Google Drive on your iPhone.
Open Google Drive and tap the "+" icon which is in the lower right corner. Select the folder icon.
Enter a name for the folder and press "Create".
Open the folder and tap the "+" icon and select "Download.
Open photos and videos. Select the photos you want to share and tap Download.
After the charging process is complete, tap the menu next to the folder name and select "Copy link".
You can send the link via WhatsApp or email. The recipient can open the link in Google Drive and view the content.
The recipient can long press to select all images. Then tap on the three vertical dots menu in the upper right corner.
Choose "Download" and save shared photos on android phone.
US web apps like ShareDrop
ShareDrop it is a free cross platform which does not require the installation of any additional application as it only works through a web browser. Only just access their website from your iPhone and other devices that will receive files

, so that both appear on the platform and can communicate with each other. The site functions as a bridge for peer-to-peer file transfer, providing direct transfer of information.
Make sure your iPhone and Android are connected to the same Wi-Fi network and go to the ShareDrop website on the iPhone.
Tap the "+" icon in the upper right corner.
Use Android phone to scan the displayed QR code. Select the avatar on your iPhone and tap Photo Library.
Select the images you want to send and press "Add".
ShareDrop will create a Zip file. press "Send" and check the same on Android phone.
Toca "To safeguard". Then download the Zip file.
Open file manager on Android phone and find the Zip in "Downloads".
Select the Zip file and press "Extract". The photos sent will appear automatically.
some frequently asked questions
Can I AirDrop Photos from iPhone to Android?
Unable to send images from iPhone to Android via AirDrop. This application is for exclusive use between Apple products.
Can iPhone send photos to Android via messages?
You can enable MMS messaging on iPhone and send photos through the Messages app.
How to send photos from iPhone to Android without losing quality?
You can use instant messaging apps or cloud storage services to share photos from iPhone to Android without losing the original quality. To do this, we recommend that you read all the options described above.