We had a lot of words for the generation of chips that succeeds the M1 concerning their power, their efficiency or even the number of cores they can have. But on top of that, the 'M2' (or whatever name Apple decides to call them) has to address a series of shortcomings that the M1 had that will set the Mac up for the standards of years to come.
These defects have already appeared on computers like the Mac mini M1 or the iMac M1, with a rather limited number of certain ports. This has already been partially solved by Mac Studio with a more adequate number of ports. Nothing else? Let's take a look at what Apple can do to ensure Macs don't fall behind in connectivity
.
HDMI 2.1, DisplayPort 2.0… connectivity standards need to be updated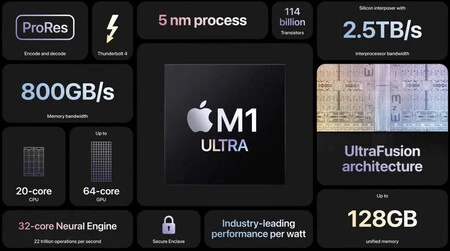 As I said, the future M2 must gain in performance and efficiency. But in addition, they must also be ready to support more modern standards of ports and wireless communications. A port HDMI 2.1for example, instead of the HDMI 2.0 included in some current Macs.
We can also think of the recent Bluetooth 5.3, already present in certain accessories, or switch from Wi-Fi 6 connectivity to Wi-Fi 6E. USB-C/Thunderbolt ports support many protocols, but some, like DisplayPort, could be upgraded to 2.0 to support higher resolution display and higher Hz refresh rate at the same time. time. Maybe with ProMotion it can happen sooner rather than later. It is update the versions of connection protocols that Apple already uses.
At the same time, M2 chips (even the most basic ones) should be able to handle a minimum of 4 USB-C/Thunderbolt ports
so there aren't the limitations of the current Mac mini M1 or the more basic iMac M1.
Nothing else? Well we could start thinking about it ProMotion brought to more computers: When Macs already support multiple 4K or 6K displays, maybe it's time to stop considering resolutions and look for more Hz. the evolution of its chips. Maybe Apple Glasses will help?
WWDC 2022 could be the starting point for all of these things, although the evolution will be slow. The M2 may be a first step, but the road will take several years. Apple must already have its own plan to follow.