Little by little, all these new features that WhatsApp predicted as imminent and which appeared via the code of the application are arriving: some users of the Android beta version can already create groups of up to 512 people and filtering by unread messages is starting to appear for some lucky ones. We tested the two novelties.
The road followed by WhatsApp has not only been long, but also bumpy: despite the exaggerated volume of people using it, its popularity has not always been on the rise. There is also another aspect that penalized him: those added to the messaging itself
. Apps like Telegram have shown that a communication app should be much more than that. And WhatsApp retaliates by hitting the news accelerator.
Easily find the messages that remain to be read
This is one of the keys to the latest beta of WhatsApp for Android, the one that corresponds to the number 2.22.13.14. Since the chat window can get chaotic if you have many groups and direct conversations with contacts, having the option to filter by unread messages allows you to quickly review whatever was left in the inkwell. And it's already in beta.
As WaBetaInfo announced, and which we were able to test in our WhatsApp application after modifying the internal code, filtering by unread messages is available in the latest beta (does not yet appear for all users
). Clicking on the magnifying glass at the top to search for the application displays the various filters that we had previously seen. By document, image, Gif, photos… And now also by "Unread".
By clicking on the "Unread" filter WhatsApp hides all conversations that have no pending messages to leave those that need to be checked. This way, it's much easier to focus on what hasn't been read yet; avoiding losing important messages just because they got buried among the rest of the notifications.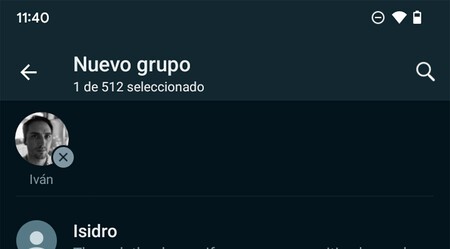 The second novelty, which began to be activated with the latest beta update (this one reaches the majority of users and without touching the code), is the expansion of groups to 512 users (compared to the previous 256). When creating a group, the remaining counter appears up to the aforementioned 512 people.
Extended groups are already in the Android beta, at the moment not all users can access them. In the case of filtering by pending messages, you have to wait a bit: although it is already in beta, the function is currently hidden. They will surely not take long to achieve WhatsApp stability.
Through | WaBetaInfo