So far in 2022, proposals of all kinds have already gone on sale in stores, including some of the best games that we will see this year. Among all this there are titles that also seek to gain a foothold and make us have a fun timeas might well be the case Shadow Warrior 3.
Flying Wild Hog and Devolver Digital have teamed up again in this third installment of the series to bring us an FPS of the most violent and wildsomething that they have not stopped bragging about over the last few weeks with each new video that was coming to light and with which it was clear that we were going to be facing one of the most brutal titles that will arrive in the next months.
The question is, will he have managed to live up to expectations? After a second part that caused us some very good feelings, it is time to discover in the following analysis what they are the important points, for better and for worsebefore its imminent launch.
A huge dragon and a plot that doesn't take anything seriously
One of the characteristics of the saga Shadow Warrior it is his peculiar sense of humor, which he returns to show off again thanks to Lo Wang, our peculiar protagonist who returns to the action in which he is undoubtedly the greatest madness in which he has been involved. More than anything because this time it will be his turn to stand up to a huge dragon that we never get to see in its entirety because of how tremendously big it is.
Despite how dangerous it is, he will have no choice but to grab his suit and equipment to stop the coming apocalypse before the dragon kills everyone. Luckily for our charismatic ninja, he will not be alone in this journey, since during the course of the plot old faces will appear that will be familiar to fans of the franchise.
Still, you can be calm because it is not mandatory at all to have played the previous chapters. Although it will help you to get to know the characters better, it won't be essential either because the truth is that the plot is very simple and a mere excuse to start distributing cuts and hitting shots as if there were no tomorrow.
Anyway, the best of all are the jokes that Lo Wang will not stop releasing, to whom it could be said that he doesn't care about everything and will not hesitate to release insults, jocular comments, make fun of the situation or whatever comes to mind at that moment. In fact, even in some moments he will begin to sing and laugh at the enemies when they fly into a thousand pieces.
The truth is that it is appreciated that the dubbing is quite decent because the chosen voices perfectly match each of the main characters. Of course, it is in English, but the good news is that this time the texts will be localized to Spanish in order to better understand the jokes and the language so foul that it will make us laugh constantly, in addition to making everything more crazy.
On the other hand, another of its strong points is the cinematic sequences that will parade from time to time in each chapter, so that in them we will witness the most spectacular moments, especially because of the destruction that we will cause by our passage wherever we go. Because nothing else, but you can be clear that sometimes I have doubted who causes more disasters, if the dragon or Lo Wang himself.
Blood, dismemberment and an action that does not give a break
There is another feature that has been preserved in Shadow Warrior 3 and it's his action so frenetic. The pace at which we will face the enemies is so fast that we will not stop thinking about our next move so that they are not the ones that make us bite the dust, especially since here it is useless to start distributing beatings without rhyme or reason , because in that case our life will descend so fast that we will not even notice it.
For this reason, even if you have to deliver sword blows with the katana or use any firearm, you have to do it very consciously and without forgetting to pay attention to all the demons around us, because they will not be exactly few. And it is that at each level we will meet waves of creatures that will be necessary to annihilate to continue advancing.
Among all of them there will be very common enemies that we will liquidate in a blink, but there will also be others with whom we will have to spend the entire shipment of ammunition. That's also without stopping moving around the stage to dodge blows and shots, so I'm not kidding you if I tell you that after a few hours played straight away I've ended up with quite sore hands from the accumulated tension, because the waves to defeat are very numerous and the worst thing is that in the case of death you will have to start them from the beginning.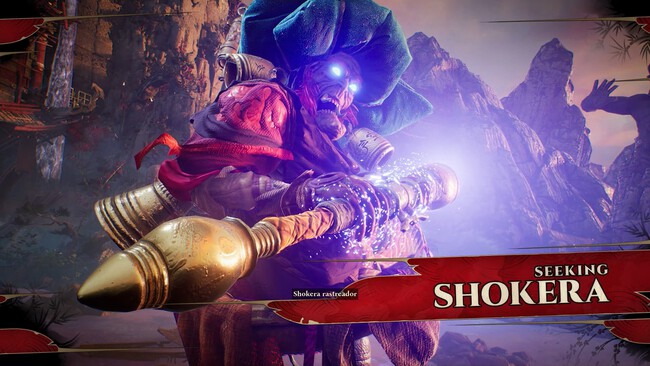 Another of the details that I liked the most is the design of the enemies themselves, because they are very varied and different from each other, which helps perfectly to know how to approach the fights against each one of them, all with a design clearly inspired by Japanese culture and its festivals. On the other hand, what everyone will agree on is how the blood will shoot out of them when we cut them into pieces or make nice holes in their bodies with the shots of our weapons.
Without a doubt, the game is quite bloodthirsty and we will not stop observing liters of blood everywhere. Such is the case that sometimes I even had a hard time discerning what exactly was happening on screenbecause between so many enemies, parts of the body flying through the air, explosions here and there and above that the demons themselves will pounce on us without hesitation, so much element is gathered on the screen that sometimes it becomes a real chaos.
Despite everything, Lo Wang will be well prepared for action and even more so as we progress through the adventure. The katana will be essential to slaughter anyone who stands in front of us, but the truth is that in the end firearms have become my best allies in most situations, because not stopping moving everywhere was what served me the most to not stop attacking what I had in the distance.
As if that weren't enough, there will be times when the environment will also be very useful, since there will be traps to activate with drills, rollers, gates that open and much more that will be very useful for dismembering enemies. Unfortunately, these situations will not occur that often, something that is partly understandable because when there are too many demons together, it is undoubtedly the best help we can count on.
For the rest, Lo Wang will have the ability to move quickly around the stage, launch a wave of chi and above all accumulate energy to execute some beastly finishers. The latter will have to be kept in mind because thanks to them we will pulverize any creature with a single blow and in return it will heal our life completely and will also give us a most devastating temporary weapon, so between one thing and another we will be sufficiently prepared to meet the encounters.
And if despite all this you need some more additional help, to finish off the enemies in certain ways we will carry out challenges that will give us improvement points. Thanks to them, weapons will become more lethal and our protagonist will also become more resistant to face adversity. Also, some Enhancement Orbs will be hidden by the scenery, so you'll need to pay attention to the environments as well.
A ninja with touches of Spider-Man in somewhat linear settings
We enter a somewhat swampy section, because it is undeniable that the action of Shadow Warrior 3 It is superb, but in many other aspects it has worsened considerably with respect to its second installment. The main reason is because now we will be overcoming levels one by one with a very linear storyas will happen with the phases themselves, because the exploration will be practically nil.
Most of the time it will be the game itself that will tell us where to go because there will only be one path to follow, so it leaves us with few options when exploring the scenarios. Also, the places where we can jump, run along the walls or go through are clearly marked with green vines, so it is impossible to get stuck.
between all this a new novelty has been added as is the hook, a tool that will also help us to feel a bit like Spider-Man by being able to go everywhere hooking ourselves to the hoops we come across. In the scenarios themselves it is just one more way to move, but at least in battles against waves it does serve something else to move faster and to attack demons from the air.
The worst part that everything is so linear is that there will be no main or secondary missions here either, since our task will be the one that the plot assigns us at that moment. Ultimately, this leaves us with an adventure that will last between six and eight hours approximately, depending on your skill at the controls (or with the keyboard and mouse) or the difficulty you choose. In my case I set the intermediate and in many moments the game presents a good challenge.
iGamesNews's opinion
From all that has been said so far, it is more than clear that shadow warrior 3 action is so awesome That alone is worth giving the game a try. The waves of demons will force us to do our best and take advantage of all the weapons we have to get ahead.
In addition, the finishers they are spectacular and in general lines it looks good with its graphic section with good performance, except when there is too much element on the screen that slows it down a bit. Yes indeed, It would not have been bad to find us with a little more variety so that it was not constantly crushing, going from point A to point B, crushing again and so on.
It is somewhat surprising that details that worked in its predecessor have been completely left out to offer a simpler proposal. In any case, if you are one of those who are looking for a brutal FPS without any more pretensions than chopping heads off or gunning down anything that moves, along with a good deal of hilarious and wacky situations, then Shadow Warrior 3 is a perfect game for you.
Shadow Warrior 3
| | |
| --- | --- |
| platforms | PC (reviewed version), PS4 and Xbox One |
| multiplayer | No |
| developer | Flying Wild Hog |
| Company | Return Digital |
| Launching | March 1, 2022 |
The best
A most frenetic action and it will be difficult to get tired.
The wide variety of weapons to crush the multiple demons.
The sense of humor that the saga once again shows off.
Worst
A very linear adventure.
The chaos that sometimes forms in confrontations.
There would have been some more variety during the levels.