One of the most important aspects that we must take into account when get a gaming PC, but nevertheless usually receives less attention than required, it is from the box that we choose. Issues as necessary as good cooling, front connections and, why not, an interesting aesthetic go through a good box. As well, next we will see 11 models on offer for all tastes, needs and budgets. Let's go there!
Tempest Vapor RGB Blanco
This box costs 47,98 dollars (before 59.99 dollars) and offers quite a few additions despite being really cheap: slightly open front to optimize air flow, tempered glass side panel, possibility of installing additional fans in the upper area and compatibility with ATX, micro-ATX and mini-ITX motherboards. It is available in white.
Tempest Vapor USB 3.0 with RGB Window White
Corsair 110R
For 59,98 dollars (before 74.90 dollars) we can get this Corsair box, which has very good ratings by users. Available in black, it presents a minimalist and sober design. It has a closed front, although it has side openings to help air flow. Allows adding motherboards up to ATX size and includes removable dust filters.
Corsair 110R Tempered Glass ATX Semi-Tower Chassis (Minimalist Design, Flexible Storage Options, Removable Dust Filters, 120mm Fan Included), Black
Cooler Master MasterBox MB500
This Cooler Master model costs now 64,99 dollars (before 87.54 dollars) and It has a very gaming design: glass in the left area, semi-open front and RGB lighting. It comes with three 120mm fans. already installed and can accommodate motherboards of the three most common standards: micro-ATX, mini-ITX and ATX.
Cooler Master MasterBox MB500 RGB PC Box ATX Semi-Mesh Front Panel, 3 x 120 mm Pre-Installed Fans, Glass Side Panel, Flexible Airflow Configurations, RGB, Medium Tower
Thermaltake Level 20 MT
We go to a Thermaltake model that costs now 84,99 dollars (before 99 dollars). In this case, in addition to the side glass, we also find one on the front, which is closed. Thus we see perfectly the three fans with RGB in front but we get worse airflow than in an open front box or semi open. In any case, additional fans can be added in the upper area. Accepts ATX boards.
Thermaltake Level 20 MT ARGB Midi-Tower Black, Silver Computer Case
Thermaltake Tower 100 Snow Mini
This other box from Thermaltake costs 89,99 dollars (before 109.90 dollars) is quite different from the others. Much more stylized and in white, it is ideal for setups where space can become an inconvenience. The components that we introduce into it must be small, and the maximum supported motherboard size is mini-ITX.
Thermaltake The Tower 100 Snow Mini PC Chassis
Itek Vertibra Q210
The Vertibra Q210 costs 95,86 dollars (before 113.29 dollars) and it is a tremendously elegant model. It reminds us a lot of the famous NZXT, although at a cheaper price. Available in black, both on the side and on the front, it incorporates crystals through which to view its components and fans with RGB, respectively. It also allows you to add more fans
in the upper area.
Itek, Vertibra Q210 – Middle Tower ATX Gaming PC Case, 3 12 cm Fans, Addressable RGB Grid Radio Frequency Remote Control, 2xUSB3, Side Temp Glass Panel (Tempered Glass), Black
Sahara Black
For 97,08 dollars (before 122.26 dollars) we have this large model. Available in black, it has a front closed by glass. Glass that also includes in the left area, as is usual. Includes 4 RGB fans as standard, although many more can be installed. And it supports ATX, micro-ATX, and mini-ITX boards.
Sahara Black Glass Templado Mid Tower P35, Funda para PC Gaming con 4 x Turbo Pirate 12cm Ventiladores, color Negro (True RGB)
EVGA DG-77
Known primarily for its graphics cards, EVGA also makes cases like this, which are priced at 100,39 dollars (before 150.13 dollars). It is white, supports motherboards of the three formats mentioned and has a closed front. The upper button panel is also in the left area, next to the fan grill above.
EVGA DG-77 Midi-Tower White – Computer Case (Midi-Tower, PC, Acrylonitrile butadiene styrene (ABS), Glass, Steel, White, ATX, Micro ATX, Mini-ATX, 39 cm)
Kolink Void
This box has one of the most gaming designs on the entire list, and it will surely delight gaming fans. Cost 123,71 dollars (before 193.47 dollars). PAllows the installation of up to three fans in a front that lights up, and accepts motherboards of the above in addition to E-ATX.
Kolink Void Medium Tower PC Case – Front Panel with RGB lighting – Tempered Glass Side Panel (Void X ARGB, Black)
In Win 301C
This tower costs now 125,30 dollars (before 153.52 dollars) and it is quite peculiar. Far from what we are used to seeing in this type of product, it has the hole for the power supply in the upper area. In addition, the keypad and connections are on the front panel, which is closed. However, it has an opening in the right area for air to enter. Supports micro-ATX and mini-ITX motherboards.
In Win 301C Black Computer Case Midi-Tower Black – Computer Case (Midi-Tower, PC, SECC, Tempered Glass, Black, Micro ATX, Mini-ITX, Game)
Corsair Crystal 680X RGB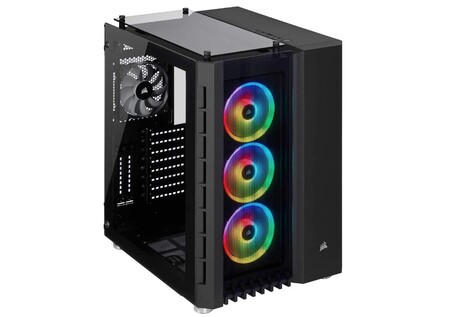 We reached the end with this mammoth Corsair box, which now costs 219,99 dollars (before 274.90 dollars). Includes three front RGB fans plus one rear, all of them 120 mm. Although it admits many more: also above … and below. This is because the section of the power supply goes on the right side, not in the lower zone as usual. Without a doubt, one of the gaming PC cases that we find today.
Corsair Crystal Series 680X RGB – PC Case, Tempered Glass ATX Smart Gaming Case with high airflow, RGB LED lighting, Black
More offers
If you become Amazon prime, you have a 30-day free trial (after 36 dollars per year) to enjoy free fast shipping, priority accessory to offers, services such as Prime Video, Prime Music and unlimited photo storage. Also, if you are a student, make yourself Prime Student It costs half and you have a 90-day trial. You can also try services such as free for 30 days Kindle Unlimited O Audible.