You knew it would end up happening this day. You guys were claiming it and GTA Online was pinching me to make me realize it once and for all. The assault on Cayo Perico It's one of the biggest heists we can pull off in Los Santos and I've totally screwed up.
It's been one of the biggest draws in Rockstar's multiplayer history, I was totally drawn to its idolization of chaos and especially that majestic amount of money. My path to pulling off the heist of the century at Juan Strickler's house has resulted in resounding failure when I had everything going for me.
A very crappy boss
Many of you have told me to stop doing the canelo with odd jobs for Lamar, Gerald or the mobster from three to a quarter on the corner of the neighborhood. You told me that a certain submarine is the key to start accumulating money to the point of needing a Uncle Scrooge vault.
I listened to you and got down to work, but I almost skated without having started walking. The first task is to enter The Music Locker, a high-class nightclub located under the city's casino. As I must suffer from severe blindness, I can think of nothing else but to enter from the inside.
The elevator tells me that I have to buy the penthouse to access the dump and I'm almost ready to do so if it weren't for some friends warning me that you enter from the outside. no, yes in the end I'm going to deserve all the misfortunes that happen to me. Surely it has happened to you that you have wanted to enter a pub or disco and they have told you that you cannot because you do not comply with the dress standards.
God take you all to jail, 150 bucks to let me through and a discount if I wear fancy clothes. I don't know what kind of problem they have going with jeans that I haven't washed in two months, but it doesn't matter. Miguel Madrazo is waiting for me in a private private room.
The guy is the son of one of the fat bosses of the Latin world and not even with those can he escape from one of the most terrifying clutches that exist: those of your own mother. Indeed, Patricia Madrazo, the elderly lady of whom Trevor was in loveHe doesn't leave the poor boy alone.
It's not clear to me what kind of Wendy complex that lady has, but let the kid breathe. Partying with your mother, you would have seen. Regardless of the disturbing entourage that dances the water, she tells me the plan.
Juan Strickler, better known as El Rubio, owns an island in the Colombian sea called Cayo Perico. Believing himself little less than Pablo Escobar, has stolen sensitive information from the Madrazo family, so I have to recover it for a good sum. The first description is that he is chasing a supermodel down the beach, riding a panther and shooting with an AK-47.
That's what Dave tells me, he's up to his ass on a certain flavoring herb I haven't seen since I opened the Black Hole. Miguel does not allow me to be distracted and he makes it clear to me. He knows I have experience and for this job he needs the A-Team. He doesn't know that he just hired HM Murdock.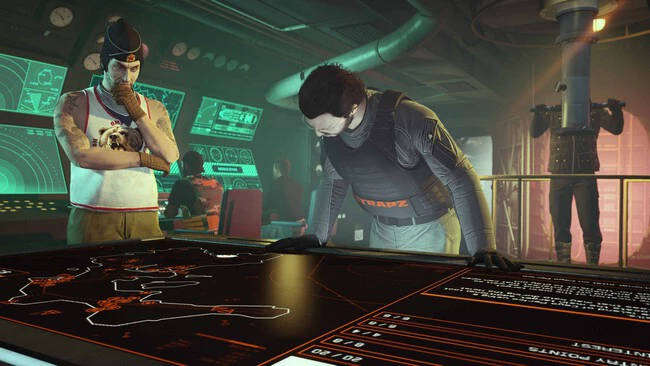 The old USSR and the party without control
Time to loosen the paste. I think it's my largest outlay so far and better GTA Online worth it. With just over three million in the account, loose $2,200,000 to get the Kosatka. A pain to pay and for which they intend to put a colossal sablazo back into me.
Leaving it well decorated and as I would like is worth more than the vehicle itself, but I leave a Spanish flag as the only sign. I didn't expect to find anyone inside, let alone living there, but I can't judge Pavel properly. He lived during the Soviet Union, he assures that the 90's were really hard and that perhaps the drug has consumed him.
Maybe even more than a submarine that already has 20 years on its rivets, which gives me a good feeling that the water will not leak at any time. Mechanic, pilot and my right-hand man from now on. He has not been enrolled in the KGBbut his tattoos speak of a tough guy.
Now yes, we fly to Cayo Perico to get to know the terrain by heart. Dave is waiting for me at the airport because he has sneaked me in as the tour manager of the private party that El Rubio has organized. Apparently I supervise a techno group, although I don't say or mu at any time. Tremendous, Dr. Dre himself is about to get on and he doesn't because his cell phone full of models has been stolen.
We wait for no one and ride a enormous guateque at the rear of the aircraft. If I were a pilot at that time I would have serious doubts about landing directly in the sea to end everything. Strickler shows up as soon as he lands and he's the best possible host, which makes me perk up my ears instantly.
That if I am the grandson of Germans, that if the party is going to be the milk, that if we are going to shake the skeleton… he would believe everything if it were not for the fact that he is surrounded by an entire army and assures that in his house, the rules are he imposes. I'm not in the habit of questioning a dictator's word, so he turns to the private party he's throwing on the beach.
My role will be, when everyone is looking for the DJ, I will slide between the palm trees and sneak into the rest of Cayo Perico to see what I find. I prepare myself for my moment at the bar with shots of vodka and whiskey, so when I go into the jungle I see double coconuts.
Here is where the harbinger of my sad end begins to occur. the stealth of GTA Online it is unbearably clumsy. You can't believe the damn Sam Fisher in Splinter Cell because what your character means by stealth is leaning your back forward a bit. But the thing is that I love stealth games, so I insist on following that method.
I slowly sneak past the guards, unlock a control tower like a Far Cry, and hack into the compound's cameras. Dave will have more cocaine in his blood than red blood cells.but he wasn't lying. Strickler's asshole throws his assistant into the panther's cage to eat him, he's a real nutcase.
Looking through the security net I discover a lot of money, gold and safes, which makes me drool uncontrollably. I check out more escape zones, relevant points of interest, and head back to Los Santos. To all this, Dave stays because he says that Cayo Perico is the only place in the world where he does not stop snowing. There are people who want to live forever in Christmas.
Let's do it
I haven't been in Los Santos for ten seconds and my marijuana business is already being robbed, but this time they won't catch me off guard. I do with myself Well Armored Kuruma and I get rid of all those sons of a hyena who wanted to take over the plants. Now yes, it is time to prepare one of the most complex blows of all.
There are a series of mandatory tasks and many others that are optional, so we are going to go in parts. First of all I have to get a sonar for the submarine, since approaching the island without being detected is essential. Ghosts of the past come to mind again with sea battles, which is possibly the greatest chaos in GTA Online.
After much insistence, he managed sneak past merryweather's defenses, I sneak into another submarine, get rid of all the mercenaries and get the sonar. I make the trip in reverse, diving for several hundred meters, but I manage not to get caught by three helicopters flying over the sea.
Once done, I take the worst detour possible. In my quest to avoid casualties, be a shadow, and achieve a Hitman-esque silent assassin rating, I opt for the conspiracy pack. What does this mean? Well, I will carry a military rifle, a 50 caliber pistol, adhesive bombs and a brass knuckle.
Before revealing the consequences of this decision, I continue my crusade against Merryweather. I steal the material from them in an Avenger plane, I steal detonators and a lot of military equipment so that everything goes perfect. I leave a trail of blood behind me, but it is the cost to pay.
I'm useless planning
Are you sure you've checked Cayo Perico well? Do you have everything you need? Warning messages thrown at me GTA Online and to whom I did not pay attention. And the fact is that I am so confident, with my chest so swollen and thinking about the mortgages that I am going to pay off that I want to make the hit by myself. Without company, without help and without having to share the loot. The flame of greed shines in my eyes.
I arrive with the Kosatka at the coast and begin to dive to reach the shore. I have decided to go in at night, much easier since it will be much more difficult for the guards to see me. However, my gross error occurs in the way of entering the mansion of El Rubio. I have no more chance than do it from the front, with the chest exposed and putting a terrible bomb on the front door.
From that point on, the whole plan in my head goes to hell. I was thinking I could go Solid Snake by going into Shadow Moses and I find myself in the middle of a fight whose only goal is to end up in a plastic bag. I don't have the necessary weapons to defend myself, I don't know the area and it's almost two in the morning while I'm playing.
I just want to take $1,100,000 and go home or go to sleep, I do not care. I have both lives to myself, but every time I get killed, I appear on the other side of the mansion and I can't get my bearings, having to cover myself all the time. After dying countless times, I manage to get to Strickler's room, get the card and activate the program to mimic fingerprints.
I solve it, I appear in the basement and… I am killed by a mercenary that I had not seen. Well, it's okay, I'll reappear at… the mansion's entrance. This loop was repeated too much, but I insist on trying to get it. I get to the safe, grab Madrazo's documents and I'm ready to go.
Not without first remembering that I came upstairs and thought that fleeing from the airfield was going to be spectacular. Now I have to go to the other end of Cayo Perico no car, no armor and even with the damn monkeys trying to kill me. I am immersed in a loop of despair, I am already in the middle of the night and the deaths are repeated incessantly.
Do you know what? To hell with everything, I'm going to bed. I will rethink in the future how to deal with Cayo Perico's coup. And I'll get rich, drink champagne and invite you all to the party. This gold mine is going to be raided, I swear on Lamar Davis.