Not that Danny Ocean believes me recruiting a wacky group of people to Rob the Bellagio casino in Las Vegas., but I like to recover that spirit. GTA Online Heists were the pinnacle of the online experience on Xbox 360 and PS3; the beginning of a path of success for PS4, Xbox One and PC.
In that year 2015 I was giving my last breath in Los Santos, with Rockstar implementing a game mode that finally fulfilled what they had promised us. The mammoth heists that we could carry out with Franklin, Trevor and Michael in the story mode landed in the multiplayer so that, with our friends, we could give the heist of the century.
However, that was the theory that floated through my mind seven years ago. We are in 2022 and my friends are far from getting a new generation console. I find myself building a criminal world among strangers, but that hasn't stopped me from jumping into the pool. Falsifying documents is all very well, but I must update myself. Got to get a few wads of dollars.
Fleeca's Bank
It is the final destination, but not the first stop. Only an unconscious enters a bank to rob it without being properly armed. I was saying last week that my firepower was limited, so I go to the Ammu Nation next door to my house and fill my pockets. I close my eyes so I don't see the prices, because spending more than $200,000 on a positronic beam launcher seems like a threat to my wallet.
I resist those explosive temptations and fall in love with the special rifle. One stop before we go on: I understand limiting access to WMDs to newbies, but the fact that I can't buy super-heavy armor because I'm not level enough doesn't work for me. What I do have a level for is to go do the little visit corresponding to Lester in his textile factory.
He tells me the milonga that he is the real boss, I laugh in his face and go back to the apartment. All set, I just need a fellow sufferer organizing all the preparations. Due to my lack of friendships, I'm forced to let random invitations from GTA Online
Find someone who wants to earn a few quarters.
I find myself with a complete unknown, since the person who accompanies me does not have a microphone to speak, but communicates much more with his actions. He is level 782 and it shows that his skin is tanned in this kind of situation. In the first preparatory mission we have to visit the bank from the outside and hack the system.
I get to be the trashy hacker and make a minigame that keeps me entertained during the trip. My colleague cuts through the most unexpected areas of the city and is planted in a jiffy in each of the destinations. Simple contact, just an appetizer for what comes next. It's time for the second mission, get the Kuruma or what has been a tank with wheels.
It's harder than a Basque having breakfast and again, without saying a word, he takes charge of the situation. The car is on the roof of a parking lot and the guy doesn't think twice going at full speed between columns. We arrive, we shoot at everything that moves and I see myself again as co-pilot. On-screen alert: the more we damage the Kuruma, the less money we will receive in return.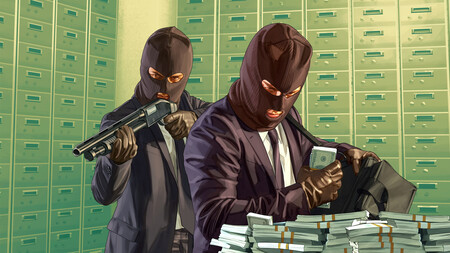 Money will come out of this man's ears, but not me, so I have to contain the impotence of seeing how he scratches it, makes it overturn and destroys any vehicle in front of us. As if he were a stuffed animal, hey. But the wait is over, now he has to go for Fleeca's safe. I change partners and this time they do answer my call on the other side.
"Where are you from? I'm… American… no, sorry, I'm from Bangladesh." A boy who also wants to carve out a future as a criminal, with level 9 and who goes with a Zentorno for life. I do not understand absolutely anything and even less with the interference that there is while we talk. That matters little to my dear driller, who bursts the safe, I put bills even in my underpants and I walk out like a soul from the devil.
I give my Bangladeshi friend directions on which way to go, he hooks us up with a giant magnet from a Cargobob and we're free. A scene that Vin Diesel would have signed in Fast & Furious 9. This is how the accounts remained after the first hit:
Cost: $11,500.
Percentage: 60% for me and 40% for my partner.
Reward: 143,750 dollars to distribute. I'm taking home $86,220 along with a nice $186,000 pinch for being my first time doing the heist.
Prison Break
Now we are already speaking with bigger words. This time I really rub my hands, because I'm facing a big robbery, with juicy loot and several preparatory missions. However, I must overcome the first hurdle. I find incredibly difficult to find three players
more to do the hit with me.
Seriously, I've spent hours at a time praying, crossing my fingers, and begging Lester to let me have a trio of saplings to play with. Between the fact that no one pays attention to the random invitations and that people do not have the patience to wait for the room to fill up, I have suffered quite an ordeal. In fact, I have even been expelled from the session for inactivity.
By sheer fluke I get three companions, with a terse London thief at my side. In the mission to get the plane I realize that I have overlooked a life hack tremendous for GTA Online. Why shoot me on foot when I can mow down the gangsters from inside the car? Said and done, we pulverize small-time thugs and I take the plane. A couple of mission restarts show me that coordination is key.
A coordination that is conspicuous by its absence in the third mission. I say third because I'm in this hellish waiting loop, so I'm going to join in on a random hit. I am no longer the leader, but it is a small price to be able to play. Now yes, I have to dress up as a cop and go to the police station to steal some documents.
Since my partner doesn't have a microphone and GTA Online tells us that we should draw the attention of the police, the very Kafre can think of nothing better than enter the wild Through the door. To hell with subtlety, I open fire on everything that moves, hook the documents and go home. $14,700 for the sack.
Dirty work. The name of the mission is funny, because it seems that what we did before is an act of charity. I am assigned with the rookie to go to the mansion where Rarhkovsky's partner is to see what he has in mind. We pick up the appropriate instrumental in the form of a sniper, stealth first. It is impossible to hit from the position we are in, so we go back to shooting what we do best: shooting without aiming. $15,200 for a job well done.
The final blow, you have to go all out, maximum concentration. My mission is clear: I must get to the bus to enter Bolingbroke Prison and get Rashkovsky out of there. Very precious the Declasse Stallion Bólido of one of my colleagues and I allow myself the luxury of driving it. It is seen that there are still people with class to drive a car that looks like a boat. I take him to the bus, I get on with him and we go into the prison.
Sure, I'm starting to notice something strange. Somehow, all the chaos that is unleashed does not go with me, until I look at the minimap and read my objective well. I am an idiot. im becile I have two minutes left to intercept the actual prison bus, take it to Sandy Shores and burn it. I hit the throttle after stealing a car on the freeway, but failed miserably.
Fortunately, my initial clumsiness is not the end and we try again. This time yes, I go where they send me, I burn the bus, I get a Buzzard helicopter and I go to defend the plane that my partner is on from the attacks it receives from the fighters. "a real loon", I think at first, since he is dedicated to piloting at ground level, doing strange pirouettes and sneaking between buildings.
"A bloody genius", I think second, since the fighters are not prepared to make turns as sharp as his, so they end up crashing. I dedicate myself to little more than enjoying the show. Despite the good work and exquisite coordination, I fail once again. I stand on my side, with the cockpit portion of the helicopter facing toward a cop's rifle. The headshot kills me, the Buzzard crashes and we lose because it's destroyed. Game over. This is what we would have achieved if he wasn't one-armed:
Cost: $40,000
Percentage: I would take 15% without having participated in a preparatory mission, the leader assigned himself 70% (stupid he is not)
Reward: 400,000 dollars to distribute and I would have taken 60,000 dollars.
It makes me want to turn off the PS5 and send the GTA Online to hell itself. I pull out the double-action revolver I got as a treasure last week, kill a couple of civilians, and the notification pops up: congratulations, you've completed the challenge. $250,000 will be credited to your account from the bank immediately. Fate is capricious and smiles at the clumsiest like me.