Over 60,000 radio stations and more
Audio company Sonos now provides customers with their own music streaming service. Among other things, Sonos Radio provides users with access to more than 60,000 regional radio stations, and even more. You can read the content provided by the music service below.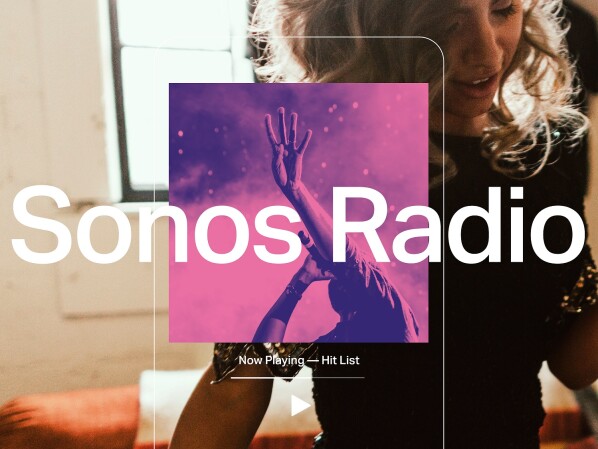 Sonos will launch its own music streaming service on April 21. Sonos Radio is said to provide smart entertainment owners with more entertainment for free. The new service of the audio manufacturer brings more than 60,000 regional radio stations and exclusive content to the speakers. According to Sonos, customers currently use their speakers to listen to their favorite radio stations and DJs about half the time. With the new music service, the company hopes to improve the listening experience of its users.

Through cooperation with Internet radio services such as TuneIn, Sonos can now access more than 60,000 radio stations from all over the world. Customers can listen to not only local radio stations in their area, but also international radio stations, such as SomaFM in San Francisco or RTL in France. According to its own statement, manufacturers are constantly expanding their partnerships and regularly expanding their scope.
Exclusive content

Sonos Radio also provides its own radio stations, such as Apple Music. The advertising-free broadcaster "Sonos Sound System" provides songs created by DJs and artists. Interviews with musicians and guests should also be accepted. The broadcast comes from a new broadcast studio in the Sonos Flagshop store in New York. Sonos Radio also features "Artist Stations" without advertising. These are radio stations designed by artists, and hundreds of songs have influenced or moved musicians.

The so-called "Genre Radio" allows customers to access more than 30 radio stations and play certain genres of music, including "Pure Unplugged", "Village Law" or "Hip Hop Archives". The playback mix is ​​carefully planned and regularly expanded to include new songs. The exclusive radio station will initially be broadcast in the United States, Canada, the United Kingdom, Ireland and Australia. They will be available in Germany and other countries soon.
So you use streaming service

New software updates for the Sonos application are now available in the application store. After downloading and installing, you will find new content in the "Browse" menu of the application. From here you can play radio stations.