Car and driving game lovers: watch out because we come with some screenshots that you are going to love. We have removed them, of course, from our Discord server, where every week we propose a theme on the channel Photo mode for you to send us your best catches.
The wonderful photo that heads this article is the work of our reader ruben_berja. He himself told us the following: "I bring you a photo of the Quadra Turbo R from Cyberpunk 2077 on the streets of Edinburgh from FH4. I have to say I'm in love with the rear of this car."
On the other hand, both we and the regulars of the Modo Foto channel knew that, with this theme, our reader nebur9362 he was going to send us several shocking captures. And so it has been. We have selected the following, where he himself has captured a Jaguar F-Type in Forza Horizon 5:
And since there are not two without three, or at least that is usually the trend in this section, we will close today's selection of captures with one of those that has sent us JotaJotaBiker
, another regular around here. It was accompanied by the following message: "It will not be one of the most luxurious, but it is a great car. Ford Escort RS Cosworth. Game: Forza Horizon 5". It is this: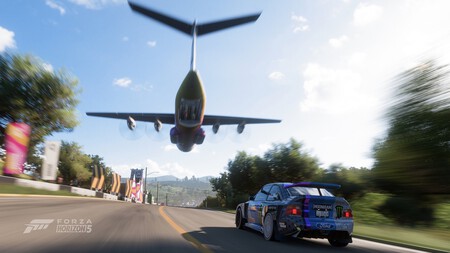 And for this week: black and white
In November of last year we proposed the black and white as a theme for your captures and the result was wonderful, so let's go with it again. Yes, it's like the free theme but with the black and white filter applied to give the captures that magical touch.
We remind you that they must be video game captures made by you inside the games, without spoilers and indicating the name of the game they belong to. If you can also accompany them with a comment of yours to give us some context about why you did it, how you did it or what you want to tell us about it, even better.
You can upload your best captures to our Discord server (Photo Mode channel) until next time friday january 21 at 12:00 pm if you want them to enter the candidates.
Thanks for participating!