Assassin's Creed Valhalla is one of the protagonists of the day. It is not for less after cinematic trailer piece with which Ubisoft has left us this afternoon, although there has not been the thing, because we already know that this new installment of the saga will arrive later this year.
For the French company this launch is not just any, as has already been shown in the last hours with the fantastic art image which has been drawn or by the amount of studies who are working on the development of the game. In addition, it will go on sale accompanied by several very special editions
.
Each of them can be booked right now from the Ubisoft store and thus access some exclusive rewards for those who want to wait longer to buy them. For example, the Standard Edition, with a price of 59.99 euros on PC and 69.99 euros on consoles, will include the exclusive mission "The Way of the Berserker" in which we will join a warrior in his quest for revenge.
On the other hand, if you are looking for something more complete, this is which will include the rest of the editions that will go on sale:
Gold Edition
A copy of the game
The Way of the Berserker quest for those making the reservation
The season pass to access new content, adventures, gear, and more
Metal box (only in the physical edition)
Price: 99.99 euros
Ultimate Edition
All the contents of the Gold edition
Berserker Gear, Berserker Settlement and Berserker Longship packs with new cosmetic items
A set of runes for upgrading equipment pieces
Price: 109.99 euros
Collector's Edition
All the contents of the Ultimate edition
A special box for all your items
A figure of Eivor and his Drakkar 30 centimeters tall
A metal box with the game's emblems
A Viking Eivor figure with his crow and his 5 centimeter ax
A premium certificate of authenticity
A pack with three lithographs with conceptual arts of the game
A CD with the best songs from the soundtrack
Price: 199.99 euros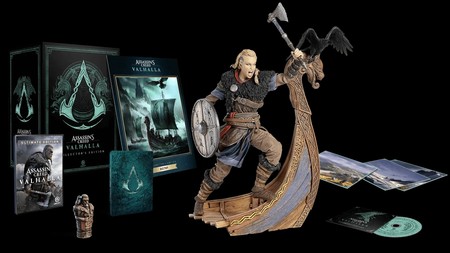 In Assassin's Creed Valhalla we will be Eivor, a fierce Viking warrior with which we will explore an immense dynamic and detail-laden open world, with a plot that will take place in Norse mythology and in which we must earn our place among the gods in Valhalla. In the absence of a more specific date, it will be available for PS4, PS5, Xbox One, Xbox Series X, PC and Stadia.