Rather than a dull console, it 's a real collector 's item
The simple Xbox Series X is not really eye-catching. The fan will display a clear and beautiful design for the console, and the monotonous "fridge" has become a real collector's item for game fans. Also includes: "Diablo 4", "Cyberpunk 2077" and "Halo" special editions.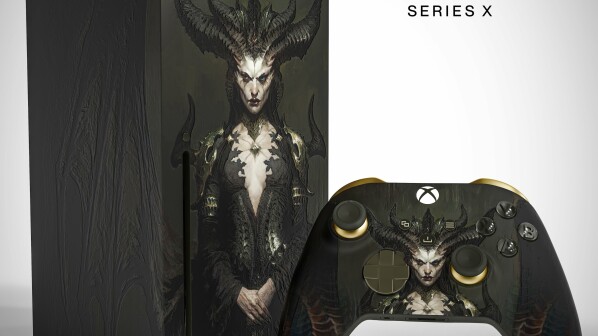 After Microsoft released the Xbox X series design, not all players were excited about it. Some players even joked about the Internet-like "refrigerator" design, which has led to numerous memes. Twitter user Pope used his own design to show you how the console is truly compelling at home.
In the past few days and weeks, he has made a good makeover for the Xbox series and greatly upgraded the dull case of the upcoming Microsoft console. The result is that the Xbox Series X design has accelerated the heartbeat of many game fans.
Xbox Series X: Game console design for fans
Picture 1/14

This design displays the Xbox Series X in a perfectly dark version
[Source: Pope via Twitter]
Xbox Series X: Special Edition for Game Fans

The Pope 's designs are mainly based on the famous game franchise, and for fans, they look like real collectibles. At the top of the picture gallery, we show you the design we particularly like. Our favorite is definitely "Xbox Series X Diablo 4 Edition" with Lilith cover and "Xbox Series X Conker Edition" with bullet holes.
The Pope also designed suitable designs for Batman fans or the upcoming games "Cyberpunk 2077" and "Halo Infinite". If you like action role-playing games, then the Xbox Series X with Biomutant cover will be your ideal choice. Therefore, he not only has a collection of Diablo 4 fans.
Xbox Series X console design.

Diablo 4
Banjo Trio Edition
Halo Edition
Black Panther Edition
Dragon Age Edition
Cyberpunk version 2077
Batman Edition
Conker Edition
Resident Evil 3
Sunset Speed ​​Edition
Vampire Lineage 2 Edition
Minecraft
Perfect Dark Edition
Of course, these are not official designs, so you wo n't be able to buy game consoles with corresponding cover graphics for the Xbox Series X version. Microsoft has not yet launched a special version of the console with a special design.
But because Halo Infinite should appear as a release title, if you are lucky, you can buy the Halo special edition Xbox SeriesX at the beginning. The pope already has the right design idea.
You may see the first special edition of the Xbox Series X in May 2020 or June 2020. According to rumors, Microsoft plans to launch new Xbox consoles in two major events. Such events are also very suitable for introducing more launch games for Xbox Series X.
Xbox Series X
If you want to learn more about the intrinsic value of next-generation hardware, please refer to our article on Xbox Series X technical data. How your gaming experience looks in practice, Microsoft has shown the Xbox Series X power supply in graphical video.
Article keywords
Games, game consoles, Microsoft, video games, Xbox Series X, Diablo 4, Halo Infinity and Resident Evil 3 remake
More information and sources
Image Source
Screenshot Pope Twitter