Amazon Prime is one of the most popular subscriptions online, and it's easy to see why.
For a single monthly fee, you get free next-day delivery (on many items), access to the Prime Video streaming service, free photo storage, and more. Check out the full range of benefits in our Amazon Prime Explainer.
But Amazon Prime is more expensive than it once was, costing $14.99/£8.99 per month or $139/£95 per year.
You might prefer to sign up for the 30-day free trial, which is available to all new customers. If you just want Prime for exclusive Black Friday or Prime Day discounts, that makes a lot of sense.
However, to avoid being charged at the end of the trial, you will need to cancel manually. Don't worry, you'll still be able to use the perks until they expire. Here's how it's done.
How to Cancel Amazon Prime on Mobile
On mobile devices, it's easier to cancel through the Amazon Shopping app. It's free for iOS and Android, although we'll be using the latter for the purposes of this tutorial.
Log into your account if you've never used the app before, then follow these steps:
Tap the hamburger menu (three horizontal lines) at the bottom right
Tap on "Prime", then again on "Prime"
Scroll to the bottom of the page, then tap "Manage Prime Membership"
Anyron Copeman / Foundry
Tap "Manage subscription" at the top of the screen, then tap "Update, cancel and more"
Tap "Cancel Subscription"
Anyron Copeman / Foundry
Scroll down the page, then tap "Continue to Cancel"
Tap "End on *date*" to confirm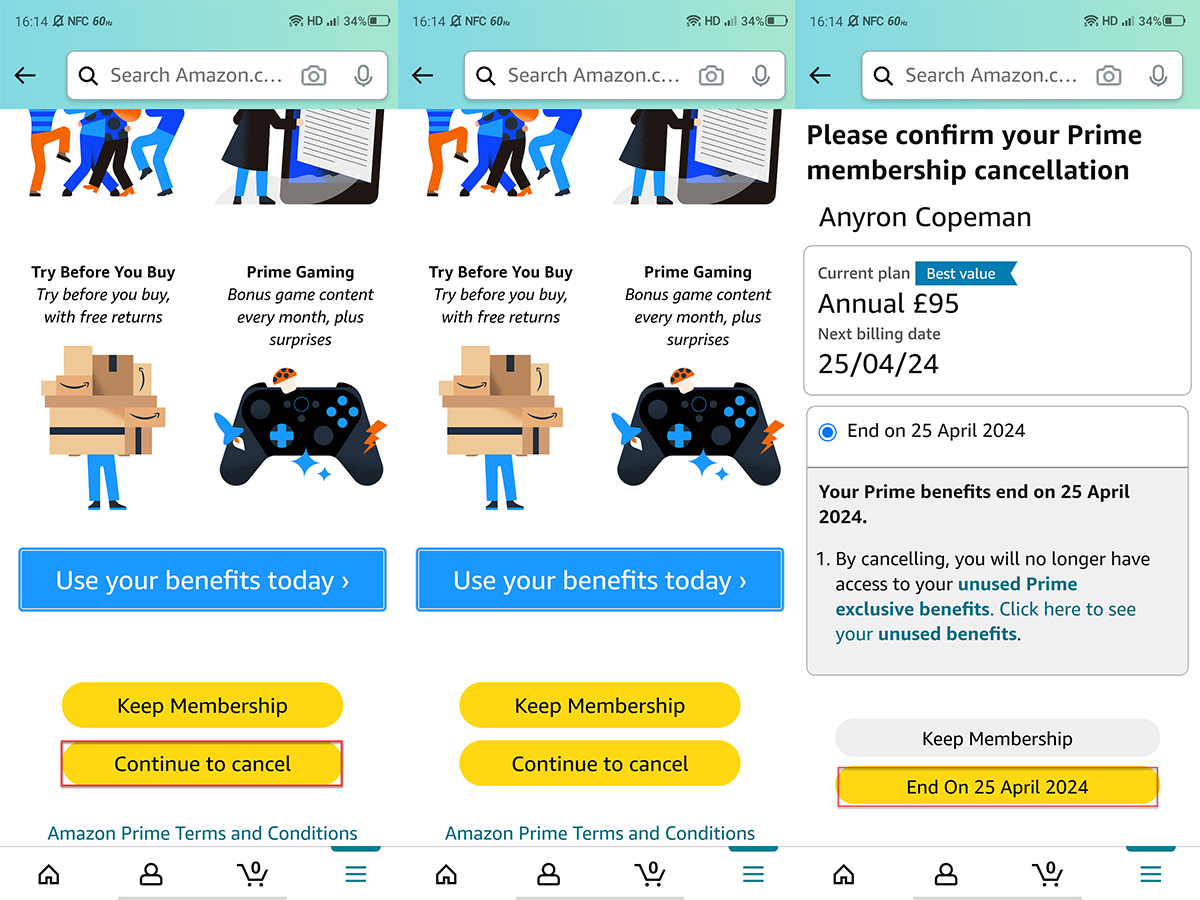 Anyron Copeman / Foundry
As mentioned above, your Prime benefits will still be available until your subscription or trial ends.
Of course, you can also use your mobile device's web browser to cancel Prime, but it will be like the desktop method.
How to Cancel Amazon Prime on Computer
On desktop, you will need to cancel through the website. The method is consistent across all web browsers and devices:
Open a web browser and go to the Amazon website in your country (like US or UK)
Log in to your account if you haven't already
Hover over 'Account and Lists', then click 'Your Account'
Click the "Start" button
Click the "Manage Membership" button
Click the "End Subscription" button
At the bottom of the next screen, click "Continue to cancel"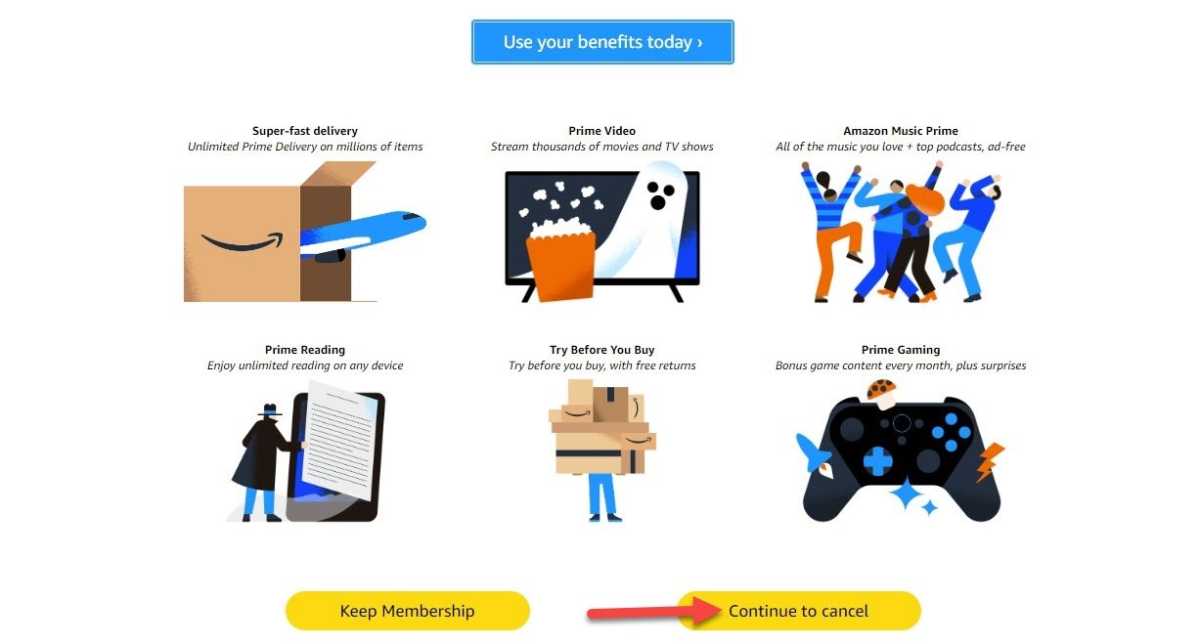 Anyron Copeman / Foundry
Click 'End on *date*' to confirm
Anyron Copeman / Foundry
If you paid for Prime but didn't use any of its benefits, you can request a refund.
How to check if you are subscribed to Amazon Prime
You may think you're not signed up for Prime, but Amazon's approach means it may have slipped your radar. Many unwitting Amazon Prime customers have complained that they had no idea they were signed up and had already been charged.
First, check your credit card or bank statements to see if Amazon charged you $139/£95 for the annual Prime subscription, or $14.99/£8.99 per month (if you subscribed monthly plan).
You can also find out through the Amazon website. Go to the Prime hub page (Amazon US/Amazon UK).
If you see a summary of your membership and management options at the top of the screen, you have a subscription. But you just see the benefits or the free trial advertised, you are not
When you sign up for Amazon Prime, your subscription is set to automatically renew each year. You can turn off this auto-renewal at any time, even during a free trial period.
How to change an Amazon Prime subscription to Prime Video
If you enjoy TV shows and movies on Amazon Prime Video but don't want the other perks, there's a way to simply sign up for the streaming service.
Previously, Amazon let you adjust this directly in your Prime subscription management settings, but now the only way is to cancel your Prime account and then sign up again separately for Prime Video, which costs $8.99. / £5.99 per month.
However, this only appears to be available in the UK at the time of writing:
Go to the main page of Amazon Prime
Under the "Try Prime" button, click "See more plans"
Anyron Copeman / Foundry
Select "Prime Video" from the three options that appear, then click "Try Prime"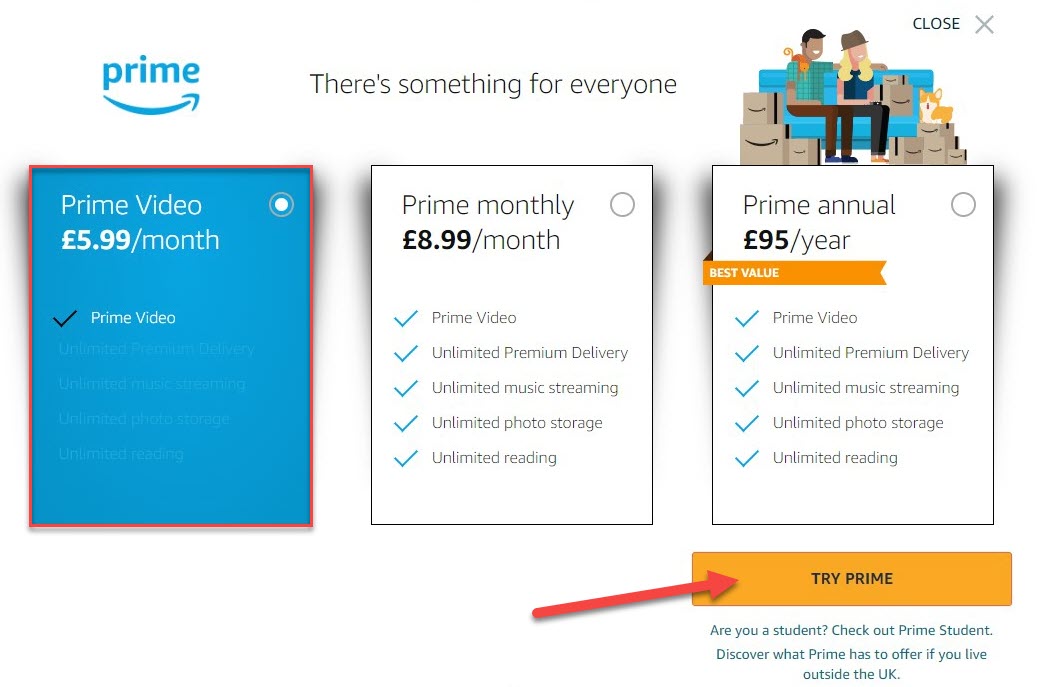 Anyron Copeman / Foundry
Log in or create an account if you haven't already. If you've had a free trial before, you'll need to pay immediately.
Follow the on-screen instructions to complete the registration process
How to Get an Amazon Prime Refund
Paid members who have not placed an Amazon Prime order are eligible for a full refund. When you cancel a paid Prime membership, you may automatically receive a refund.
You can also request a refund by visiting the Amazon customer service page (US/UK) and making a request by phone, email or online chat.
Related Articles