The Laptop Go is the newest addition to Microsoft's Surface lineup, and the device has held its own through two generations so far.
That didn't come as a huge surprise: it's essentially a scaled-down version of the main Surface Laptop with slightly weaker specs. But that's reflected in the price, with entry-level models just about cheap enough to qualify as budget laptops.
While the original version was slightly disappointing, last year's second generation was a significant step forward. It's easy to recommend, although there's still plenty of room for improvement.
Hopefully Microsoft fixes some of these weaknesses in Gen 3, which could arrive before the end of 2023. Here's everything we know so far.
When will the Surface Laptop Go 3 be released?
We're not even sure there will be a Surface Laptop Go 3 at this point, let alone when it does arrive. But it would be a surprise to see Microsoft abandon its affordable laptop, and the release dates for the first two generations may provide some clues:
Surface Laptop Go – October 2020
Surface Laptop Go 2 – June 2022
It doesn't look like Microsoft plans to update the device every 12 months, making a spring 2023 launch unlikely. A more likely scenario is the main launch event of the year, which usually takes place in September or October.
However, it's also possible that Microsoft will delay the launch until 2024, especially if bigger upgrades are introduced. Zac Bowden of Windows Central, generally a trusted source for Surface news, said in a January 2023 video that recent layoffs at Microsoft could have an effect on the upcoming Surface release schedule.
How much will the Surface Laptop Go 3 cost?
Prices are often not revealed until the official launch of a new Surface device, but previous generations should serve as a fairly accurate guide here:
Surface Laptop Go 2 – from $599 / £529, up to $799 / £729
Surface Laptop Go – from $549 / £549, up to $899 / £899
Despite the Laptop Go 2 upgrades, it was encouraging to see that the price stayed about the same. There might be a slight increase by the time its successor arrives, but Microsoft is unlikely to deviate too much – it will surely want all models to remain cheaper than the regular Surface Laptop.
Surface Laptop Go 3 design and new feature rumors
Nothing concrete has been revealed regarding the Surface Laptop Go 3 at this point, but we still have a pretty good idea of ​​what's to come. Microsoft is unlikely to deviate from the formula that made the first two generations so successful, including a compact design and premium build.
There may be some tweaking to the 12.4-inch screen, but it'll likely still be smaller than the average laptop. The same can be said for the 1.16kg weight, making it one of the lightest laptops you can buy.
Dominik Tomaszewski / Foundry
So what improvements can you expect? We are almost certain to see new processors, and they will probably always come from Intel. The Laptop Go is usually one generation out of date, making it the 12th of 2021e-gen chips are most likely, unless the device is delayed until 2024. If the latter proves true, search for 13e-gen silicon instead.
But could there also be the option of an Arm-based processor? These were limited to the Surface Pro X for a while, but the inclusion of an Arm option on the Surface Pro 9 is fueling Windows Central rumors that a Qualcomm chip will power some Surface Go 4 models.
Microsoft will likely focus its Arm expansion on more affordable devices, making the Laptop Go 3 a likely candidate. However, it should be noted that this is pure speculation at this point.
If the Go 3 laptop switches to Arm, it can give a noticeable increase in battery life. This could allow the device to provide all-day battery life without increasing the 41Wh capacity.
Hopefully Microsoft will improve 39W charging and stop using Surface Connect as its primary charging method, but the latter seems unlikely. It would also be nice to see improved thermals and backlit keys, which remain a much-hyped omission.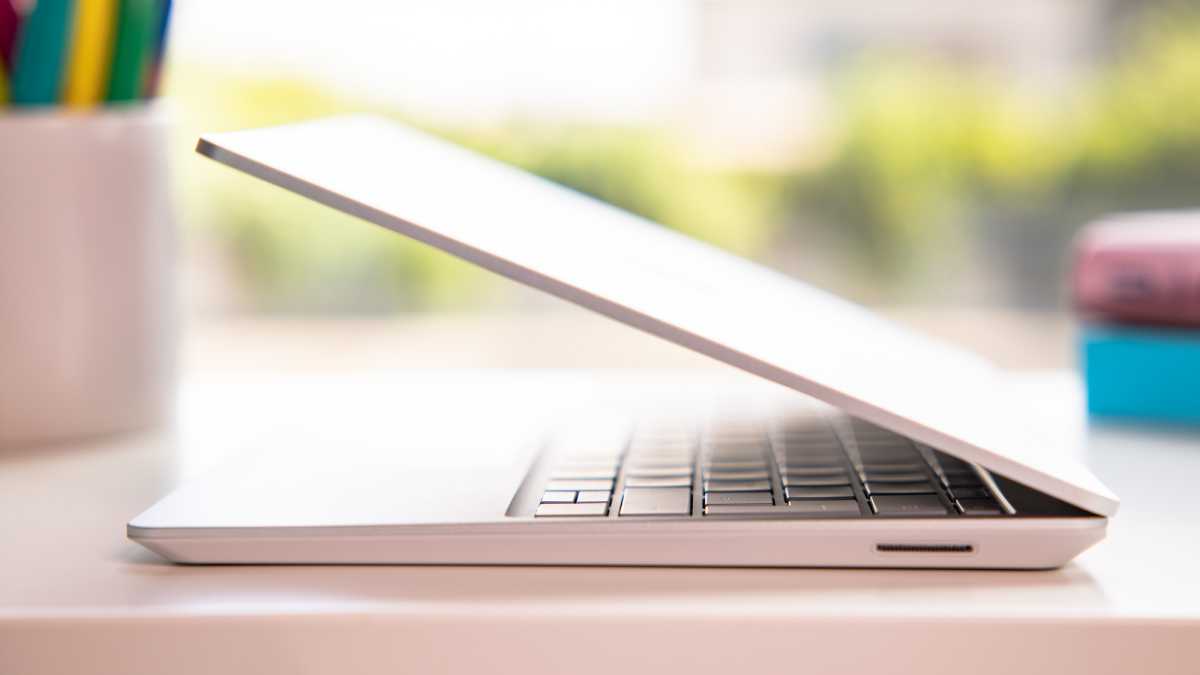 Dominik Tomaszewski / Foundry
We will update this article one more time on the Surface Laptop Go 3.
Related Articles You May Like