A combat paradise on an incredible scale… Caldera is set to kick off the first season of Vanguard and Warzone Pacific on December 8, and Vanguard owners will get 24 hours of exclusive game access to the new Warzone Pacific map. Here's what you need to know before entering Caldera and the latest information from Season One.
"It was a simpler time then, but the work is never done." – Capitán Butcher, Call of Duty: Warzone Pacific
On August 24, 1984, deep underground in the Downtown area of ​​Verdansk, the CIA's highest-level task force discovers a German bunker from World War II after dealing with Stitch.
As the detachment follows the noises produced by a possible intruder through the tunnel system, they find a bunker with information from another era along with the familiar voice of Captain Butcher, who mocks their lack of stealth.
Butcher, who was in command of the Directorate of Special Operations (DOE; a British secret organization created during World War II), formed multiple Special Operations Task Forces (SOTF), including the original group, Vanguard (SOTF 001), with the goal of totally eliminating the Axis forces that fled after the war. Adler, Woods, Mason and Hudson stop to listen to the story, which at times reminds them of their mission to eradicate Perseus once and for all …
And they find out that it all started in the Pacific.
On December 8, your legendary journey in Warzone Pacific begins with Season One of Call of Duty: Vanguard and Warzone Pacific.
With a completely new map built on the basis of community learnings, Warzone Pacific marks a new era of fast-paced, large-scale tactical combat. Featuring a dedicated playlist featuring new vehicles and weapons from Vanguard, the first season of Warzone Pacific kicks off another year of free content, all based on your own great epic of ending the last of the Axis resistance.
Welcome to paradise: the new home of Warzone Pacific known as Caldera.
Where will you fall? New details of the Caldera map Warzone Pacific
On December 8, the owners of Vanguard will receive 24 hours of exclusive game access to Caldera, the new map of Warzone Pacific
. Warzone players will be able to land on Rebirth Island during this time. Then on December 9, both Caldera and Rebirth Island will be accessible to all players.
Caldera comprises 15 huge and distinct areas to explore and fight once Operation Vulcan begins. There are also hundreds of minor POIs to research and use to your tactical advantage.
Naval Arsenal
Industrial docks
Runway
Ruins
Phosphate Mines
Peak
Beachhead
River Village
Clear Water Lagoon
Boiler Terminal
Agricultural Center
Shark's Lair Submarine Pen
Caldera Power Plant
Caldera Capital City
Royal Cabana Resort
Warzone Pacific: Playlists of the first day, content and deployment of the RICOCHET Anti-Cheat driver
Outside of Caldera, to which the owners of Vanguard can access on December 8 before all players enter on December 9, Warzone Pacific will overflow with new content, including all operators and weapons of Vanguard as part of the integration:
The integration of Vanguard: All operators, weapons and customization content as of December 8
When Season One launches on December 8, all players in Warzone they will be able to access everything Vanguard brought to the arsenal and the barracks:
40 weapons: The 38 basic weapons of the launch of Vanguard, plus two free functional weapons in the Season One Battle Pass. All of these can be customized with unlocked camo, and each ballistics-based weapon can be further customized with up to 10 accessories via the Amero.
More than a dozen operators: Each of the SOTF 002–005 operators are ready to land along with Special Task Force 006 arriving this season …
Business cards, emblems and more: Show your progress in Vanguard since launch for everyone in Warzone.
At the beginning of the season, cross-progression will be enabled between Vanguard and Warzone, allowing you to rank up through the Seasonal Prestige and unlock new content through the Battle Pass and Challenges. Also, expect the store in both games to contain new bundles with content from Vanguard.
Vanguard Royale: Explore all new content with updated Dogfights and ground vehicles
Prepare for the action to heat up both on the ground and in the air.
Available to all players on December 9, with players from Vanguard having exclusive game access on December 8 with Caldera, Vanguard Royale leads the Season One Featured Playlist rotation with a game mode that puts a new set of vehicles and optimized gear and a group of weapons on the new map.
Specifically, there are two main differences between a Vanguard Royale and a traditional Battle Royale:
New Vehicles and Dogfight fights: Fly fighter jets that rain down shots on enemies or head towards AA guns or trucks to fire them from the skies. There are other ground vehicles as well, including a squad transport off-road vehicle that will help your squad traverse and go around the island.
A focus on the weapons of Vanguard: Teams may only contain weaponry of Vanguard, streamlining the meta for more accessibility and room for experimentation. He hopes that all the weapons on the island are also from Vanguard. The selection of operators is also limited to soldiers Vanguard.
Circle Collapse Changes, In-Game Events, and More: The radii and times of the circular collapses are modified to offer a different pace of play, especially with Dogfight fights through the skies. Also, expect an in-game event at each Circle Collapse, Bombardment Races, and different items within Caldera's outer world and contract rewards.
Rebirth Island
The owners of Vanguard will receive 24 hours of exclusive access to Caldera, the new map of Warzone Pacific. During this initial period, all players of the Warzone they may land on Rebirth Island. After this exclusive period, Caldera becomes accessible to all players, and Rebirth Island will return later in Season One.
Expect a special one-day Rebirth Island playlist, both Resurgence and Mini Royale, launching right at the start of the season before everything shifts to Caldera for the week starting December 9.
Throughout the season, featured playlists will include returns to Rebirth Island for Resurgences and other game modes, and new limited-time modes will focus on Caldera, such as Vanguard Plunder, its own Vanguard Resurgence mode presented by Beenox, and other holiday surprises. …
The finer points: innovations and additions to the experience Warzone
With an entirely new map to explore, playlists to claim victory, and fresh weaponry to use, expect additional initiatives and gameplay innovation from all the studios working on it. Warzone, especially Raven Software, Beenox, Toys for Bob, and High Moon Studios, including some that were taken after hearing feedback from the community.
Part of the initial wave of content planned for the period around the December 8 release (for gamers of Vanguard) and December 9 (for all players) includes the following:
The Gulag – Returns ready for combat
The Gulag now gives you more than a second chance at victory.
When arrive Warzone Pacific, any player who wins a Gulag will return with the weapon, or weapons, and lethal equipment given to them during that deadly duel.
Those who survived Iron Trials '84, the way this feature was first tested, will know a professional strategy that involves conserving weaponry: any remaining ammunition and gear is transferred between the Gulag and redeployment. Take on the enemy efficiently and you'll have more at your disposal in Caldera.
The RICOCHET Anti-Cheat Driver Will Launch With Season One Of

Warzone Pacific
As part of the Season One update, RICOCHET Anti-Cheat will implement a new kernel-level driver developed internally on the PC to help identify cheats in Warzone. This will allow players to focus more on the fun new offers of Warzone Pacific as #TeamRICOCHET fights unfair gambling with its new anti-cheat security initiative.
This kernel level driver comes first to Warzone and will be required for all PC gamers starting with this update. The kernel level driver will be released later for Vanguard at a later date.
Learn more about the RICOCHET Anti-Cheat system here.
Discover Caldera through the Secrets of the Pacific: Limited Time Event in Warzone and Vanguard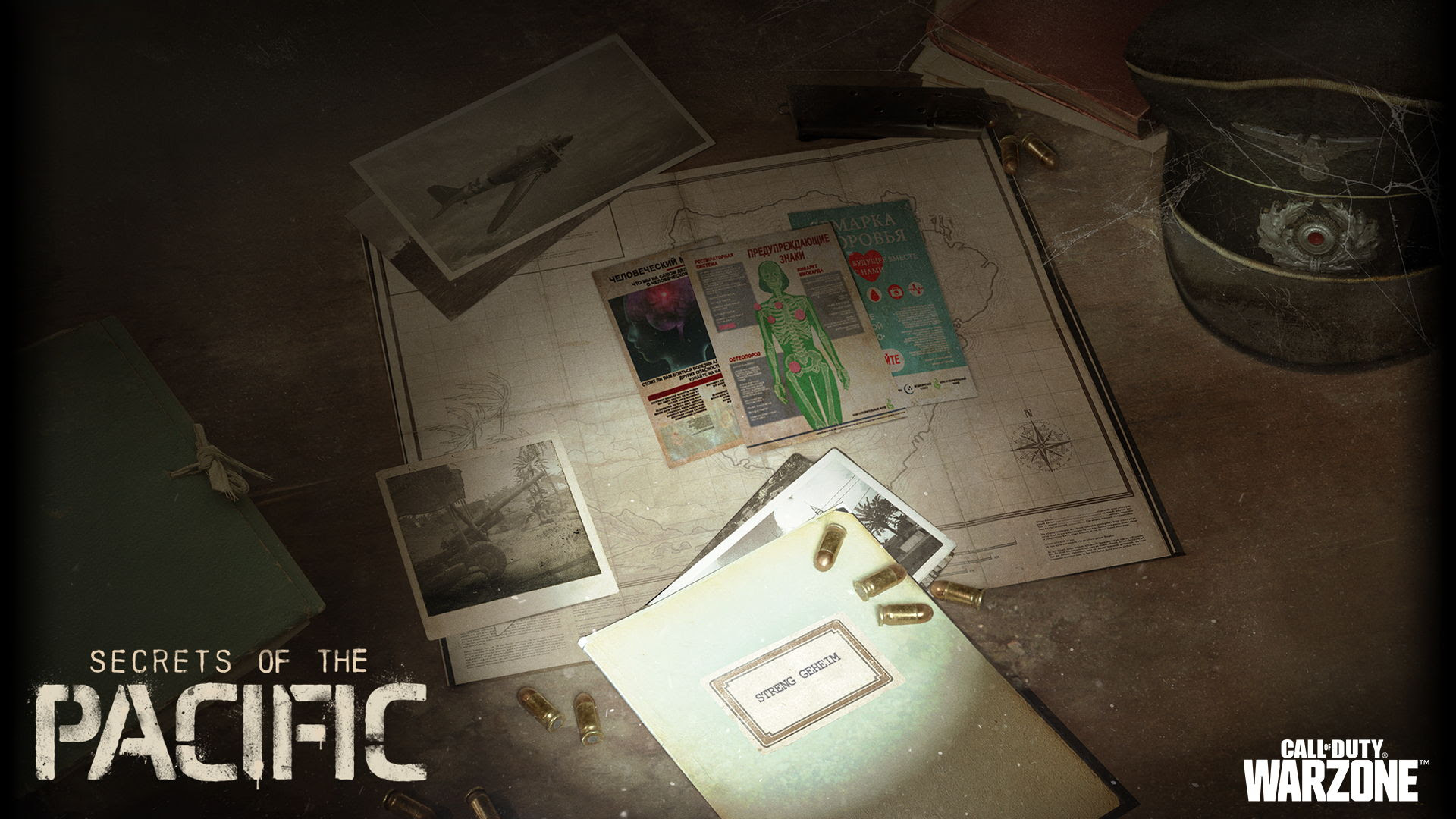 Do you want to start exploring Caldera?
Starting November 24, operators can discover the Secrets of the Pacific, a limited-time event in Warzone and Vanguard with rare, epic and legendary rewards.
During this event, you can visit Verdansk in its final days to decipher six clues that lead to information about Caldera's points of interest, which must be preserved for several minutes before they can be safely extracted. Alternatively, you can jump to Vanguard and complete six multiplayer challenges ranging from playing with a fellow clan member to performing an auction.
Each challenge awards a specific item, such as a business card or weapon charm, and completing all six in a set (Warzone O Vanguard) awards the epic assault rifle project "Bomber Menace", which ranks alongside "Bonerattler" and "Warning Track" in that weapon's project family.
Since some of these rewards are tied to Vanguard's weaponry, specifically Weapon Charms, Stickers, and the Weapon Project Reward, they will not be available in Warzone until after integration in Season One, but can still be used in multiplayer of Vanguard or Zombies.
More information on Season One is coming this week
Boiler and Warzone Pacific are just the beginning of all the free content to be offered in Season One of Call of Duty: Vanguard and Warzone.
Check back soon and hope to learn about the two free functional weapons, the new Operator, Zombies content, multiplayer modes, and two maps, all starting December 8. That includes a Pacific-inspired version of a classic map from Call of Duty fan favorite …
Later in the season, expect the other two SOTF 006 operators, an additional core multiplayer map, and a returning small team tactical mode, more information on what's to come soon in Zombies, another free weapon unlocked through challenges, and a festive celebration in both games… all of which, and much more, are fixed and loaded to take us through the holiday season and the new year.
Check back on the blog Call of Duty to get all the information. Until then … rebel on each front.