As Ramona skating through Scott's life, PlayStation fans fell hard for Scott Pilgrim vs. The World: The Game when it released on PS3 in 2010. To develop the lovingly retro-inspired adaptation of Bryan Lee's story O'Malley, Ubisoft has teamed up with talented creators like pixel artist Paul Robertson and chiptune pop / rock band Anamanaguchi. Art and sound magically gelled with co-op beat'em up gameplay – an instant classic was born.
A decade later, Ubisoft is repeating the nostalgic side-scrolling adventure. To mark the occasion, we conducted a Q&A interview with Anamanaguchi. The group reflects on the critical reception of the game, the evolution of its music since 2010, its favorite characters, etc.
Scott Pilgrim vs The World: The Game – Complete Edition contains the original adventure, as well as the playable DLC characters Knives Chau and Wallace Wells. It launches on PS4 on January 14 and is playable on PS5 via backward compatibility.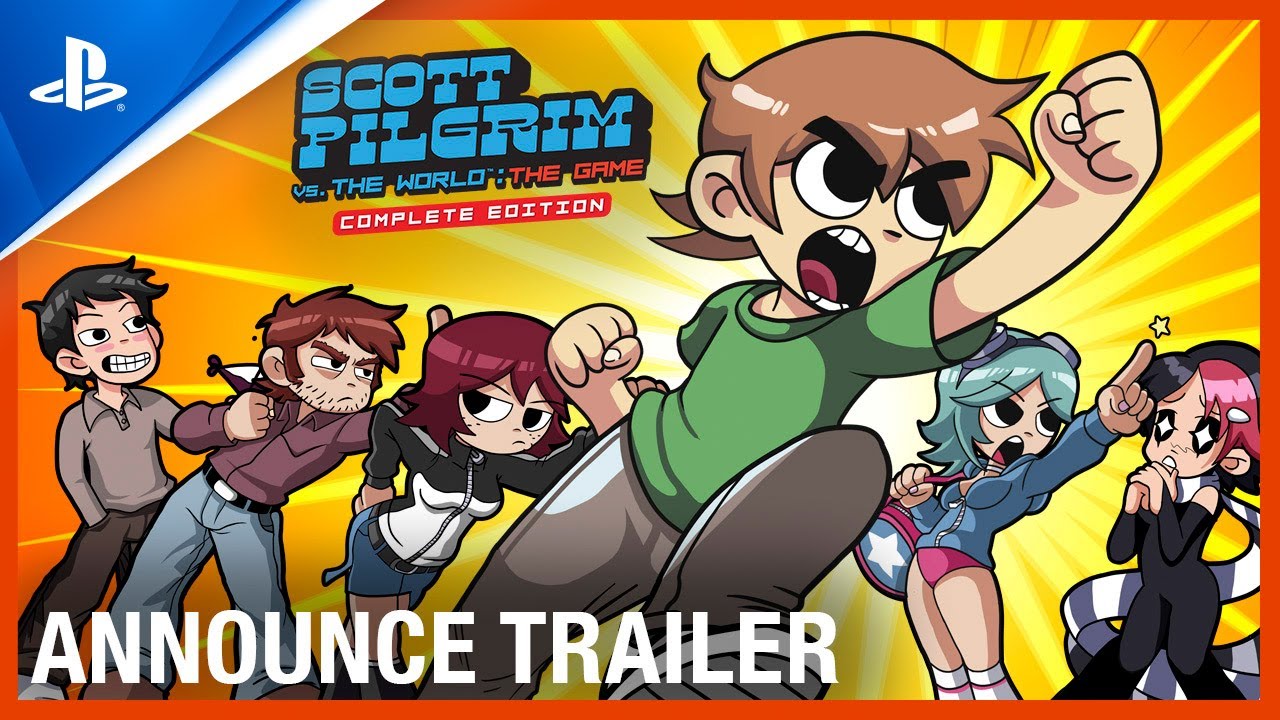 iGamesNews: When you see or hear the name "Scott Pilgrim" these days, what is the first thought or emotion that comes to your mind?
Peter Berkman: That the game is finally reissued!
Luke Silas: When I hear "Scott Pilgrim" I remember the funny little tattoo of Scott in a tanuki costume that I got after I finished the soundtrack in 2010.
PSB: Which playable character is each member of Anamanaguchi's favorite, and why?
PB: I didn't have a chance to play the game after the DLC was released, so I will be playing as Wallace when I can.
Ary Warnaar: I'm really bad at this kind of game so I honestly prefer to watch the rest of the squad play… but Kim Pine.
James DeVito: I have to stick with the little brother, Scott Pilgrim.
LS: I play heavyweight so I go with Ramona and do a lot of big hammer blows.
---
PSB: Which track from Scott Pilgrim vs The World: The Game best represents Anamanaguchi's sound
in 2010?
PB: Probably the theme song – we ended up releasing a lot of singles this summer – one of them was another song vying for that!
AW: I remember being great in "Rox 300" back then ~ like its for us ~.
LS: I think "Another Winter" or "Just Like In The Movies" was both as nuanced and punky as our non-OST material at the time! We've evolved a lot, but at that point I think most people thought of us as pretty glowing and fun like these levels.
The "Subspace Highway" track plays as Scott navigates a reality-distorting path.
PSB: Which track from Scott Pilgrim vs the World: The Game best represents Anamanaguchi's sound in 2021?
PB: The sound design of "Subspace Highway" seems perfectly suited to our last album, [USA].
AW: I really like the chord progression in "Vegetable Rock". A little grunge-y. I did it on a loop and read it at half speed recently.
LS: "Leave the past behind!" It's vibrant and bittersweet, and has a lot of different energies in a song. This is something we could work on today.
---
PSB: The track "Another Winter" perfectly captures the fun and melancholy vibe of Scott Pilgrim's world. While the players are listening, what happens musically to evoke these feelings?
PB: Personally, I love the tension of the 7th and 9th chords – piles of complicated feelings – and it's all over our music. In this song, there is a cute little call and response that turns into a long drawn out melody. I had just had my wisdom tooth removed, haha. In this song, everything is really linked by the push of the drums. Revisiting a lot of these songs, it's fun to see how the tracks in the major keys are a bit melancholy and the ones in the minor keys a little energetic.
The bittersweet music track from Stage 1, "Another Winter," plays.
PSB: Why do you think Scott Pilgrim vs The World: The Game elicited such adoration from gamers that has persisted over the years?
PB: I think a lot of it comes from the feeling that Bryan (Lee O'Malley) was able to tap into with his comics. As for the game itself, it's really for people who love games. Art is really sick. Everyone involved really wanted it to be good, so they put a lot of care into it and little unexpected details. "They didn't have to go that hard" is spreading everywhere. It's kind of a "love letter" to have friends and play beat 'em ups on the couch with snacks.
AW: On top of that, I think art is a big part of the game's long-standing appreciation. It has definitely aged well. Paul Robertson really brought out the best in this style of pixel art, without ever being stuck in the "retro" world.
PB: True! Kinuko (Mariel Kinuko Cartwright, artist) and Persona (Jonathan Kim, artist) also brought much of this animation to life.
---
PSB: Did you have to adapt or adjust your general musical sound to suit Scott Pilgrim's world, or was your signature sound from the 2010 period already perfect?
PB: Our style naturally matched the overall vibe, but it was a lot of fun flexing and adjusting to certain moments that a " band playing shows " normally can't do. Like a bossa nova shop theme or boss songs.
AW: There were a handful of messages that took us out of our comfort zones. Some of these styles were definitely just for playing, but others started to shape sounds that have become a bit more normal for us. Dance-tempo 4 to the floor tracks was quite a new thing for us at the time!
PSB: Looking back, which Scott Pilgrim vs The World: The Game track is your favorite?
PB: Level 4 train music ("Suburban Tram") always makes me very happy!
JD: "Just Like in the Movies "is really fun to play and also makes me happy.
AW: There is a great short interlude called "Kiss 2" as far as I know, which I always find very pretty.
LS: There is a full version of "This Is The End", the "perfect ending" music, which has yet to be released; not to be a tease, but to me, that must be it. Maybe everyone will be able to hear it easier one day soon.