Today we are faced with a rare case that we have hardly seen for years, because the Xbox 360, the seventh generation console that has given us so many good times and has been so present with backward compatibility of the Xbox One, could receive a version of Grounded. Maybe it's too bold and even crazy, but it's one of the possibilities that we can deduce from having seen the ranking sheet of the game in Brazil, downloaded yesterday
.
The other possibility is simply, as much as possible, that there has been an error either in the registration request by Microsoft, Obsidian or the person responsible for it, or by the Brazilian government, that the corresponding official has pressed a button more than counts. As you know, the Xbox 360 left its legacy to the Xbox One at the end of 2013, so we're talking about 9 years, a somewhat crazy gesture, even if I also confirm that we regularly review this type of ranking, and this n It is neither usual nor frequent to find errors of this type.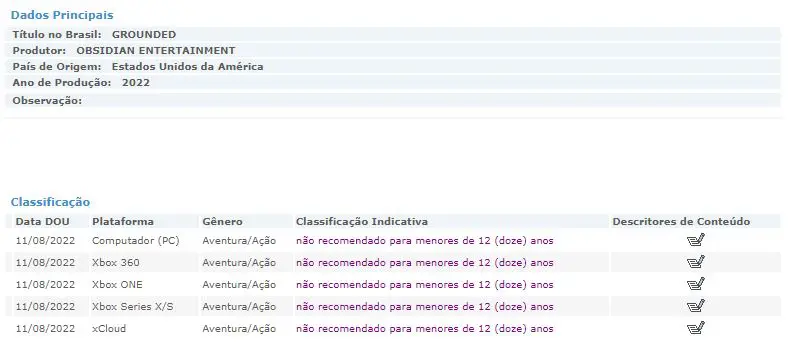 Grounded, a success that receives its final version
But not only is it designed for Xbox 360, Xbox One, Xbox Series and PC, but Grounded is also showing xCloud as a full-fledged platform for the first time.
, another curiosity that caught our attention. It remains to be seen if Microsoft has any tricks up its sleeve for Grounded, which is confirmed to be among the games the company will be bringing to Gamescom.
Grounded will launch on September 27 and will feature everything seen in the Game Preview so far, plus a whole universe of possibilities added by a deeper campaign mode, making it one of Microsoft's most promising long-term projects after Sea of ​​Thieves.