From 343 Industries, they encourage you to continue enjoying Halo through the Master Chief Collection.
With Halo: The Master Chief Collection be available in Xbox one, Xbox Series X | S and Pc It is that the series video games on Xbox 360 will lose some of their characteristics at the end of 2021. 343 Industries
has announced its intention to end online support for the series video games available on Xbox 360. This service shutdown will have no impact on the console or PC versions of
The Master Chief collection
.
You may also like: 343 Industries announces that Halo Infinite will arrive in fall 2021.
The reason for ending support for these Xbox 360 services explained in the study is that it would allow them to devote more resources to supporting future projects such as The Master Chief collection e Infinite. The holders of these titles will be able to continue to play them indefinitely. It will be from December 2021 that the following video game online services say goodbye:
Halo: Reach.
Halo 4.
Halo 3.
Halo 3: ODST.
Halo: Combat Evolved Anniversary.
Spartan assault.
Halo Wars.
While digital sales of these video games have been halted, we tell you that the available DLC can be purchased at no cost. Here is an image that details the services that will no longer be available and those that will be maintained in each of these video games from December 2021.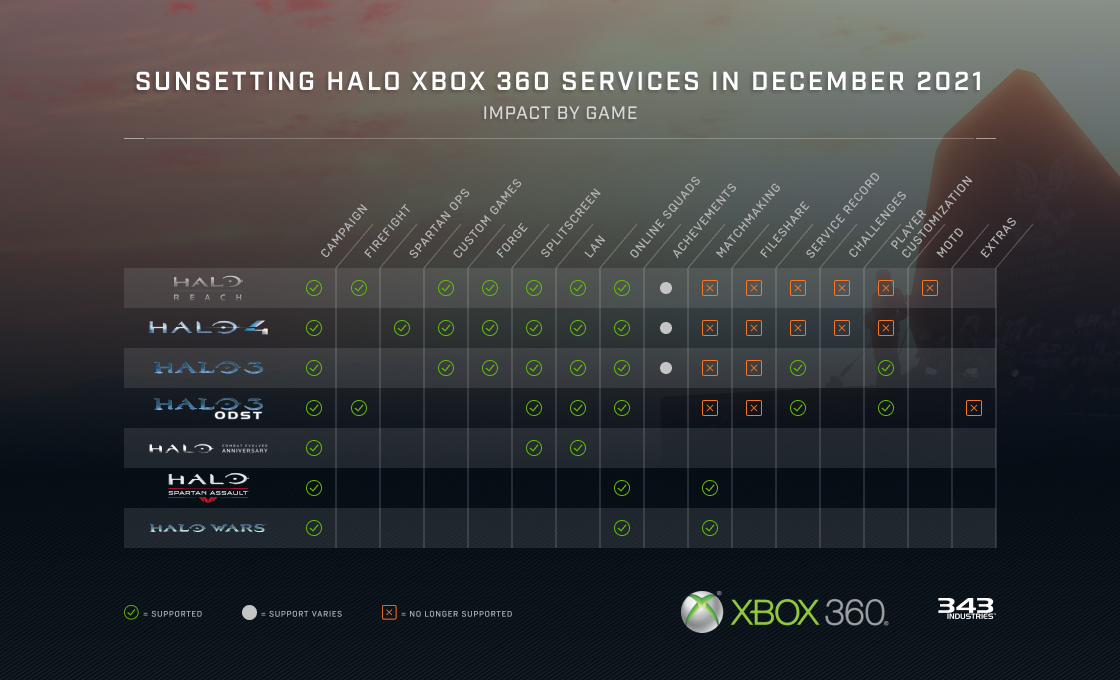 Please feel free to visit our website frequently and follow us Twitter to keep up to date with all the news on the Xbox platform.