Open source applications have the advantage that everything they do and don't do is visible, that other people can easily join the development or find bugs, or sometimes it's just a matter of principle. Whatever your reason, we have selected 15 best open source Android apps right now.
Open source apps are everywhere and many of the apps in the top download stores are. In our list we include both well known names like other not so popular open source apps.
F-Droid
Google Play offers applications of all kinds: paid, free, open source and closed. F-Droid on the contrary is an application store that only includes open source applications and what's more, the store itself is also open source.
F-Droid allows you add different repositories as a source of applications and has functions similar to Google Play. The source code for the F-Droid app – and the web, and basically everything – is available on GitHub.
F-Droid
Developer: F-Droid
Download it on: F-Droid
Price: Free
Category: Utilities
Aurora store
Like F-Droid, Aurora Store is an alternative app store to Google Play. The difference is that Aurora Store take data from google playSo the same apps that are in the google store are there.

This allows you download apps from google servers and that Google Play does not allow you to download for various reasons, such as the fact that your mobile is not compatible or that it has not been launched in your country. The source code is available here.
Aurora store
Firefox
Firefox is a Web browser it does not need to be presented. Its version for Android mobile phones has been available for many years, although it has undergone a lot of renovations to become one of the more solid alternatives to Google Chrome.
Like the rest of the Mozilla or Firefox apps on other platforms, the Firefox browser for Android is Open source. You can view and download it from GitHub.
Firefox: fast, private and secure web browser
OsmAnd
In the world of open maps, OpenStreetMap is arguably the most popular. OsmAnd is an open source mapping application that is based on OpenStreetMaps and, therefore, one of the few alternatives to Google Maps that works without Google services.
You will find all the expected functions in a mapping application, such as routes, offline mode, search for places, public transport, speed limit … Its source code is available on GitHub.
OsmAnd – Offline Maps & Navigation
Developer: OsmAnd
Download it on: google play
Price: Free
Category: Visits and guides
Phonograph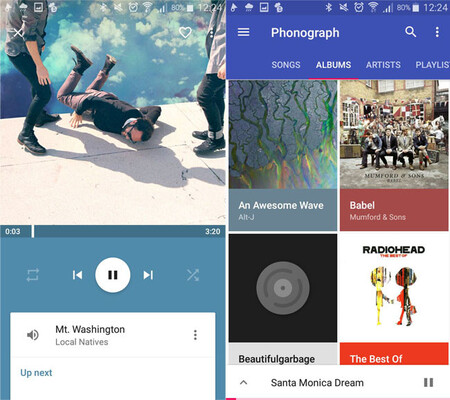 Phonograph is one of the best mobile music players we have on Android. It's free, works great and has a very neat design and updated, with colors that change depending on the cover of the song you're listening to.
In addition to all the basics expected of a music player today, Phonograph integrates with Last.fm and allows you to customize the interface color as you like. Phonograph is available on Google Play, but it's an open source project, the source code of which you can find on GitHub.
Phonograph music player
VLC
From one of the best music players we have moved on to one of the best video players: the legendary VLC with its traffic cone icon. He is a player who dares all kinds of formats, with Chromecast support included.
With VLC, you have everything you would expect from a video player and some extra features that are not that common. Supports videos with multiple audio tracks and subtitles, the reproduction from the net and its source code is available here.
VLC for Android
Amaze File Manager
Amaze File Manager is a file management Open source and which you can download directly from Google Play. It's still a beta, although it works pretty well and almost has a rating of 4 at the moment.
As a file manager, Amaze is a straightforward alternative which means you won't find a full list of tools like in other apps. In return, it is lightweight, supports themes and serves as a root browser, if you have root. Its source code is available on GitHub.
Amaze File Manager
Openboard
The simplest way to describe OpenBoard is to say that it is something like Gboard but without Google. It is a great keyboard app that is not dependent on Google and does not share any data with Google.
OpenBoard looks a lot like Gboard and while it lacks some of Google's advanced keyboard features, it does support themes, emoji picker and spell checker. Its source code is on GitHub.
OpenBoard
Developer: dslul
Download it on: google play
Price: Free
Category: Tools
Garden chair launcher
Lawnchair is one of the most famous pitchers in the inspired by the one Google includes on its Pixel phones. It's based on the AOSP launcher, but with a ton of additional features and more customization options.
With Lawnchair, you get a launcher that looks like the Pixel experience, widget included, with categories in the app drawer, dark mode, integration with Discover by Google much more. Its source code is on GitHub.
Lounge chair 2
Kodi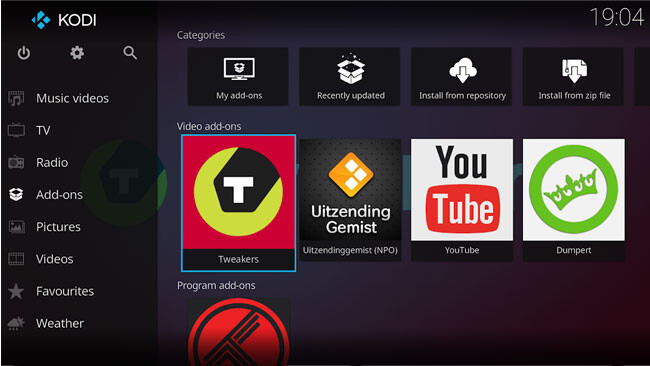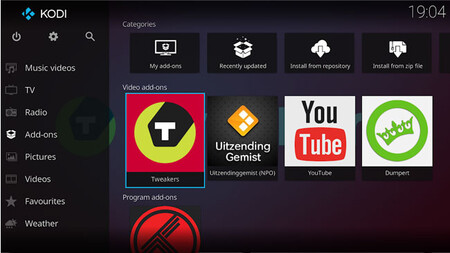 Kodi is a system where you can "make your own Netflix" in your image and likeness. It has an app for a host of platforms including Android. In itself he has nothing, it's just the platform, therefore, it is you who must provide the content.
Kodi is open source and you can find its source code on GitHub. It is, without a doubt, one of the best and more customizable multimedia centers. One of its strengths is the ability to install add-ons to increase Kodi's potential.
Kodi
Signal
Signal is a messaging app that built on communications security, but it took on special significance this year after the changes in WhatsApp's policy.
The protocol end-to-end encryption Signal is open source – it is used, for example, by WhatsApp – but the app is also open source. This is another guarantee for those looking for extreme security, as they can see exactly what the app is doing and not doing. The source code is on GitHub.
Signal – Private messaging
Telegram
Speaking of messaging apps, Telegram is another widely known app engaged in open source development. At this point, not much is known about Telegram: it is an alternative to WhatsApp with many additional and cloud-based features.
The source code for the Android Telegram client is available on GitHub. There you will find the huge number of functions of the application such as voice chats, voice calls or the multi-device support, to name a few.
Telegram
NewPipe
NewPipe has gained some popularity as one of the best apps for viewing and downloading YouTube videos, that is, there are countless of them. It is something like a unofficial thin client Youtube.
Best of all, you don't need Google services and you don't need to sign in. With it you can, among other things, play YouTube videos with the screen off. Its source code is available on GitHub.
NewPipe
Open camera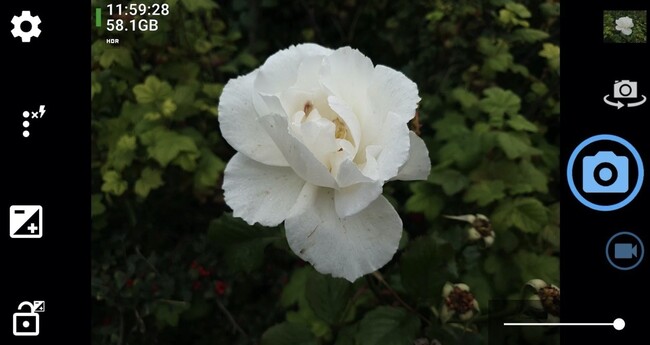 Open Camera is one of the best third-party camera apps that you'll find on Google Play. As the name suggests, it is an open source application, so that you can view and download its source code from SourceForge.
The interface isn't the prettiest we've seen, but it has manual controls (if your mobile supports Camera2 API), HDR, software image stabilization, noise reduction, night mode and histogram, to name a few of its functions.
Open camera
Open radio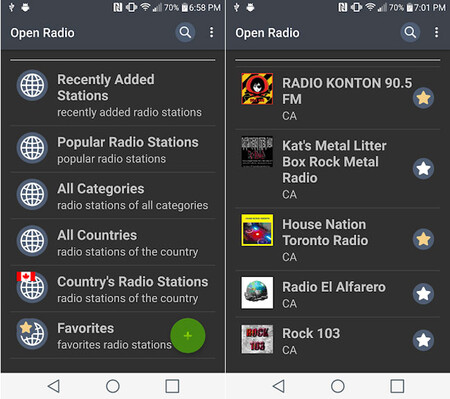 Our latest recommendation in the world of open source apps for Android is Open Radio, an app for listen to radios from all over the world.
It has a database with a multitude of stations in all countries. You can add your stations to favorites for faster access and it's totally free and ad-free (except those which broadcast on the radio). Its source code is on BitBucket.
Open radio