gmail is the default messaging app on most of our mobile devices, which means it's the most used email manager on Androidwith more than 10,000 million downloads, and fortunately we are also facing one of the best applications to manage our emails.
So that you can master the mail client of Google we bring you one selection with 21 functions and tricks for Gmailwith options and features that every user should know.
Conversation List Density
In 2019, the Gmail app released a new interface, changing the conversation list density, a design we can customize from Settings > General Settings > Chat List Density. It allows us to choose between these three options:
Default: View attachments directly in the inbox. We will see fewer emails on the screen.
Comfortable: The classic view of the previous version of Gmail. Does not show attachments in the input view.
Compact: A new view that compacts the list to display more emails on screen. It does not show contact photos.
Input tray type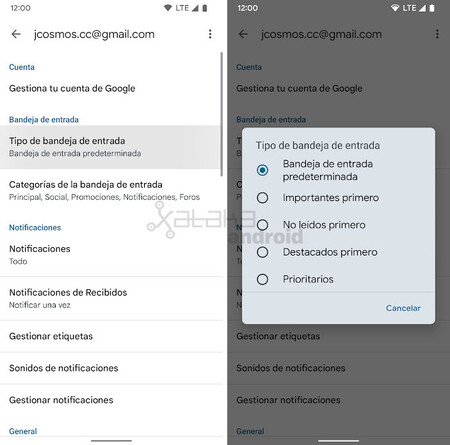 Since Settings and clicking on your google account we can change the Input tray type, i.e. the order in which we want the emails to be seen. So we can tell the app to show us important messages, unread messages, highlighted messages or priority messages first.
Inbox Categories
for years gmail organize our emails for us through its categories which we can enable or disable from the option Inbox Categories. There we can activate or deactivate the following tabs:
Social: Social media posts and online dating.
Specials: Advertising messages.
Notifications: Notices of confirmations, invoice receipts and website notifications.
Forums: Group messages and distribution lists.
search filters
To locate an email gmail for android offers us some search filters so that we can filter by label, by sender, by recipient, by type of attachments, by date or unread messagealso by text field.
schedule delivery
gmail allows us to write a message and send it later. For this we only have to use the option schedule delivery that we find in the options menu that appears while we are writing an email. We select a date and confirm so that the message is delivered on the day and at the time indicated.
Postpone a message
We can also postpone a message received so that, as a reminder, we receive the notification of a new message received again. To do this, just select or open the mail and in the options menu, select the option Report.
Cancel sending a message
If when we sent an e-mail, we realize that we have made a mistake in the message or in the recipient we have a few seconds to cancel sending the message. For a few seconds we will see at the bottom of the application the option 'Cancel'.
confidential mode
Gmail also lets you send temporary messages that self-destruct. When we write a message, we just have to go to the menu and select the option confidential mode. Here we can configure when we want the message to expire (self-destruct) and if we want the recipients to need to receive a password via SMS to be able to open the mail. Confidential messages will not have the ability to forward, copy, print or download.
auto reply
If we are going on vacation and need to be away from the office for several days, we can schedule a auto reply from our account settings. There we can configure the days we will be away, the subject and the email message, in addition to selecting that this automatic response is sent only to our contacts.
Block and mark as spam
If we receive spam, Gmail gives us two options. In the message options menu we can Mark as spam to stop receiving this type of email in the inbox, but in the sender options we can block user to stop receiving messages.
Default notification action
By default, Gmail notifications show us the option to archive a message, but from the General adjustments we can change this behavior so that it allows us to remove an email directly from your notification.
Confirmation of actions
If you don't want to send, archive or delete messages by mistake, you can enable the action confirmations since the General Gmail settings. So when you need to send, archive or delete, you will need to confirm first.
Swipe Actions
When we are in the inbox and we slide an email to the sides, by default it always shows us the 'Archive' option, a behavior that we can customize from the General adjustments. in option Swipe Actions we can configure the action we want to perform when swiping right and left.
Add a signature
From our account settings we can activate the 'Signing for mobile' so that every time we answer an email from our mobile, a personalized message is added, which can be a greeting and our name so that we do not always have to write it every time we go to answer a message.
Delete Chat and Meet
Google Chat there Google Meet are integrated into gmail, which means we can see the Chats, Spaces, and Video Calls tabs. If some of these tabs appear, or if we want to activate them, we must go to the settings of our account and activate or deactivate the options Discuss there Show meeting tab to make video calls.
Add other accounts
gmail not only works for Gmail accounts but also with any type of email account like Outlook, Hotmail, Yahoo or Exchange. To add more email accounts to Gmail for Android, just click on our account picture, then click add another account.
Quickly switch between accounts
If we have configured multiple email accounts in gmail for android we can quickly trade between accounts slide your finger on the image of our avatar up or down.
open internet links
By default gmail for android open web links directly in the app, and it has some inconveniences when opening a link from Gmail itself and then asking us for a code that was emailed back to us. For this Gmail allows us Open in Chrome this website that we see from Gmail or from General adjustments disable the option to open web links in Gmail.
unsubscribe
If we receive a subscription that we no longer want to receive, it is possible that in the messaging options menu the option unsubscribewhich saves us from having to search in the fine print of the email for the unsubscribe option.
Save attachments to Drive or Photos
If we receive a document or image by Gmail that we want to keep in our Google account we can save the attachment directly to Google Drive or Google Photos. In the preview of the attached file, the shortcuts to save them to Drive or Photos appear.
automatic download
Finally, Gmail comes with the auto download enabledwhich will download all Wi-Fi attachments. If we want to save storage space, we can disable this behavior by unchecking the option in our account settings "Download Attachments".