What makes you remember a mobile that you stopped using years ago? On rare occasions, it will be the technical characteristics, because these only serve as support for the experience; a smartphone should be better than the sum of its parts, and OnePlus is the one that has shown us that time and time again, with legendary phones that have changed the Android industry.
[OnePlus Nord 2T análisis: ¿realmente necesitas más que esto?]
It is therefore unfortunately ironic that the OnePlus 10T that I have been able to test for several weeks has given me the opposite sensation; I am aware that I should like it more than I should, but strange and incongruous decisions, which affect the whole range as well as this device, have put me off.
Features of the OnePlus 10T
processor and memory
Qualcomm Snapdragon 8+ Gen 1.
RAM memory: 8/16 GB.
Internal storage: 128/256 GB.
Filter
Size: 6.7 inches.
Resolution: 2412 x 1080 pixels.
Technology: AMOLED.
Refresh rate: 120Hz.
Protection: Gorilla Glass 5.
Rear camera
Main: 50MP, f/1.8, OIS.
Gran angular: 8 Mpx f/2.2, 120º.
Macro: 2 MP, f/2.4.
Video recording: 4K at 60 fps, 1080p up to 240 fps.
Others: Dual LED Flash.
connectivity
5G.
Bluetooth 5.2
WiFi 6.
Fingerprint sensor under the screen.
Autonomy
Battery: 4800mAh.
Quick Charge: 150W
Others
USB-C port.
Charger included in the box.
Dimensions and weight
Size: 163 x 75.4 x 8.8mm.
Weight: 204g.
Operating system
Android version: 12.
Manufacturer interface: OxygenOS 12.1.
Material: inconsistent, for better and for worse
Seeing the OnePlus 10T and reading its technical data sheet, we can think that it is an improved version of the OnePlus 10 Pro presented at the beginning of the year; after all, that's what the Model Ts in the range did, launched six months after the originals. In reality, it is based on the normal OnePlus 10, a mobile that does not exist.
Let's remember that the normal OnePlus 10 has not arrived on the market, only the "Pro" model; a movement that already at that time raised doubts, confirmed today. The result of this decision is that the OnePlus 10T is better in some ways than the OnePlus 10 Pro, while in others it is clearly behind, all costing much less. It's weird, weird and confusing, and it's one of the reasons I had such a hard time enjoying this phone.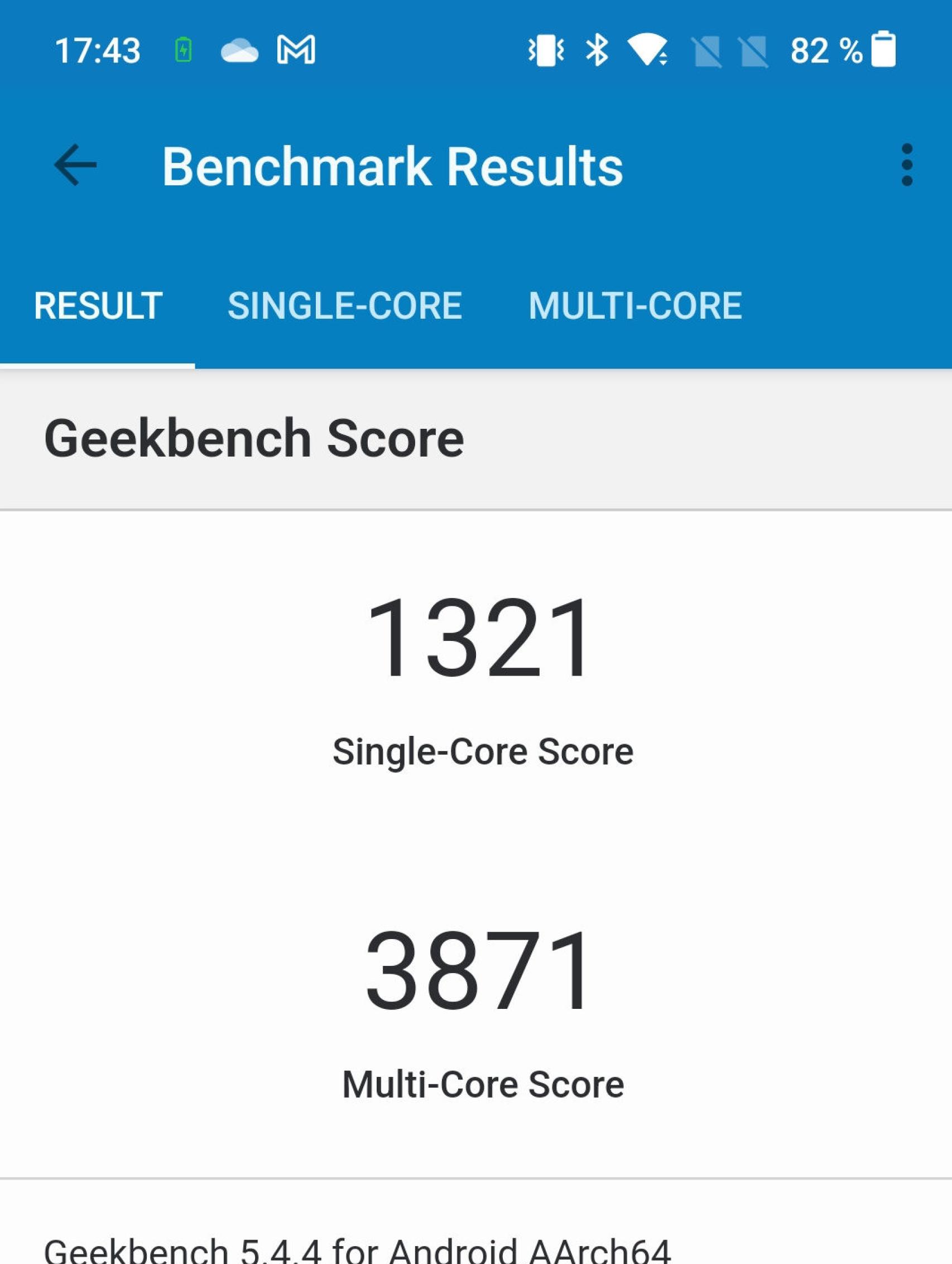 And it shouldn't. In terms of hardware, the OnePlus 10T is up to the task what could be expected from a semi-annual renewal, mounting the latest Qualcomm processor (so far), the Snapdragon 8+ Gen 1; In other words, it's one of the most powerful mobiles on the market just for that, and if performance is your priority, it will be difficult for you to find better without paying at least 200 dollars more. And all this, keeping the temperatures at a level that is in no way bothersome.
More importantly, this means that this mobile is more powerful than the OnePlus 10 Pro. And yet, in other aspects it is a decidedly inferior device, while in others it only tries to look like it, without success.
An example of the latter is the screen; although the size is the same as in the Pro model (which does not make sense if you think about it a bit), and it is also AMOLED technology, is one step below in aspects such as resolution, color processing and brightness. It's not a bad screen, mind you, and in fact I particularly liked it when watching content such as videos and movies, but the limits are what they are. Plus, the Pro's Gorilla Glass Victus protection is downgraded to Gorilla Glass 5, if you're interested; oh, and the screen hole is now in the center, if you prefer the 10 Pro's left alignment.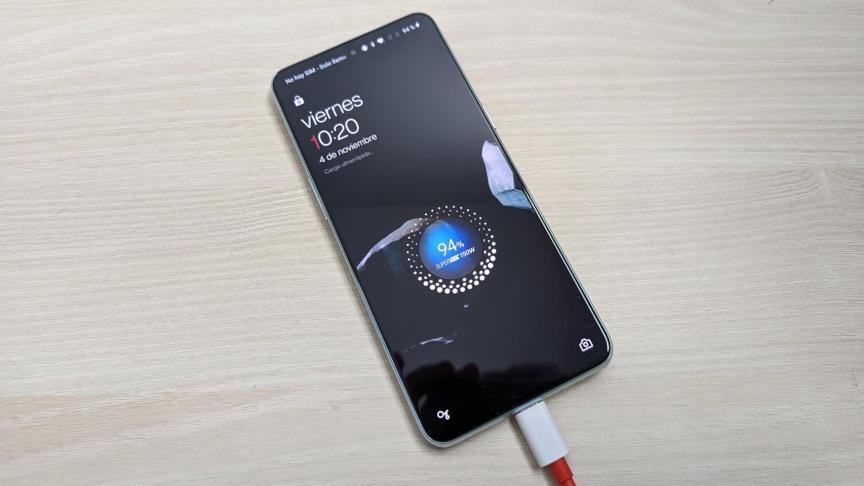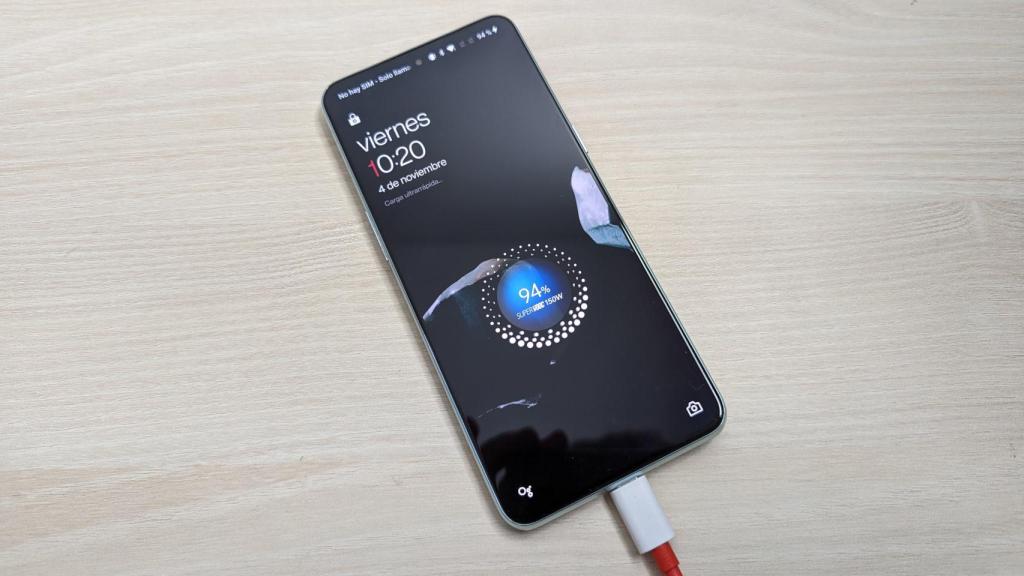 Want another example of incongruence? You have it when it comes to recharging its 4,700 mAh battery.
It's not just the fastest charging phone in OnePlus history, it's also one of the fastest on the market. With a power of 150 W, you can recover all the battery time to prepare to go out; it's truly amazing the level that OnePlus, and the industry in general, has reached with fast charging. And yes, the charger and cable come in the box, so you don't have to buy anything separately to get this great benefit.
But if in one aspect of charging the OnePlus 10T is a pioneer, in the other it is completely behind. this laptop does not have wireless charging of any kind, something so weird in the industry that I didn't believe it until I put the phone on a wireless charger and it didn't work. Eliminating wireless charging may have once been one of the best options to cut costs, but today many people have switched to this technology and don't want to look back.
Design: OnePlus sacrifices what makes it original
It seems a little strange to say what I'm going to say next, but the part that really frustrated me about the OnePlus 10T is the design.
The OnePlus 10T is extremely similar to the 10 Pro, and if you haven't had both in your hand, I doubt very much that you can distinguish them with the naked eye; but they're more different than it looks, with slightly different dimensions and small changes to how the camera array meets the rear. These are such small and bland changes that I really wonder what was the point of making them, to show that they were doing something?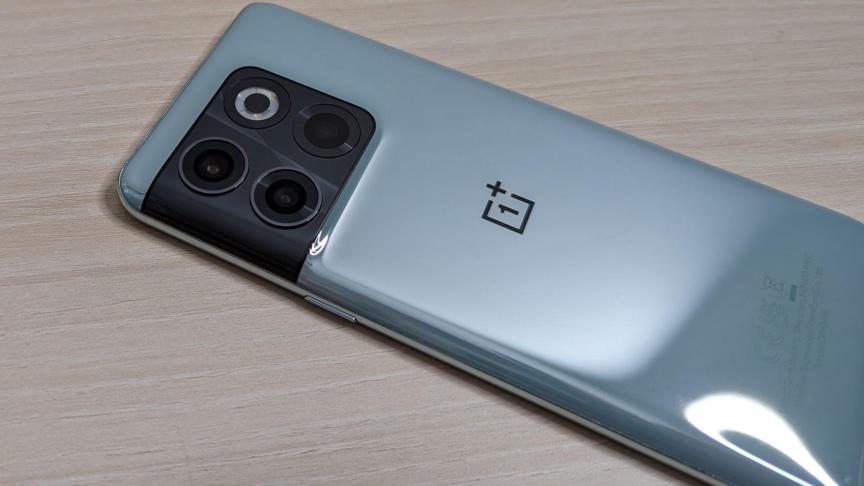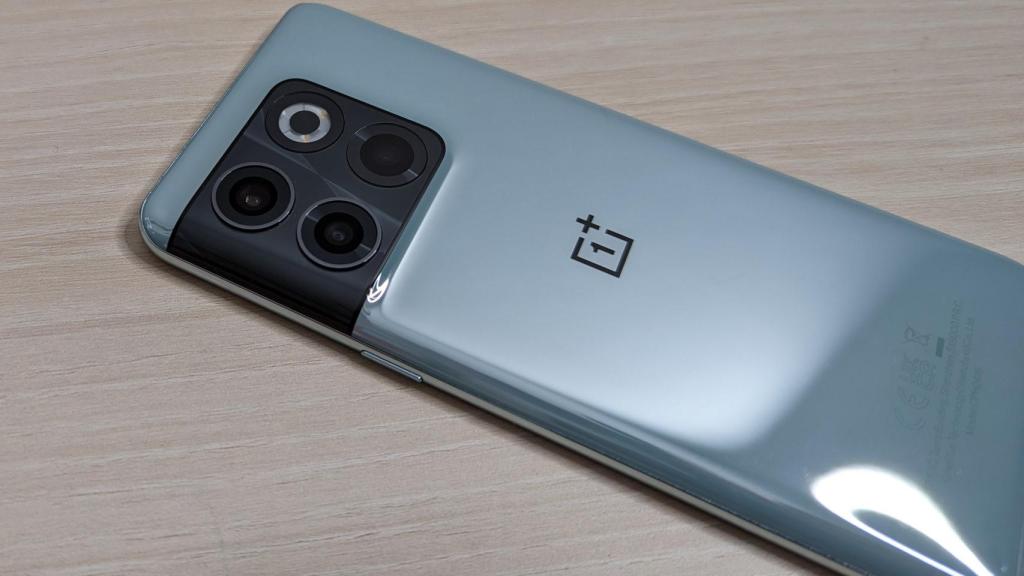 Being generous, you could say it's an 'evolution' of the OnePlus design; Being cynical, we can say that the company had leftover parts from the 10 Pro and decided to reuse them. Either way, the changes OnePlus has implemented aren't for the best.
For some weird reason that I still can't figure out, OnePlus decided to remove the only part that set it apart from the rest of the Android makers: the "Alert Slider"the small physical selector on the side that allowed us to put the mobile in silent or "do not disturb" mode, quickly and without having to use the screen.
I will not be a hypocrite. I won't say I used this switch every day in other OnePlus models (or iPhones I've had), or that it was a huge part of my day-to-day life. But the few times I needed it, I could use it, and that's more than I can say for many other features that come with modern phones.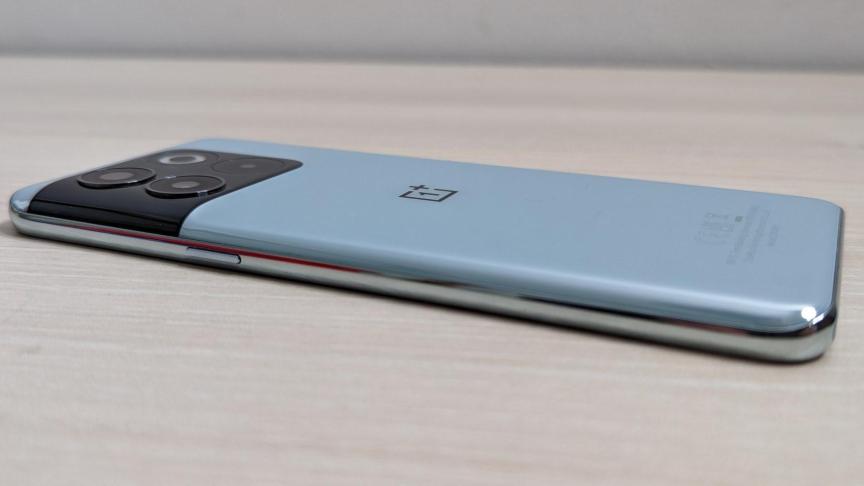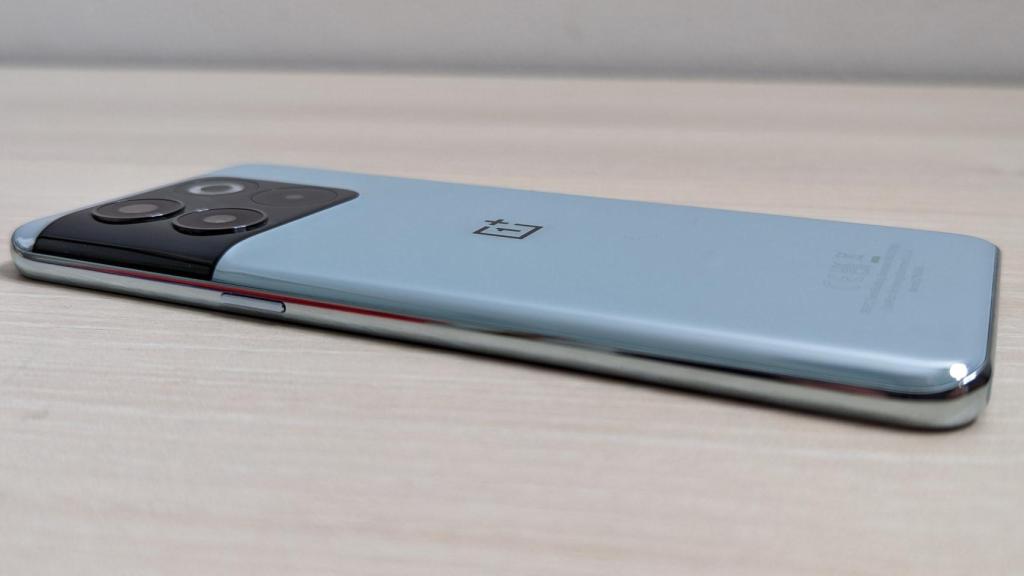 The most important thing for me is that OnePlus has decided to sacrifice such a characteristic and differentiating part of its brand… for no apparent reason
. As I said before, the design of the OnePlus 10T is almost identical to that of the OnePlus 10 Pro; in fact, it's slightly larger (we're talking tenths of a millimeter), so it's not like it's suddenly a slimmer, easier-to-hold phone to lose the alert slider.
The official explanation that the chief designer of OnePlus gave in his time is that although they are very similar on the outside, in reality these mobiles are very different on the inside, and the engineers needed the space occupied by this physical cursor. Ok, so it might not have been removed "at all", but for anyone who doesn't know the ins and outs of mobile production (that is, almost everyone), it's a sacrifice without compensation.
Cameras: OK, but color processing fails
Another exterior element that the OnePlus 10T lost compared to the OnePlus 10 Pro is Hasselblad Logo. If you don't miss it, I don't blame you, but the truth is that, either because of this alliance with the famous camera and lens manufacturer, or for some other reason, the photos of the 10 Pro were very striking.
In the OnePlus 10T we notice an inevitable loss in the quality of the photos, although in no case can we say that they are bad; it's just that they are not remarkableand in many cases they capture scenes that look duller than they are.
After watching and comparing with the results obtained with other mobiles, I think the key is in the color calibration. Both in the main camera and in the rest of the OnePlus 10T sensors, the tones are always more muted and not as vivid as they could be, which results in uninteresting and flat photos.
The good news is that the main sensor, 50 MPx, it's not bad. The sharpness of the photos is adequate and it has optical stabilization, which is much appreciated. Contrast is also decent and dark parts of photos don't lose detail, and we can't always say the same about its competitors. In short, the basic photos taken by the OnePlus 10T are on par, without being the best we've seen by far.
This is where the good news ends since the 10T does not inherit the telephoto lens or the wide angle of the 10 Pro. The wide angle that we have is really bad and allows us to obtain photos that are no better than those that cell phones that cost 250 dollars less can obtain. ; the lack of resolution is compensated by algorithms that only manage to it looks like the camera has petroleum jelly in it
. And the macro camera has too low a resolution to be really useful.
If you're going to take classic photos with the main sensor, the OnePlus 10T is perfectly capable of taking them. In addition, the front camera for selfies is good, without reaching the level of its predecessor. It maintains the same issue with color processing, but the detail achieved is better than I expected, and the portrait mode is striking, although it struggled to detect my glasses.
OxygenOS 12.1, fast but incomplete
When Oppo and OnePlus announced that their development teams were merging, we expected the worst. Since then, our worst predictions have come true, in the sense that OxygenOS can no longer be considered a separate personalization layer; basically it's just ColorOS with a coat of paint.
La buena noticia es que ColorOS es una buena capa, y OnePlus ha hecho algo de trabajo para evitar las partes más 'estridentes' del sistema, aunque otras como los iconos cuadrados se mantienen. Y en defensa de OnePlus, hay que decir que OxygenOS ha mejorado mucho desde que la primera versión basada en ColorOS llegase a los usuarios.
OxygenOS aún mantiene algunas cosas originales, como Shelf, una sección que se abre deslizando desde la parte superior derecha y que abre una selección de widgets, para evitar que ocupen sitio en nuestra pantalla de inicio.
Además, también tengo que elogiar lo rápido que es OxygenOS en este OnePlus 10T; se nota como un sistema realmente ligero y que responde inmediatamente a nuestras acciones, sin ningún tipo de retardo. Esto es especialmente notable cuando desbloqueamos el dispositivo con el lector de huellas integrado en la pantalla; a diferencia de otros móviles (ejem, Pixel), este 10T me identifica instantáneamente, y es uno de los más rápidos que he probado hasta ahora.
Por otra parte, no puedo evitar pensar que aquí falta algo. No encontrarás muchas cosas propias de OnePlus aquí, y eso es bueno (no hay prácticamente nada de 'bloatware') pero también es malo, en el sentido de que por no tener, no tiene ni una app de galería de imágenes (tenemos que usar Google Fotos o el navegador de archivos que se mantiene).
OnePlus 10T: un buen móvil, ni más ni menos
Por momentos me ha parecido que he sido demasiado duro con el OnePlus 10T; pero apelo al lector, en que no ha sido por malicia, sino por frustración. La realidad es que el OnePlus 10T me ha gustado mucho.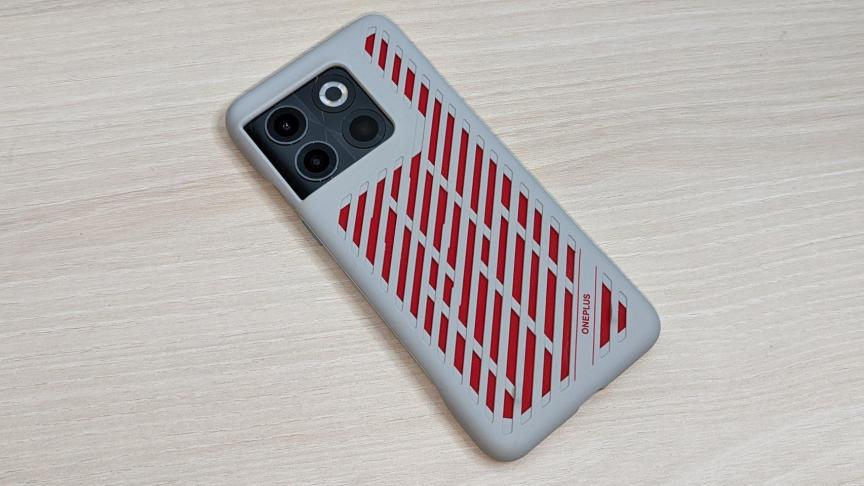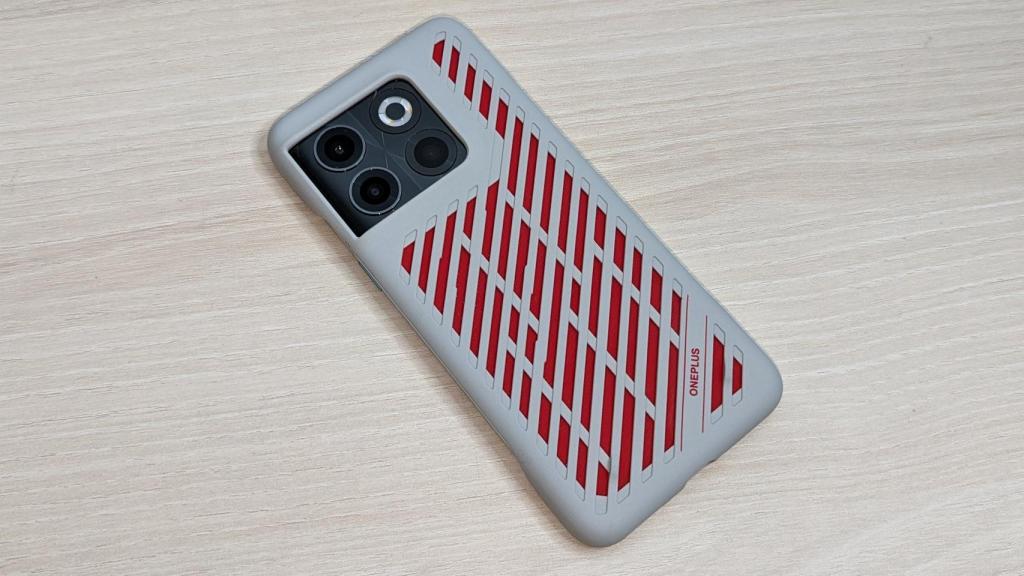 Es un buen móvil de gama alta, con una potencia fuera de toda duda, un diseño que me sigue pareciendo bonito y un sistema ligero y con un aspecto elegante. Pero podría haber sido mucho más y especialmente, OnePlus no tendría que haber traicionado tanto su pasado para conseguirlo.
El OnePlus 10T está a un paso de la genialidad. Le falta ese 'algo especial' que vemos en otros fabricantes, que le permita diferenciarse del resto. Por 700 dollars, es un buen móvil, y no dudo que no te arrepentirás si te lo compras, pero también hay muchas alternativas que también lo son.
La buena noticia es que lo encontrarás más barato. Ya es posible encontrarlo con pequeñas rebajas, pero OnePlus adelanta que veremos grandes rebajas con motivo del Black Friday.
Sigue los temas que te interesan