Action Launcher is one of the oldest launchers for Android, distinguished by several exclusive features. The app moved to Freemium in 2013, although its own developer now admits it was a bit pushy and didn't provide a good experience for non-payers. Now, latest version makes many premium features free.
Action Launcher reaches version 50.0 with a good collection of fixes, improvements in its search and significant changes in its monetization which makes, in some countries all features are free. In others, at least half of previously paid features are now free.
More features for everyone in Action Launcher
Action Launcher is one of the best launchers for Android, although to get the most out of it you need to checkout, as many of its best features are exclusive to the Plus version. As a consequence, those who did not pay had a worse experiencewhere from time to time you were asked to pay for the application to unlock this or that feature.
Better late than never, Action Launcher 5.0, its developer tries to improve the delicate balance between monetizing the application and providing a good experience to users, whether paid or not. The most significant change is that many functions that Before paying, they are now accessible to everyone..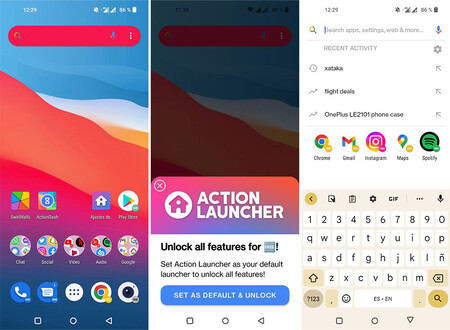 Now, to know which of these functions are available for you for free, you will have to install the application and try it for yourself, because depends on two factors: if it is a country where in-app purchases can be made and if it is possible to use Bing affiliate searches.
Depending on the answer to these two questions, more or less features of Action Launcher will be unlocked, as can be seen in the following diagram. Europe, for example, is included in the list of countries where in-app purchases can be made and where Bing's affiliate search is available, in which case about half of the Plus features are now unlocked for everyone
.
In the countries where in-app purchases cannot be used but where Bing search can be used, such as Argentina, Colombia, or China, all Plus features are unlocked in Action Launcher as long as Bing search is used. Finally, where neither in-app purchases nor Bing search are available, all Action Launcher features are unlocked, for everyone.
this update also improves app search, inspired by the latest version of Pixel Launcher. It is now possible to view results from the web and your device simultaneously, from the search bar, with improved search app settings and shortcuts to search directly on sites like YouTube, Wikipedia or Google Maps.
Action Launcher