FaceTime was one of the hot spots in terms of news during the last WWDC. The call and video call app on our iPhone, iPad or Mac gets several exciting new features to stand out from be able to call someone who uses Android, call image and sound enhancements, and much more. Let's see, in detail, all the news.
Many new features and in all new operating systems
Something we've seen repeat itself over and over again with the news coming to iOS 15 and iPadOS 15 is that the vast majority they also come on Mac. From detecting text in images to iCloud Keychain enhancements to FaceTime, which is no exception. So the improvements we are talking about now, although we approach them from an iPhone or iPad perspective, are also available on Mac.
Spatial audio during calls: During a multi-party call, the sound of your voice will now match your position on the screen. A small detail that will make it easier to detect who is talking to us and direct our attention quickly. To use this function, we need to have an iPhone XR, XS or later.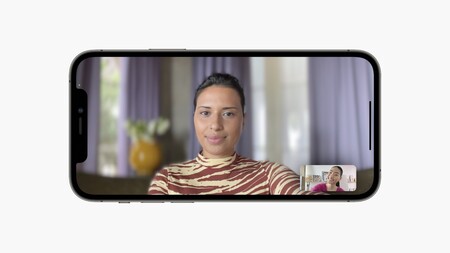 Video Effects: Like in static photographs, we can blur the background and focus on the person, now this mode achieves FaceTime calls.
Microphone mode: During a call, we can choose whether we want to silence the background noise or, on the contrary, include it in the conversation. A system that allows us to completely isolate our voice or to give it a context depending on where we are and what we want our interlocutors to hear.
Grid view: During a group conversation, we can now see all the participants in a grid view. In this one, all the images are the same size and the person speaking is highlighted with a slight frame. This mode allows us to see up to six people on the iPhone and 18 on the iPad simultaneously.
Microphone mute warnings: During a call, if we start talking with the microphone muted, a notification will alert us and allow us to activate it with a simple touch.
One two Three. Test the tests. pic.twitter.com/7UgC2Kj4iI

– David Bernal Raspall (@ david_br8) June 13, 2021
Zoom on the rear camera: We can now use the optical zoom on the rear camera during a call.
FaceTime on the web and call links
Let's pause the list to deal with one other good news in particular: FaceTime and FaceTime links on the web. Although the two new features are similar and closely related, they are actually two different functions.
First we find the FaceTime links. With them we can create a link for future participants in a call to join. The idea is that instead of having to call the various participants at a specific time, they simply join using the link at the agreed time. The system itself if it integrates with the Calendar application
, to be able to program a call with the link already ready.
The second big innovation is that these links can be opened from the web. This means that virtually any device with a browser will be able to join a call, which translates into the ability to participate in these calls from Android. It's important to note that an Apple device is always required to schedule a call, but to join, no, not even an account, just write a name to identify with.
SharePlay: Almost Share a Device During a FaceTime Call
Finally, we find a series of features that, although they depend on FaceTime, can be included in SharePlay. SharePlay allows us share what we do on the device with call participants. The full list of options is as follows:
Share who we are watch on the Apple TV app synchronous. Thanks to the corresponding API, it will be extended to third-party applications.
Share music, also in a fully synchronized manner.
Add, remove and rearrange items from the cooperative music play queue.
Share screen.
Access to pause, rewind or go forward movies and music in sync.
Dynamic volume adjustment so you can hear the conversation about what's going on.
Possibility of reproducing the shared audio on a HomePod or sharing videos to an Apple TV.
Direct access to a group of Messages during call.
And for now the list of novelties. Some of them are already available in the first beta of iOS 15, while others, especially those that have to do with SharePlay, will arrive in future versions. Either way, come sooner or later, this fall, FaceTime calls will take on a new dimension.