The Apple firm has announced the arrival of a new Apple Music feature.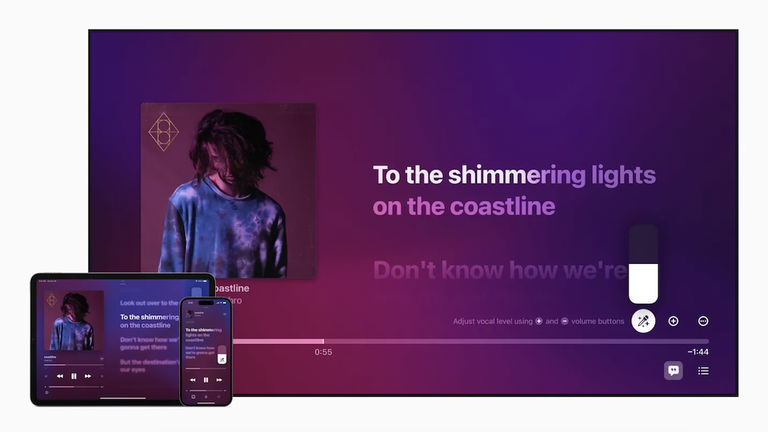 Surprising news to the management of Cupertino! From Apple they announced the arrival of Apple Music singa karaoke feature that will be implemented on its Apple Music music platform.
Apple Music Sing will allow Apple Music users to access a new interface through which they can sing their favorite songs with lyrics included in real time.
It's a fascinating novelty that will delight millions of music fans around the world. From iPadízate we can't wait to try it!
Apple Music Replay 2022: these are the songs you've listened to the most
Apple Music Sing: How Apple's new karaoke system works
Apple Music Sing will feature "tens of millions of songs" to sing along to in karaoke mode with partners, friends and family on iPhone, iPad and Apple TV.
From Apple, they know very well that inserting lyrics into Apple Music songs is one of the most popular functions of the platform and this has been one of the main reasons for the creation of this service of fun karaoke for Apple Music.
"We know that all of our users around the world love to sing along to their favorite songs, so we wanted to evolve that by offering even more. It's great fun, our customers will love it."
Apple Music Sing users will have the ability to control the volume of the artist's voice of a song You can choose to sing along with the original artist, take the lead, or even mix with millions of songs from the Apple Music catalog.
Here are the main features of Apple Music Sing:
Adjustable Voices: A function that allows you to control the volume of the voice of the artist of the original song.

Real-time lyrics: Apple Music Sing Karaoke will provide real-time lyrics with animations that react to the beat of the melody.
background voice: A chorus option to include vocal lines sung simultaneously and independently of the main vocals.
duo view: Several singers are displayed on opposite sides of the screen to sing duets.
Apple Music Sing will be available this month for all users with an Apple Music subscription.
On Apple's official website, they announced that Apple Music Sing will be available for compatible iPhone and iPad models and on the new Apple TV 4K. What do you think of Apple Music's karaoke mode?
For you