It's been a little over two years since Apple launched Apple TV+, its movie and series streaming service. A service that has disappeared slowly grow in market share and it has accelerated dramatically over the past 5 months, placing itself close to HBO Max globally.
Growth that goes far beyond free trials
According to data collected by JustWatch, after the free trial period is over for new customers in July 2021, Apple's video-on-demand platform lost some user interest. Between July and September 2021, measurements from JustWatch indicate that interest in the platform fell below 5%.
From there, interest from users around the world increases and comes close to HBO Max, which ends February 2022 with 7% compared to 5.6% for Apple TV +. Let's remember that Apple does not provide the number of subscribers to the service
so we have to use estimates.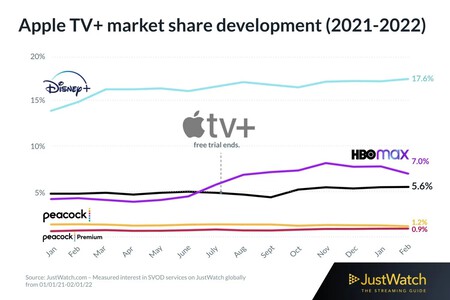 Those provided by JustWatch, as can be seen in the image above, are based on the interest that the various services streaming generate. Both for searches for own and exclusive content from the various platforms and for clicks on the content links that take us there. Navegantes, with its own estimates, gives very close values.
So, without confusing these figures with the market share of the various services, the truth is that they measure and show some interesting trends. Trends, from various points of view, more interesting than simple market share.
A powerful albeit reduced catalog
From the first moment, we all saw clearly that Apple had no intention of competing, at least initially, with the huge catalogs of other streaming services. The Apple TV+ offer has always been stands out for quality rather than quantity. And the truth is that while this is a strategy that results in slower growth, it is also more stable and sustained.
The number of applications, several at the Oscars, that the content of Apple TV + takes recently is quite considerable. Personally, and we're already getting into the realm of opinions, I can say that the percentage of content that I like on Apple TV+ compared to what I don't like is much, much higher than I can find on Netflix, for example. .
It's a subjective estimate that depends on tastes, no doubt, but it gives us a small idea of ​​how the Apple TV+ content selection process is going, bit by bit, generate a very interesting catalog. And this without losing sight of the tremendous acceleration that Apple gives with the number of productions, as we could clearly see in the last Keynote.
Remember that Apple had to build its catalog from scratch. In doing so, that the interest that the platform enters the same chart (albeit three times less) than that which Disney can generate with its enormous catalog, is something to consider. We'll see how the service evolves from now on, but we have only reason to be optimistic.