Lights, camera and iPhone! We don't need much more than the mobile we carry in our pocket to record good quality videos. Apple's smartphone, for the past few years, has had excellent image stabilization in well-lit environments to deliver very smooth shots with no jumps, even without a doctor's pulse.
If you have an iPhone 13 or iPhone 13 Pro, you also have a feature you can take advantage of to give more visibility to people in front of the camera: cinematic mode. In other words, something like the bokeh effect of portrait photography: the background is blurred to draw attention to the subject or object.
Despite the possibilities that the iPhone offers as standard for effectively telling video stories, they can be used third-party accessories and apps to facilitate our work and unleash our creativity.
Video apps for iPhone
iMovie
For those looking for a simple app to create family vacation videos or projects without too much hassle, iMovie (free) lets you put together movie trailers using 14 templates with graphics and soundtracks originals, as well as videos from scratch where you play with matching titles, transitions and music. It has 13 video filters to achieve the style you want and the ability to add picture-in-picture, green screen and split effects.
FilmiC Pro
movies like Foolish from Steven Soderbergh to music videos like stupid love by Lady Gaga, FiLMiC Pro ($14.99) is an app that gives filmmakers, broadcasters, vloggers and artists the ability to shoot in a true LOG gamma curve and other features: dual arc sliders for focus manuals focus and exposure, clean HDMI output for monitoring and webcam use, Dolby Vision HDR support, Slow and fast effects, frame rates from 24 to 60 fps much more.
LumaFusion
Until Apple releases its own version of Final Cut Pro for iOS and iPadOS devices, LumaFusion ($39.99) is the best video editor we can use on iPhone and iPad. with this app six video and audio tracks and six additional audio tracks can be usedUse transitions, layer and green screen effects, video stabilization, and multi-layered titles, among many other features.
Recording Accessories for iPhone
Shoulderpod S1 stabilizer handle and tripod
The Shoulderpod S1 handle (31.45 dollars) is specially designed to record videos with the camera of smartphones. It functions as a tripod mount to mount any phone on a standard tripod, a video grip for more stable and secure shots, and a travel mount. The screw adjustment system allows you to hold any device between 48 and 93 mm.
Shoulderpod S1 – Stabilizing grip and professional tripod mount for smartphones like iPhone or Android phone
Neewer Multifunctional Handle for Smartphone
The Neewer Multi-Functional Grip ($36.49) for smartphones is made of aluminum and features two plastic handles for a secure grip. He has three spaces to place microphones, LED lights and other accessories. With the universal 1/4″ tripod socket at the bottom, it can be mounted on a, slider or stabilizer.
Neewer Aluminum Smartphone Video Rig Filming Case Tripod Stand Phone Stabilizer Video Grip for Video Recorder Video Editor Compatible with iPhone Huawei Samsung
Fotga 64 LED Flashlight
If the lighting is not optimal, a small focus LED flash like the Fotga 64 (24.88 dollars) can be very useful for macro photography, product and video recording. It is lightweight and portable, offering high brightness and color temperature that can be controlled by a dimmer. The color temperature is 5500K-6500K and can be used with 4 AA batteries or DC 5V power supply.
Fotga 64 LED Camera Video Flash for Canon Nikon DSLR Brightness Control 5500-6500K
RØDE VideoMicro Compact Directional Microphone
The RØDE VideoMicro (45 dollars) is a compact microphone designed to improve the audio quality of videos. It incorporates a cardioid microphone capsule. Being directional, it only picks up sound that is in front of the camera. Includes Rycote Lyre shock mount and deluxe furry windshield. To use it with iPhone, you need the Sc7 adapter cable (10.90 dollars) and a jack to Lightning adapter (7.99 dollars).
Directional on-camera microphone RØDE VideoMicro Compact
RED Sc7 – Smartphone adapter
Apple Lightning to 3.5mm headphone jack adapter [certificado Apple MFi] Headphone Adapter for iPhone Dongle Converter Cable Compatible with iPhone 13/12/11/10/XS Max/XR/X/8/7P
DJI OM 5 Stabilizer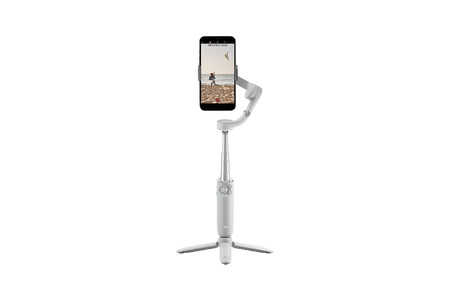 One of the best smartphone accessories if you want to record smooth videos and unique shots is the smartphone stabilizer or gimbal DJI OM 5 (159 dollars). It is a light and versatile tool to create good videos with auto tracking. It has a built-in extension arm for shooting from lower angles. Function Shooting guides automatically recognizes the environment and recommends a recording sequence and other functions to help the user.
DJI OM 5 Athen Gray Three-axis Smartphone Stabilizer, Built-in Extendable Arm, Portable and Foldable, Android and Iphone Stabilizer with Shooting Guides, Gray
Tripod for cameras and mobile devices
With a maximum height of 167cm, this ($40.99) tripod features four aluminum alloy legs that have an adjustment range of 38-167cm, with a flip-lock design so it can be configured in seconds. Its weight is 1.4 kg and it is suitable for both DSLR cameras and mobile devices. The maximum load is 3 kg and the three-way head allows for 360º horizontal and 90º vertical recording.
Endurax 167cm Video Camera Tripod for Canon Nikon Sony Lightweight Aluminum DSLR Camera Stand with Universal Smartphone Holder and Carrying Bag (Black)
ULANZI Anamorphic Lens and Lens Case
Take advantage of the possibilities of the iPhone camera with the ULANZI anamorphic lens (73.57 dollars) with 2:4:1 ratio. Comes with a universal clip to attach to any lens with a 17mm thread. It can also be attached to the ULANZI case (20.12 dollars), which is compatible with lenses from several brands.
ULANZI Anamorphic Lens for Mobile Phone Widescreen 1.33X, 2:4:1 Professional Filmmaking Accessories
Ulanzi 17mm smartphone case, compatible with iPhone 13 – Compatible with Ulanzi, Black Eye, Apexel, Kase, Sandmarc etc lenses. – Protects against scratches, dust and drops – Black/Grey
In Applesfera Selección we publish the best offers related to Apple products and compatible accessories. Prices and availability may change after publication.
You can be up to date and at all times informed of all the news from the Apple world and the offers of Applesfera Selección in our profiles of Twitter and Facebook.

Note: Some of the links displayed here are affiliate links. Despite this, none of the items mentioned were offered by either the brands or the stores, their introduction being a sole editorial decision.