Do you like action and movement? Then check out the best action games available on Apple Arcade.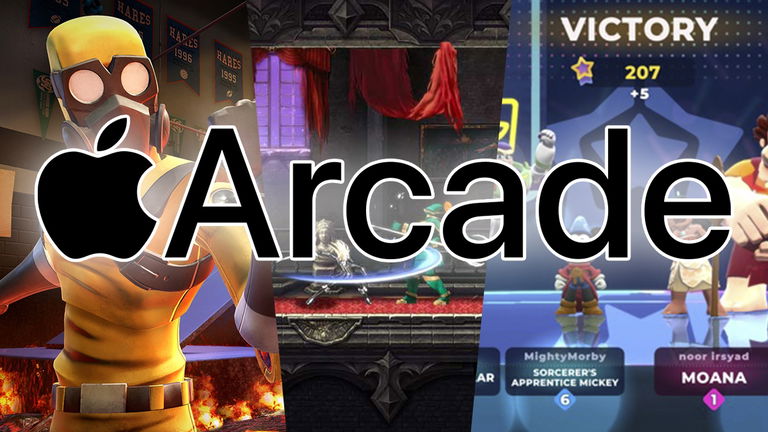 apple arcade Gradually, he established himself as one of the best video game platformsand this is due to its wide catalog of popular titles and of all kinds.
If you are looking action gamesin this article, we are going to show you the best alternatives available in apple arcade.
Best Apple Arcade Multiplayer Games
Top best action games available on Apple Arcade
Castlevania: Grimoire of Souls
The pathless
Crunches
sea ​​horn 2
hot lava
Galaga Wars
Alto's Adventure — Remastered
Disney Melee Mania
Below you can see a mix of action games this amazing mix adventures with clashesenemies and universes filled with creatures.
Castlevania: Grimoire of Souls
One of the most iconic gothic fantasy sagas is Castlevania. This title is back with a new theme called Grimoire of Souls. It honors previous titles under a 2D game mechanicshowever, the scenery, characters, creatures and objects are in good quality.
As if that weren't enough, he frenetic mechanics, addictive and full of action. Besides, the soundtrack that accompanies the game will make you relive the nostalgia
and they will even make you go further and further in the story.
The pathless
The pathless it's a open world game where you can live the experience of being a hunter, who must travel through different places of the planet full of dangerous creatures.
Your best allies will be your bow and your arrows and you can even create a strong bond with your eaglewho will accompany you in each of the adventures.
As if that weren't enough, you can chart your own path and defend yourself from the giants and magical creatures that haunt the forest.
Crunches
Crunches is another of best apple arcade action games put in a dark world. It's dark and full of mysteries, plus it has a pretty simple premise. presents a 2d model and a gothic appearance accompanied by dark and soulless characters.
Within the game, the the ground will begin to shake and little by little your house will descend into the depths of the earth. At this point, you'll come across a number of rather interesting creatures, many of which look like furniture.
You also need to be resourceful to solve some puzzleswhich will appear throughout the story.
sea ​​horn 2
sea ​​horn 2 is a game capable of immersing you in an epic action and rolling storywhere you will have to explore every corner of the incredible world of "Gaia".
In the game you will be a young warrior that he will have his first adventures and little by little he will win experience and competence
both in combat and in intelligence.
Additionally, the game has a collection system which will serve to create new weapons or upgrade the ones you already have. In each of the adventures you will meet new characters, which will be added to your team and will be of great help to you later.
hot lava
hot lava was one of the most popular Action games available on Apple Arcade. It is a game developed in the first person, whose objective will be avoid touching the ground Thus, avoid dying immediately.
In this opportunity, your character will be one of the most nimble and fast of the game and you can even per form various maneuvers
like grabbing walls, climbing ceilings and more.
Galaga Wars
The world has come into conflict with aliens and your mission will be save the human race fiercely fighting in the galaxy. In Galaga Wars you should destroy all enemy shipsin particular the mothershipssince each of them will be full of powerful technology and weapons.
luckily you can too upgrade your spaceshipto add new gunsincreasing movement speed and increasing its size for better resistance.
The the style of play is quite classicreferring to the first titles of "Galaxy". The the view is in 2D and you can move sideways and up and down.
Alto's Adventure — Remastered
If you are looking for the best action games available on apple arcadeso don't forget Alto's Adventure Remastered. With this game you will live the experience of doing the best snowboarding tricks and you can even dash through a wide variety of hills, mountains, and through beautiful villages. In fact, in many scenarios the weather will be the protagonist, so you will have to learn to control your pirouettes very well.
Each of the scenarios has a calm design and they are well lit. Moreover, the game controls are quite simple to useso if you have experience playing career titles it won't be a problem to play Alto's Adventure Remastered.
Disney Melee Mania
Have you ever imagined what a showdown between Pixar characters and Disney Melee Mania would look like? With that action game you can make your dream come true.
He introduces himself 17 champ choice and different battle modes: 3 vs 3 matches free for all and personalized.
Each of the characters has special abilities and powers and the game mechanics it's frenetic and addictive. Without a doubt, it is one of best apple arcade action games to play and have fun.
The best racing games you can find on Apple Arcade