Give your hair a new look with these totally free hairstyle apps.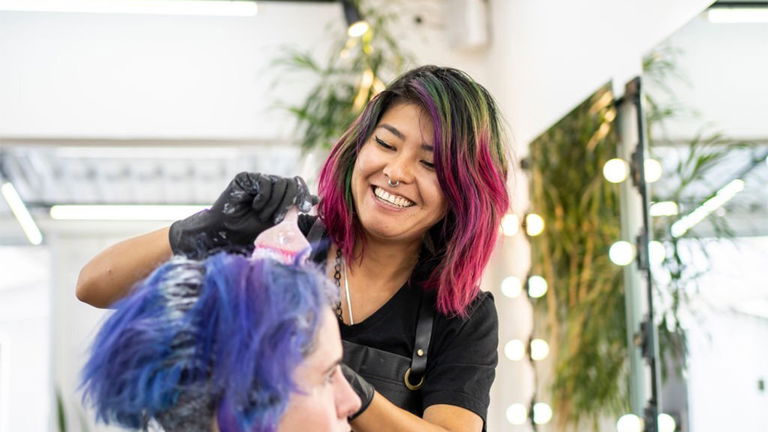 Look changes are always necessary, especially because they increase self-esteem, enhance your beauty and they give you Security. And it's not only makeup that makes you look good, but also hairstyles give a good image of your person.
And while styling your hair may seem simple, it actually takes a lot of work, especially if you want something different that speaks to your personality. But don't worry, in this article we will show you the best apps for making hairstyles common and professional from your mobile.
Best apps to learn makeup from iPhone
8 perfect apps for making cute hairstyles
Hairstyles for face shape
Trendy hairstyles for women
hair salon
Z Camera – Photo Editor
Perfect hairstyle
Change hair color – hairstyles
hair zap
change hairstyle editor
Below you can see a list of apps for making hairstyles of men, women and children. Trendy hairstyles and color changes according to your style.
Hairstyles for face shape
Although the hairstyles have different variations, not all of them are beautiful. For this reason, there are applications such as Hairstyles for face shapewhich help you to choose according to the shape of your face the one that suits you best.
It helps you choose haircuts and hairstyles according 6 basic shapes of your face. So no matter if your face is oval, square, round, heart-shaped, elongated or diamond-shapedSurely there is a hairstyle for every occasion waiting for you.
Trendy hairstyles for women
It's no secret that women always want look fashionableand what better opportunity than Trendy hairstyles for women. It is responsible for offering a wide variety of hair styles (160+ hairstyles) perfect to go anywhere.
To try it, all you have to do is upload a photo of your face and try the different hairstyles according to your face shape, only then you will be 100% sure of change before doing it.
hair salon
hair salon is the ideal space for try different hairstyles. It is an application that simulates their different appearance cuts and hairstyles in the hair of men and women.
So if you're about to get a change of look, but you're not sure what changes you're going to make, don't worry. The platform has a large collection of cuts and hairstyles which you can try from your mobile.
And you can not only try some hairstyles, but also check the colors that you can apply on the hair.
Z Camera – Photo Editor
At first glance, it looks like a common image editorhowever, Z-Camera It is a very complete and useful application to create hairstyles and see how they look.
Its great versatility means you can see your face younger or older through a temporal chamber, make up, meet your future baby, a perfect body and, of course, includes a special section with the best trendy hairstyles.
Perfect hairstyle
As its name suggests, the app Perfect hairstyle contains in its database a many hairstyles which you can try from your mobile device.
Like other options on the market, you will only have to upload a photo to the system and try different hair styles and color thanks to the filters, capable of dye your hair in a few seconds.
Change hair color – hairstyles
If you are about to go to a beauty salon but you are not sure cut hairstyle What are you going to do, don't worry. With this digital tool, you will be able to see the change in a short time and without putting your hair at risk.
It has free hairstyles, wigs of different sizes and colors, several hairstyles famous and traditional for all hair types, ideal for experimenting at ease.
hair zap
hair zap This is another good app to try. new haircuts. This is a hair salon simulator very effective to change style.
Like some applications, it will be enough to upload a photo and compare between several different hairstyles, the cuts that you can try have different colors so that you can choose the right one.
change hairstyle editor
If you are afraid of makeover radicals, or you just want to wear another hairstyle, then the application change hairstyle editor it's perfect for you.
Apply different hairstylesdyes hair different colors, cut and add bangs with this incredible photo editor.
the platform includes more than 50 virtual hair and different looks that include short and long hair, curly hair, straight hairstyles, knots and collections or with braids for all types of events, parties and celebrations.