ChatGPT is now included in Microsoft's office solution for creating Word documents with the almost endless help of its AI. After the tsunami that this office automation revolution has become, we are going to take stock of its effects on each of the apps that make up Microsoft 365 Copilot.
[PaLM-E de Google, el robot con IA que ve, no necesitas entrenar y realiza todo tipo de tareas]
The best co-pilot for your productivity
This arrival will mean a radical change in the way of apprehending productivity both in the professional and personal domains. And it is that at present we do not even know the impact that an AI will generate that will become the best assistant for the applications integrated in a multitude of daily processes.
Copilot integrates with Microsoft 365 through Word, Excel, PowerPoint, Outlook, Teams and a new experience: Business Chat. This will be the axis that will unite LLM (Generative AI), Microsoft 365 applications and your data, whether calendars, emails, documents, chats, meetings and contacts.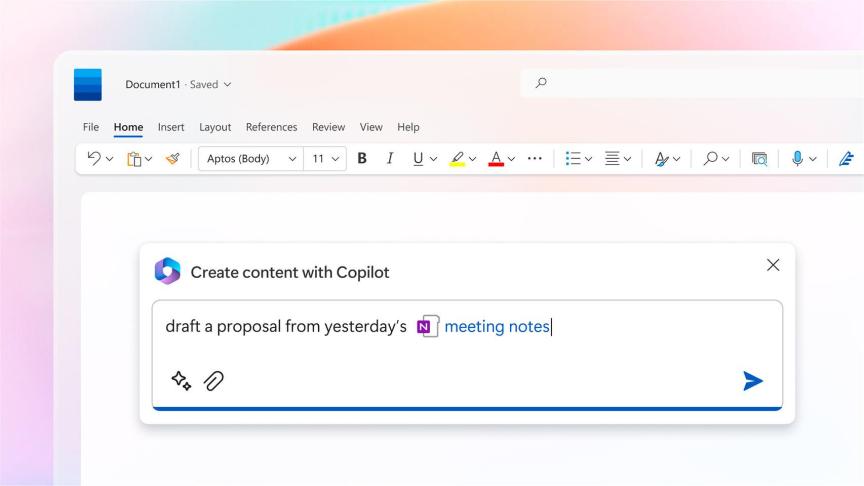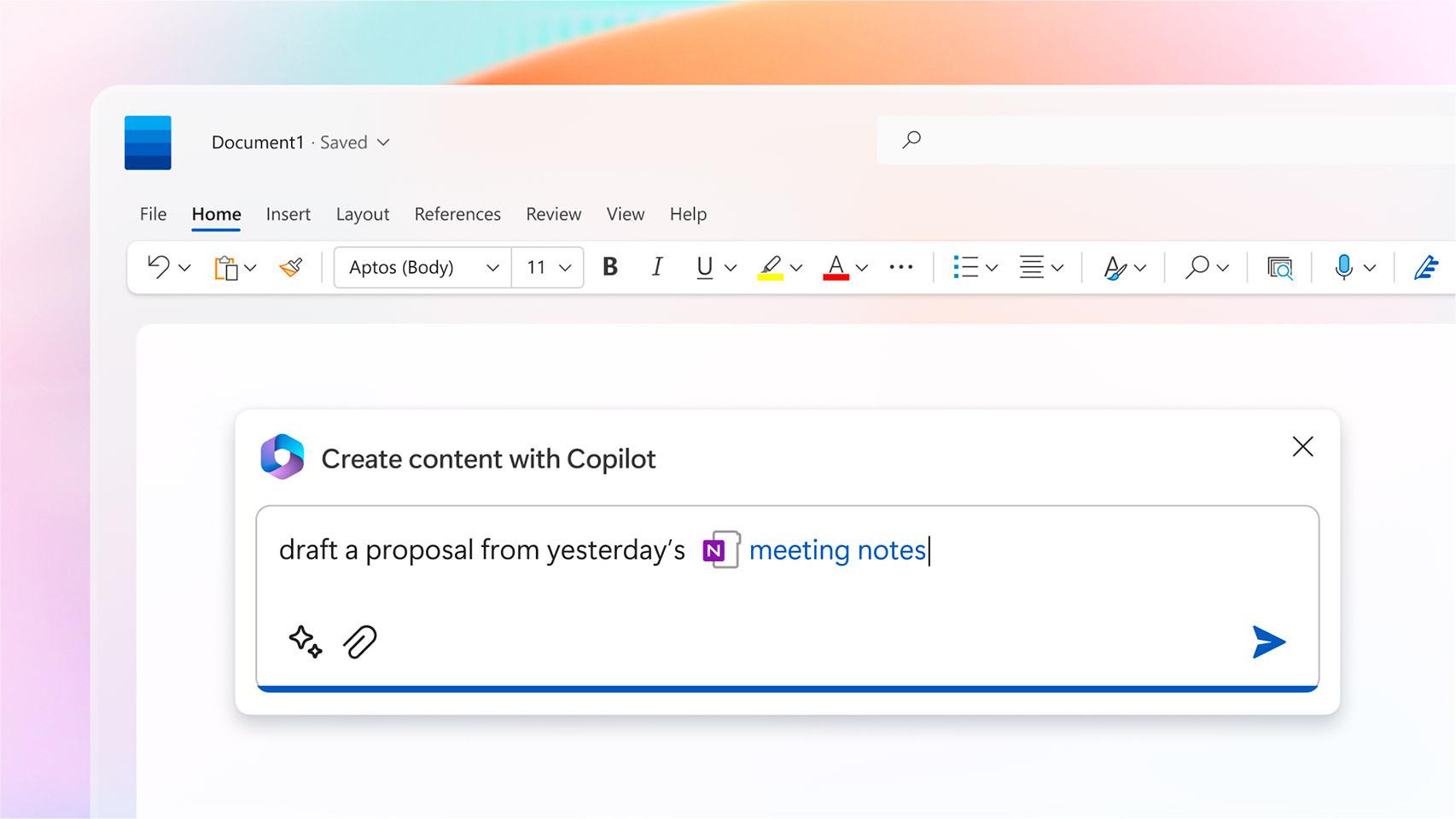 In other words, all the productivity that resides in these Microsoft applications will be at your fingertips via Business Chat and so you can go there to get a summary of the work your team has been doing in the new product strategy. .
Microsoft, through its publication on its website, wanted to leave some data on how Copilot in Microsoft 365 has contributed enormously to productivity. From developers who have used GitHub Copilot 88% are more productive77% say this tool has allowed them to spend less time looking for information and 74% say they can focus their efforts on more satisfying work.
ChatGPT AI in Word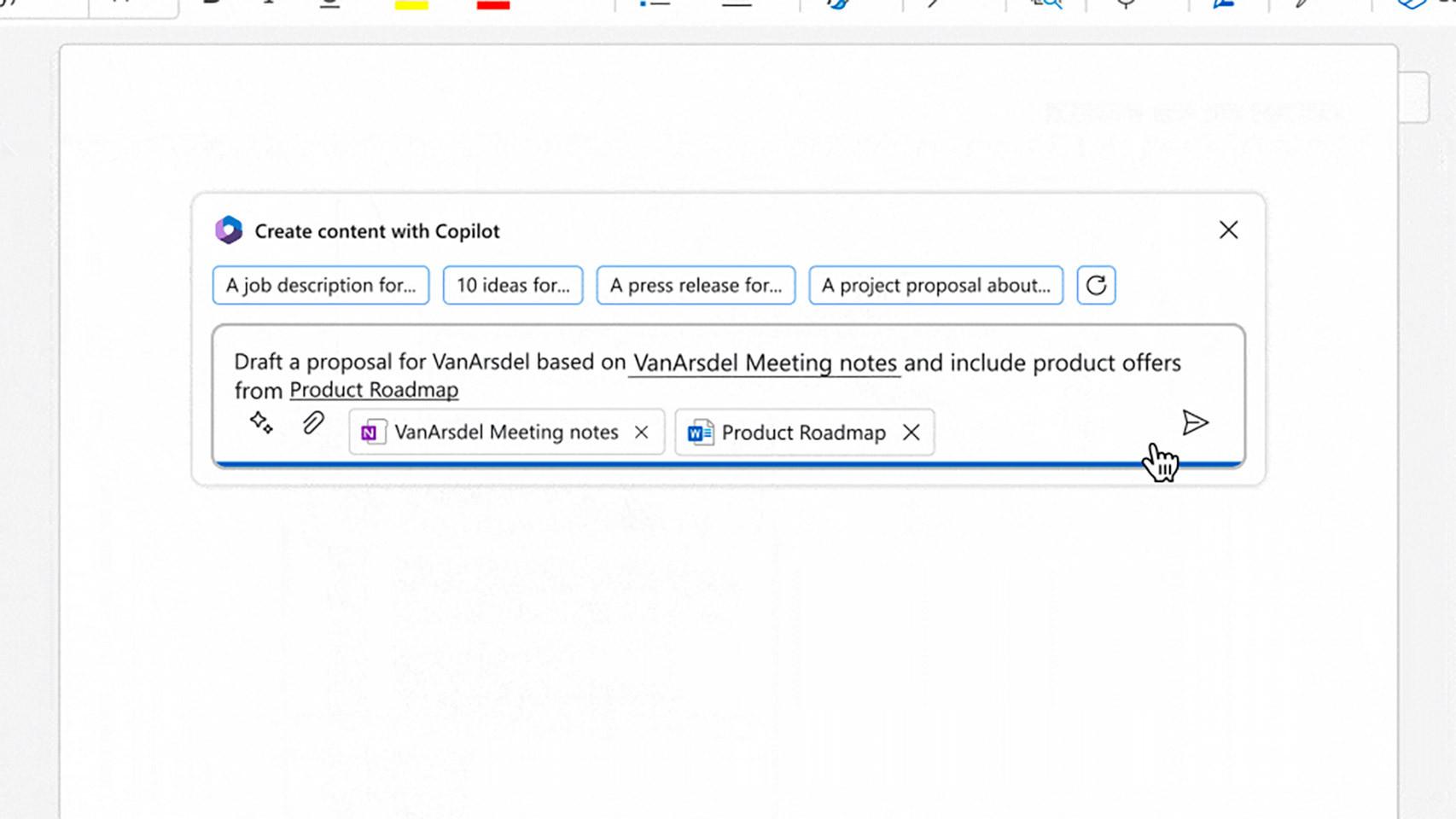 Microsoft Word is the most prestigious text editor and it once helped with text generation, but now it takes a huge leap forward in productivity thanks to the fact that Copilot can help you create, write, edit and give summaries.
Copilot will be able to create a first draft so that you can profile it yourself with the tools that Microsoft puts in your hands. You can configure it to give a more human touch to texts or to include content in documents or simply to make a quick summary.
At the same time, it offers suggestions on texts where there is room for improvement and thus ensures that the final wording has more punch. Microsoft gives some examples of using Copilot in Word:
Write a two-page project proposal based on the data from [un documento] there [una hoja de cálculo].
Make the third paragraph more concise or change the tone of the document to make it more conversational.
Create a draft of a document based on it.
His solo tres ejemplos de una gran multitud de actions que puede llevar a cabo Copilot y que pueden ser trasladadas a todo type de operaciones, ya sea en el ámbito profesional como en el mismo hogar o para aquellos estudiantes que realizan trabajos para la universidad o el high school.
Copilot in Excel: goodbye to formulas with AI
The formulas in Excel are a key element to make almost magic with all the data that is included in these tables and thus find the best sales figure in a commercial establishment or the best grade given by a student in the class we teach .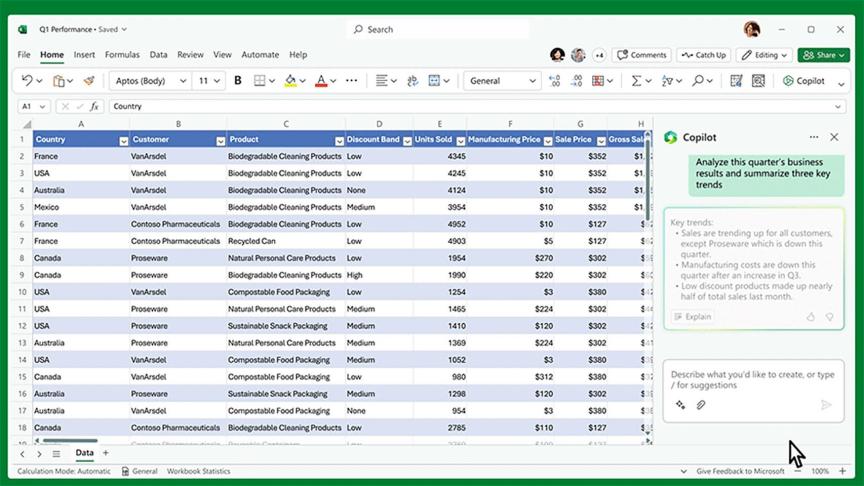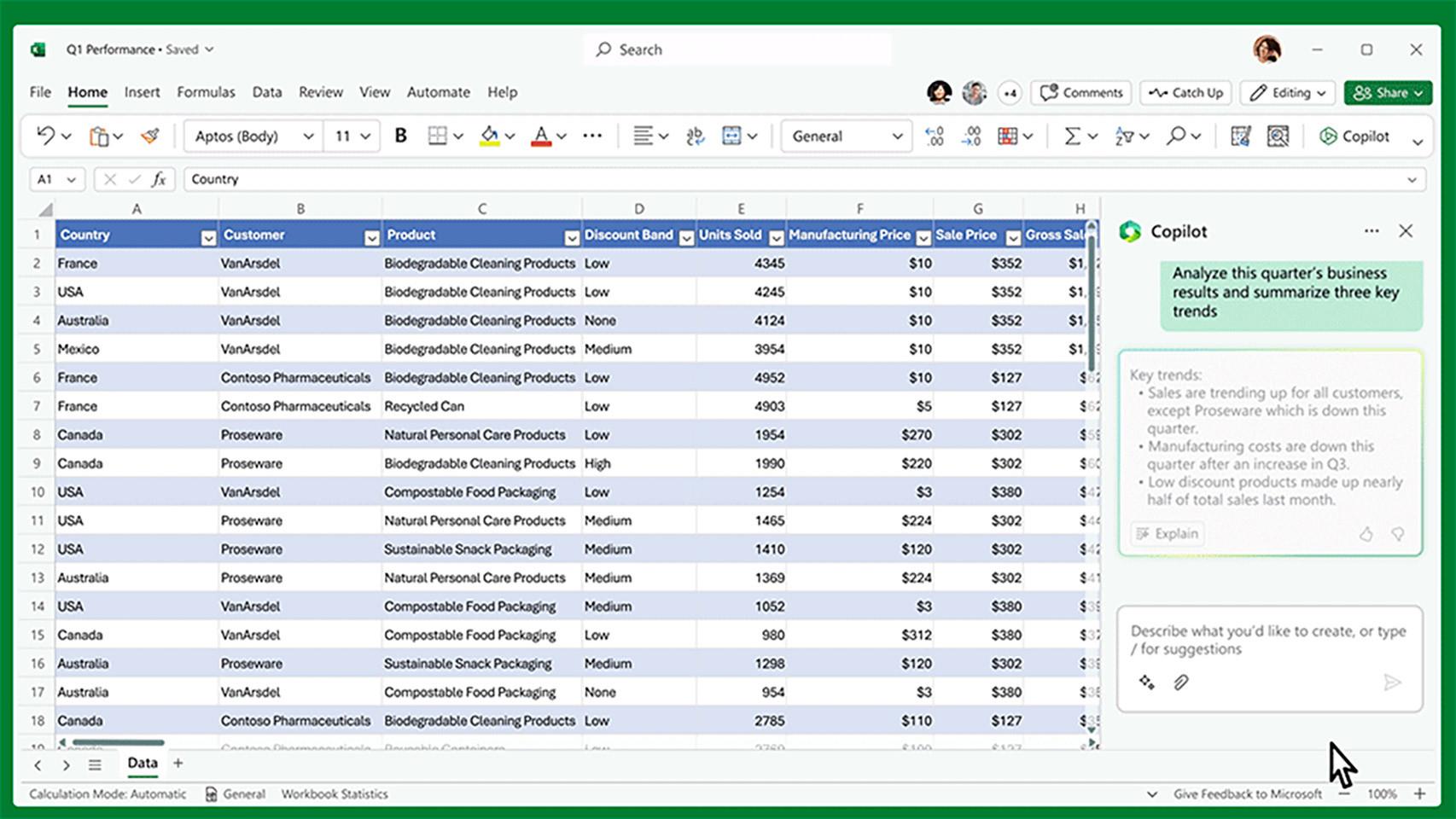 These formulas are not easy at all. and here comes Copilot with ChatGPT AI to be an invaluable helper that will profoundly change the way we understood Excel until today.
Copilot in Excel will help you analyze and explore all the data you bring to the tables. You can ask questions about the data in a familiar way and thus forget said formulas.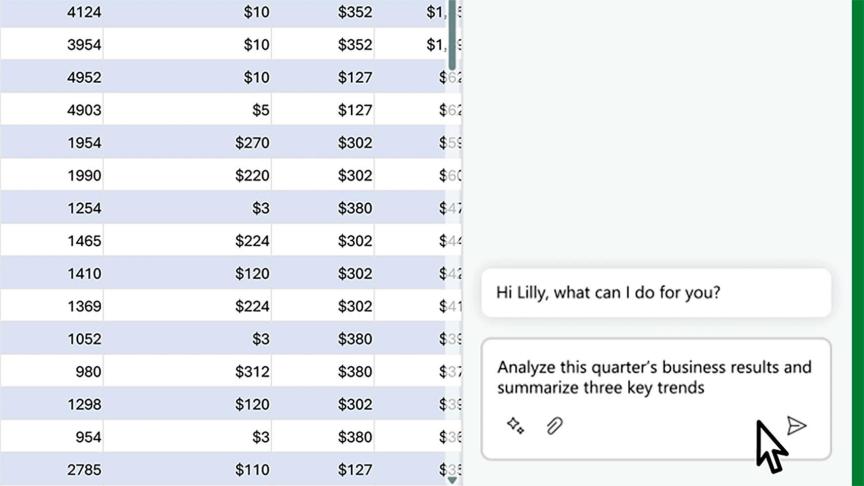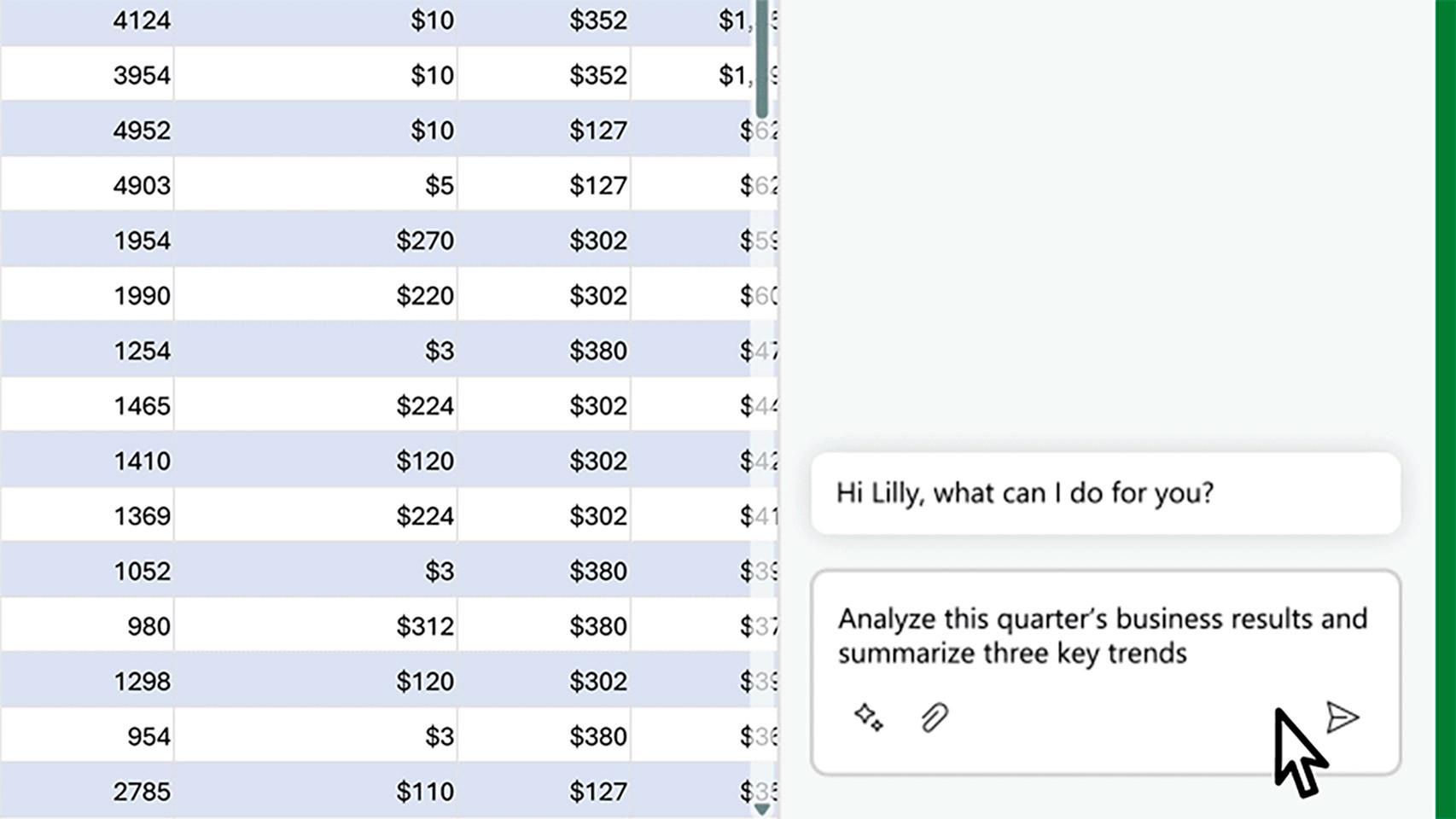 Correlations, use of IF constraints for any scenario or suggest new formulas based on the questions you ask. So you can identify trends, create high-value charts, or request recommendations from different data sources. Here are some examples given by Microsoft to understand the value of Copilot in Excel:
Insert a table with the breakdown of sales by type and by channel.
Projects the impact of a change in variable and generates a graph to help visualize it.
Model the impact of a change in the growth rate of a variable X on the profit margin.
Power Point with co-pilot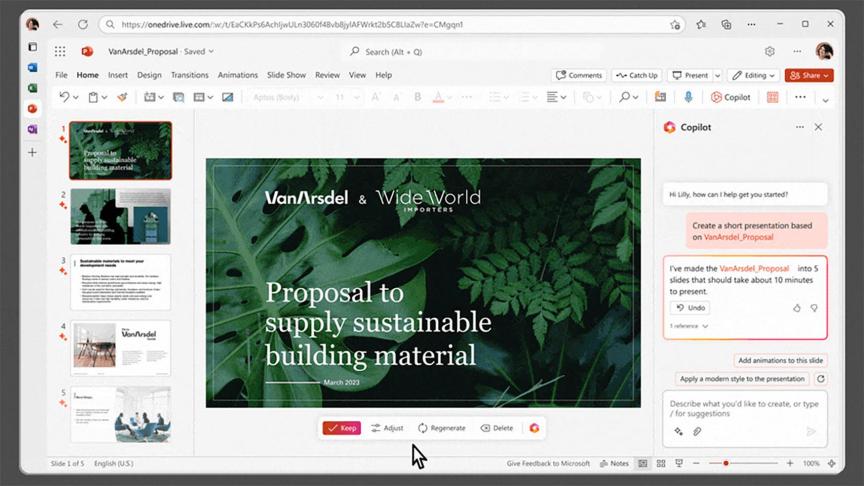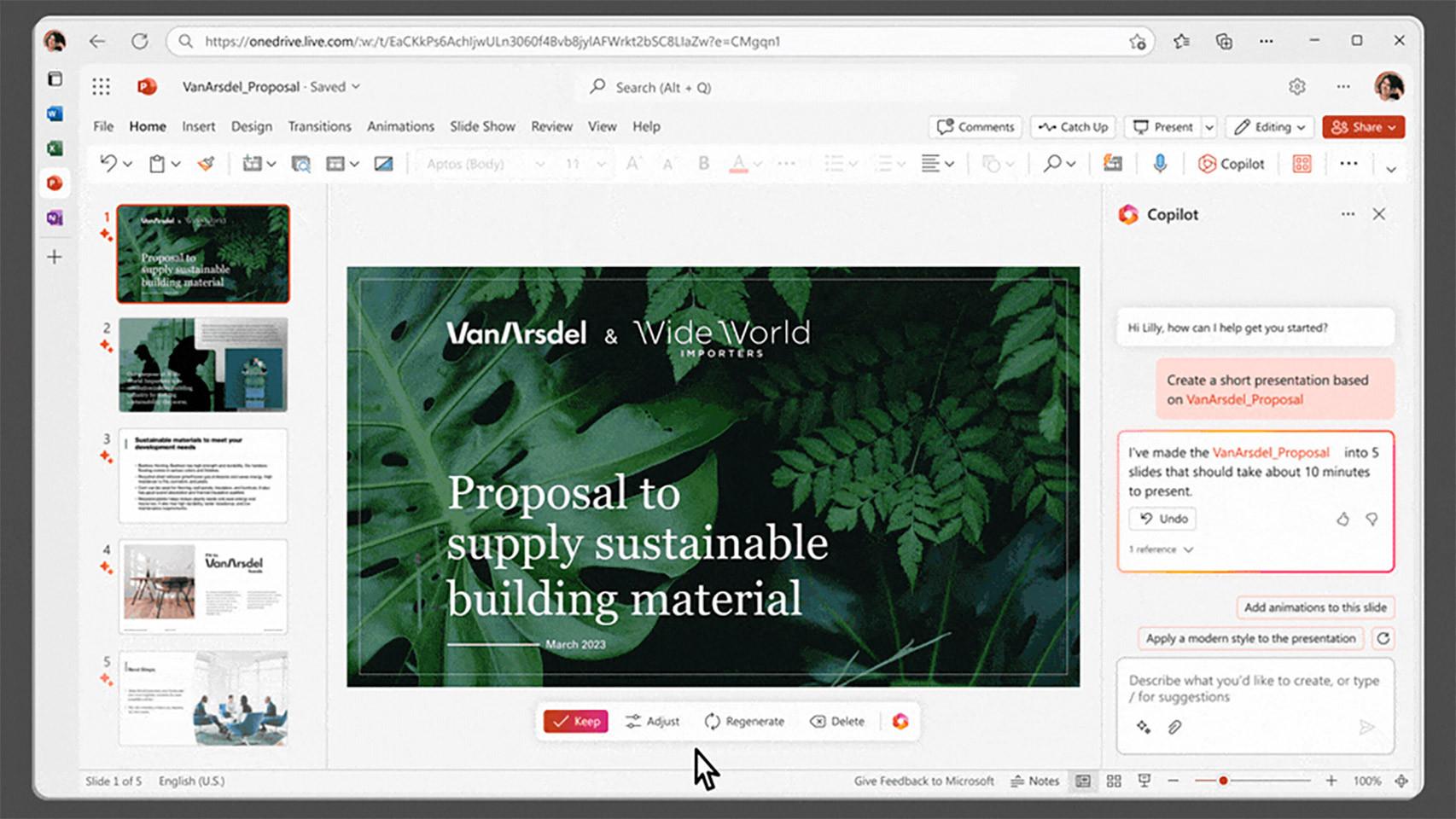 Slideshow also takes full advantage of this amazing AI to create stunning slideshows. you can use different data sources, images or audio files so that Copilot can summarize them for a great presentation.
Among the settings you will have at your disposal is the possibility of summarizing longer presentations with a button or simply using text controls to adjust the design, reformat the text or apply an animation that gives a special touch. at the presentation.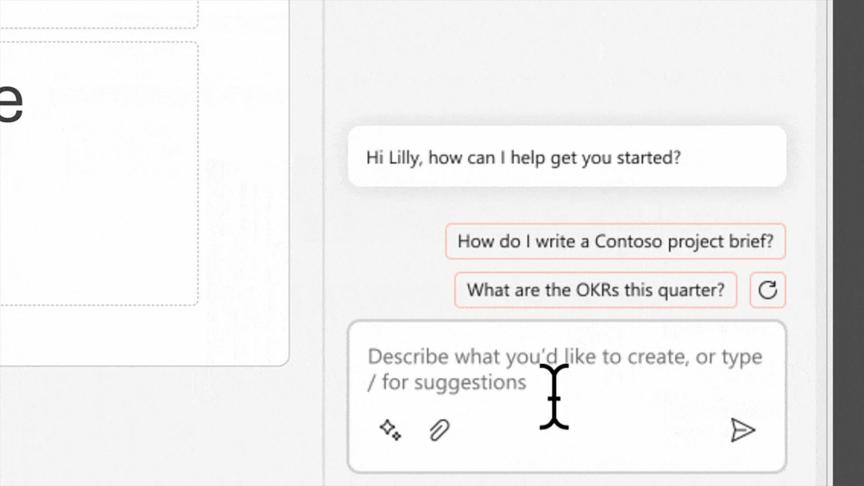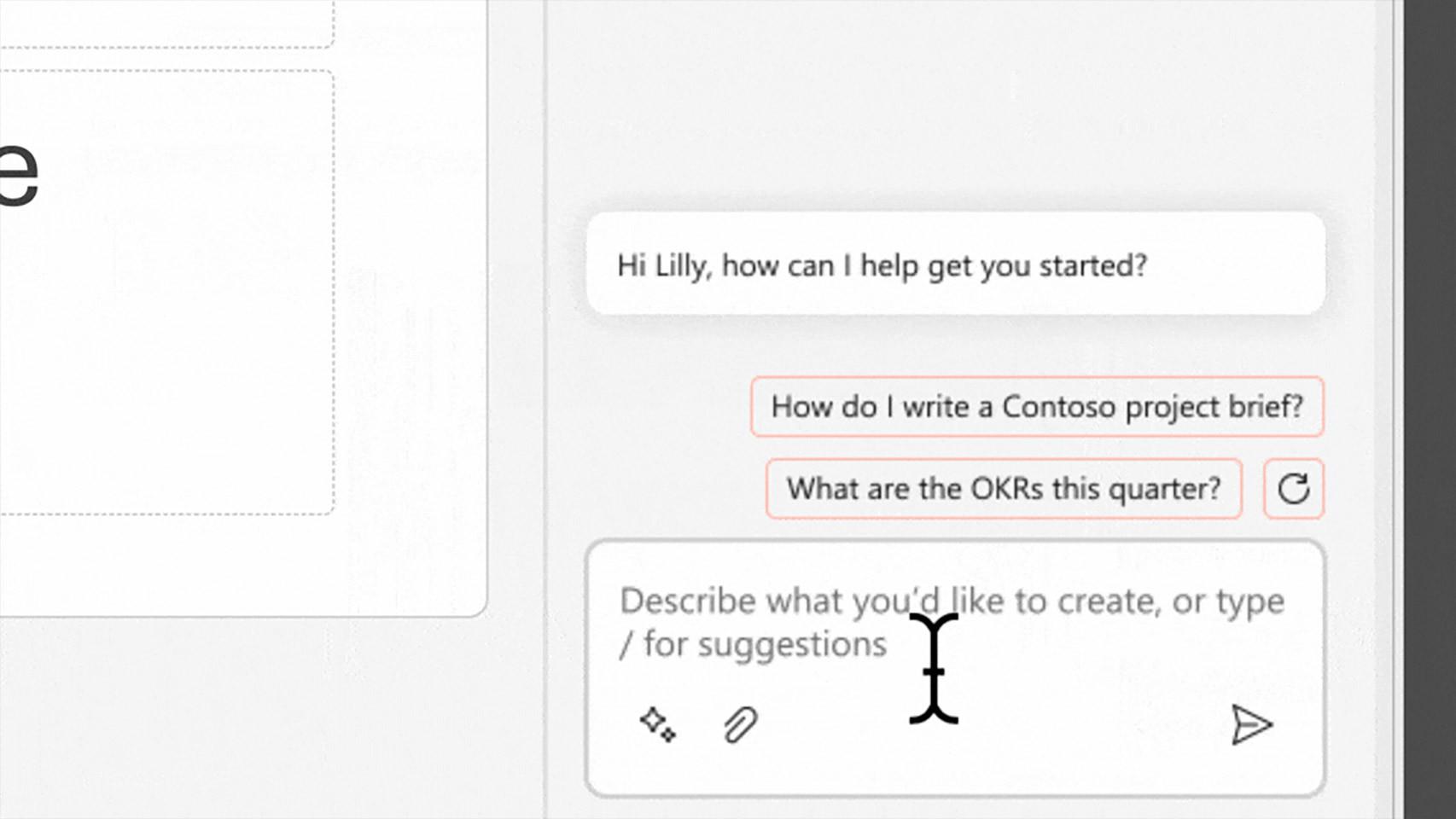 Here are some examples :
Create a five-slide presentation based on a Word document that includes relevant images.
Consolidate this presentation into a three-slide summary.
Reformat this list with three dots in one of three columns, each with an associated image.
Outlook, the email client with AI
Another of the tools most used by everyone is the Outlook email client which now improves qualitatively so that you can consume Less time going through received emails or simply generate new ones.
You can create email digests where multiple contacts have responded to understand each per son's different perspectives and open up questions that need to be answered.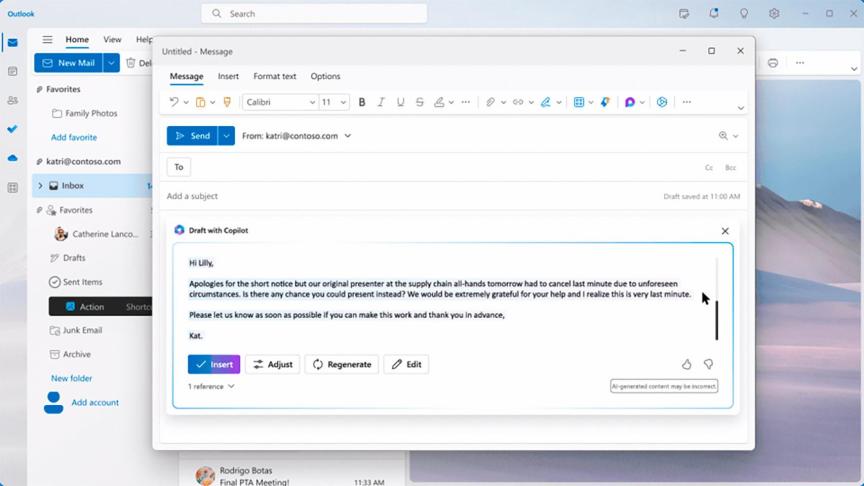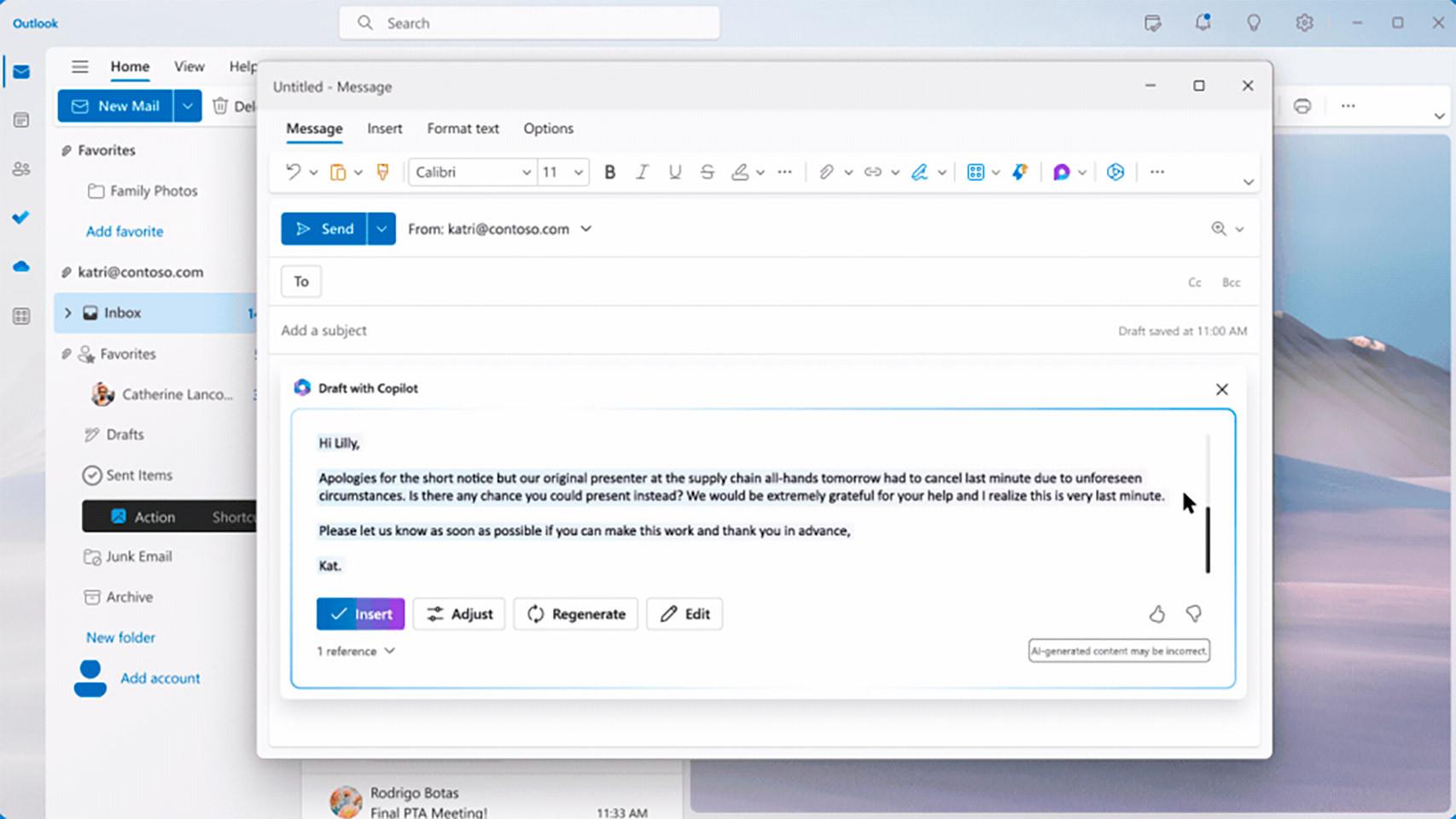 You can also turn quick notes into a ready-to-send email or even adjust height or length after going through this first draft generated by Copilot in Outlook. And so you can get a better idea of ​​the interest of this tool with ChatGPT's AI:
Give me a summary of all emails received during the week I was away. Mark the most important elements.
It generates a response thanking you for your help and asking for more details on this and the third point.
Invite everyone to a "brunch" where new products will be presented on Friday afternoon. Mention the restaurant where it will take place.
Team video calls won't be the same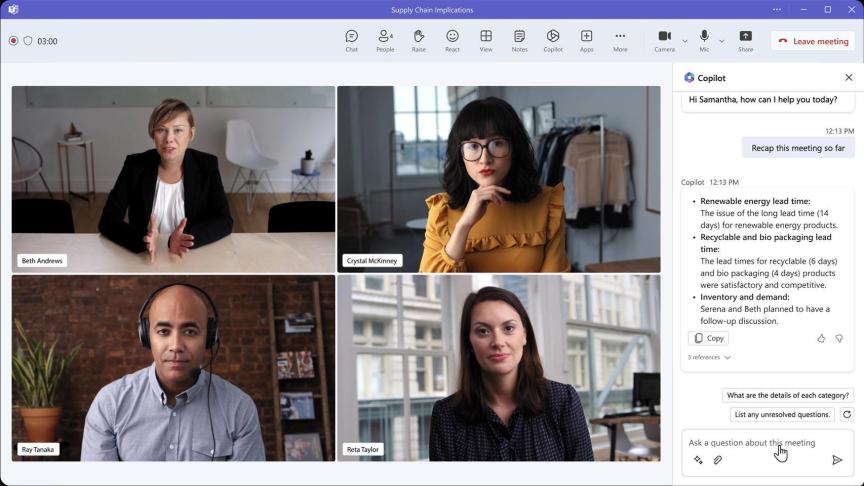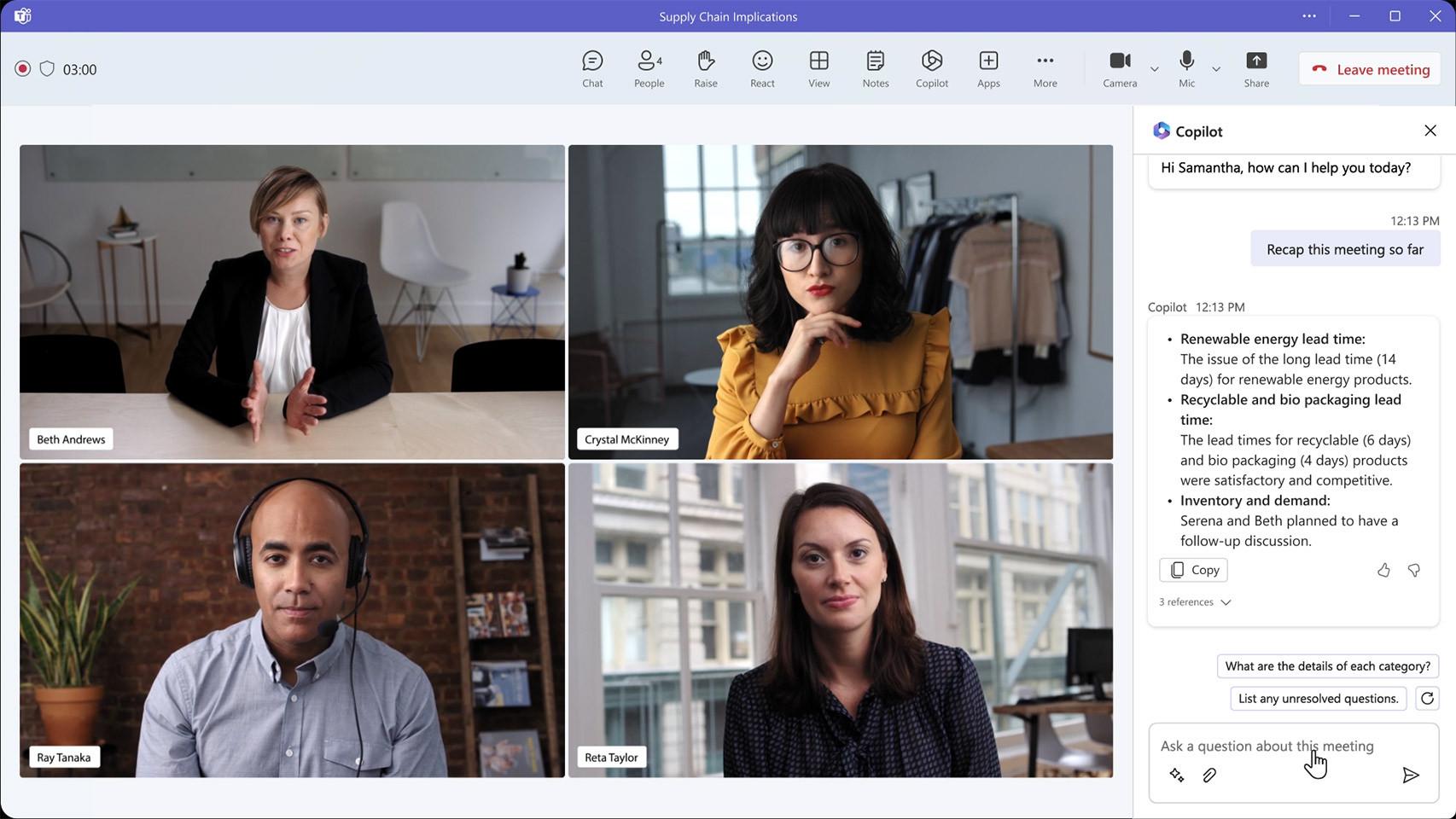 Copilot in Teams lets you run highly effective meetings, take minutes, or simply summarize key actions that the team needs to work on.
Through the chat, you will be able to receive answers about when you were unable to attend the meeting or even create tasks for everyone and thus design a meeting agenda.
It's very clear what AI can do in Teams with these three examples:
Give me a summary of everything I missed during the meeting. The most important points and those on which part of the team disagrees.
Create a chart of the positives and negatives of the meeting topic and what we should consider before making a final decision.
Decisions made by the team during the meeting and the steps you suggest taking next.
Business Chat, what unites everything
The business cat is a new experience of Microsoft 365 Copilot that merges all data and apps to do things we never thought of before.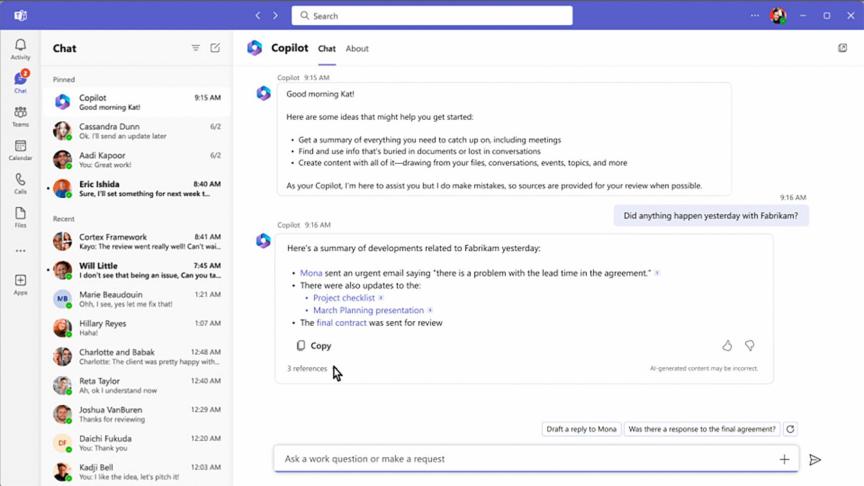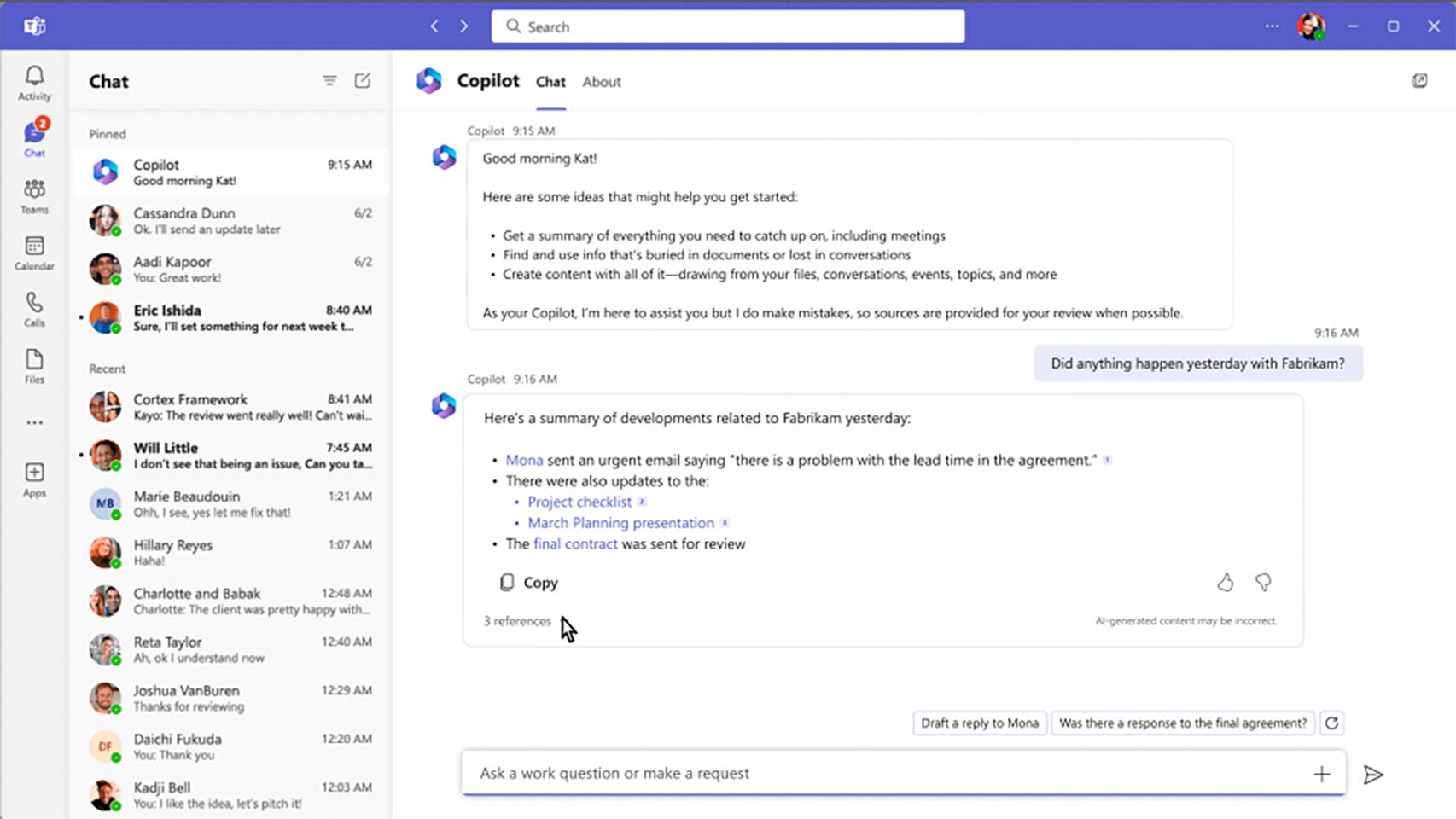 Thus, and with the collaboration of Microsoft Graph, Business Chat collect all the data you have in documents, presentations, calendar, emails, notes and contacts.
In other words, it allows you to put aside the most burdensome task of studying all this data so that you can focus on the objectives. Let's move on to the examples to better understand this new experience:
Summarizes chats, emails, and documents of anything received from Client X.
What is the next objective of project X. Is there a risk identified?
Write a new general schedule in the style of [archivo A] containing the roadmap of [archivo B] and integrate the list of projects in the email of X person.
Availability of Microsoft 365 Copilot will take in the following months to more companies so that at some point it can be acquired by the common user. A new experience for office automation that we are facing and that will generate new ways of producing.
You may be interested
Follow the topics that interest you