It must be recognized that in Google Play there are many games with very bright colors that visually stimulate the player and black and white titles are in the minority. However, using a monochrome tone as the main graphic resource of a game helps to create elegant, dark, cold universes … and, in the end, a unique aesthetic.
Below, we have selected several proposals in black and white (paid, yes) which, by the absence of color, reach transmit sensations or stimuli to the player which we are used to. Authentic works of art on our mobile.
Star man
The monochromatic and minimalistic beauty of "Starman" captivates you as soon as you begin to navigate its mysterious levels and solve its intricate puzzles. While you walk through a world of light and dark, you will have to play with the environment, illuminate your environment and test your solutions by trial and error.
Delicate architectural atmospheres, elaborate puzzles and relaxing surround music they meet in this game which has an average rating of 4.5 out of 5. It has a price tag of 0.99 dollars and is compatible with Android 7.0 and later versions.
Star man
Developer: nothing workshop
Download it on: google play
Price: 0.99 dollars
Category: puzzles
Wormster Dashboard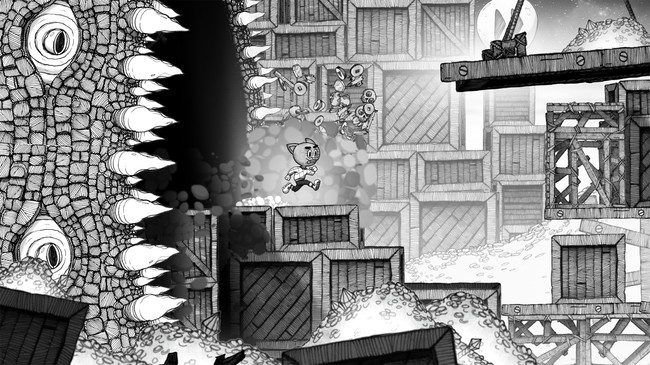 This game, with hand-illustrated animated backgrounds, puts you in the shoes of a runner who must escape a giant worm which he woke up by digging too much in sacred lands. Hidden passages and death traps blend together in a fantasy world where no matter how much you jump and run, the monster will not stop chasing you.
You will have to look for shortcuts and take advantage of them without losing sight of the worm that will be on your heels at all times. It has an average rating of 4 out of 5, costs $ 0.59, and is compatible with Android 5.0 and later.
Wormster Dashboard
Developer: GAMELAB Zrt.
Download it on: google play
Price: 0.59 dollars
Category: Adventure
.Project
From the creators of Evo Explores, here is a minimalist puzzle game that presents you with two shadows on two walls projected by the same figure. Your mission will be to build this figure with three-dimensional blocks, but taking into account that, depending on where the light is shining, shadows blend and distort giving birth to all kinds of shapes.
It's like learning geometry but in a fun and relaxing way, with a sleek aesthetic and over a hundred levels that will test your spatial vision. It is priced at 1.99 dollars, is aimed at the whole family and can be used on devices running Android 4.4 or higher. In addition, it has an average rating of 4.7 and has an augmented reality mode.
.Project
Developer: Stampede games
Download it on: google play
Price: $ 1.99
Category: Puzzles / Puzzle games
Hidden people
Here we have a beautiful hidden object game with 32 hand-drawn areas They range from sunny beaches to the suburbs of the big city. A list of objectives tells you what to look for in each level (an object or a character) and, by tapping on each one, it offers you a clue to locate it.
His scenarios, illustrated in black ink on a white background, are interactive, so they respond to touch by freeing over 2,000 different sound effects
done with the mouth. There are three color modes: normal, sepia, and night. It costs 4.99 dollars, but its valuation of 4.8 guarantees its success.
Hidden people
Developer: Adrien de Jongh
Download it on: google play
Price: 4.99 dollars
Category: Casual / Action & Adventure
Minutes
'Minit' is a special adventure that play in 60 seconds, during which you will step out from the comfort of your own home to help unusual people, uncover countless secrets and defeat dangerous enemies. All in the hope of breaking a curse that endures every day.
Yeah when you start you know it you will die after a minute, but each new start allows you to approach the level with the items and discoveries you made in previous attempts, so try to collect and find out whatever you can to use it when you resurrect. Watch out for its price: 5.49 dollars.
Minutes
Developer: Digital Return
Download it on: google play
Price: 5.49 dollars
Category: Adventure
Bonus: this level again
We did not want to end this selection without offering a free title, although it is more of a saga, because there are already four chapters of "That Level Again". We are faced with a logic game in which all the levels are the same, but the way to pass each of them is different and unique.
You find yourself in a room with spikes, a platform, a button, and a door. Sounds easy, doesn't it? Over 5 million users They have already verified that this is not the case and gave the title an average rating of 4.7 out of 5. The download is free, but it includes ads and offers in-app purchases.
This level again
Developer: IamTagir
Download it on: google play
Price: Free
Category: puzzles