Until March 28 at 9 a.m., MediaMarkt is offering Web Week, a campaign in which it offers products of all kinds: laptops, tablets, computer and gaming accessories, home automation, etc. While not particularly Apple-focused, there are offers on items that brand users might use. These are five proposals.
WARNING: If you are looking for Apple devices, MediaMarkt also organizes the Apple Days campaign, specifically focused on the brand.
MediaMarkt Web Week offers
WD Easystore 2TB external hard drive
Having storage issues on your Mac? An external hard drive like the WD Easystore 2TB ($62.99) can help lighten the load on your laptop or desktop computer. With 2TB, you can back up your most important files or use it in Time Machine as system backup
of the macOS system.
2TB External Hard Drive – WD Easystore, Portable, Hard Drive, USB 3.0, WD Backup Software, for Windows and Mac, Black
Wi-Fi mesh Sistema Tenda Nova MW3
If your home Wi-Fi coverage barely reaches two rooms beyond where the router is, a mesh system like the Tenda Nova MW3 ($48.99) can solve the problem. A single node is capable of covering up to 100 square meters, so the two pack would cover 200 square meters. They are easily configurable through the Tenda Wi-Fi app and support up to 40 devices simultaneously. They offer parental controls and their maximum speed is 1200 Mbps.
Tenda Nova MW3 Mesh – AC1200 Router Sistema WiFi de Red en Malla (Dual Banda, Seamless Roaming, Fast Ethernet, Parental Control), pack 2
TP-Link Tapo L900-5
Although not compatible with Apple HomeKit, many iPhone users prefer Google Assistant or Alexa to control their home, and the TP-Link Tapo L900-5 LED lights ($19.99) work with them. They can be configured up to 16 million colors, voice controlled and have a programming and timer function.
. They do not require a hub to operate and the band can be cut to length for a custom setup.
TP-Link Tapo L900-5 – 5M 12V Wi-Fi LED Strips, 16 Million Colors with 2100 mcd, Best for Family, Music Sync, Google and Alexa Compatible
Sony WF-C500B Bluetooth headphones
Don't like AirPods or they seem very expensive? Nothing happens, fortunately there are many totally wireless Bluetooth headsets that are interesting, such as the Sony WF-C500B (59.99 dollars). With DSEE technology and custom sound with equalizer for an enjoyable listening experience, they have a autonomy up to 20 hours with the case
and IPX4 sweat resistance.
Sony WF-C500 – "True Wireless" headphones, Up to 20 hours of battery life with charging case, Compatible with voice assistant, Built-in microphone for phone calls, Bluetooth connection, Black
OPPO band style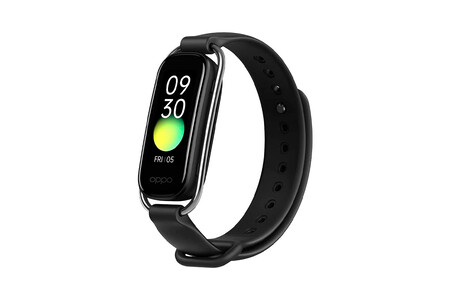 We end with the OPPO Band Style (54.90 dollars). It is true that it does not have the huge amount of functions that a smartwatch like the Apple Watch offers, but if you are only interested in the step count, estimated calories consumed throughout the day, simple notifications and heart rate measurement and blood oxygen, it is a good option with quite a stylish design.
OPPO – Band Style, Smart Band, Activity Tracker, Optical Heart Rate Sensor and Blood Oxygen Sensor – Black
In Applesfera Selección we publish the best offers related to Apple products and compatible accessories. Prices and availability may change after publication.
You can be up to date and at all times informed of all the news from the Apple world and the offers of Applesfera Selección in our profiles of Twitter and Facebook.

Note: Some of the links displayed here are affiliate links. Despite this, none of the items mentioned were offered by either the brands or the stores, their introduction being a sole editorial decision.