If there is a brand that bets on tablets on Android in Europe, it's Samsung. And its latest proposal in this segment has just arrived in the Spanish market.
We are talking about Samsung Galaxy Tab A7 Lite, the most economical bet among the range of options that we have of the brand in Europe. Will it be one of those affordable surprises? We will see this in our analysis.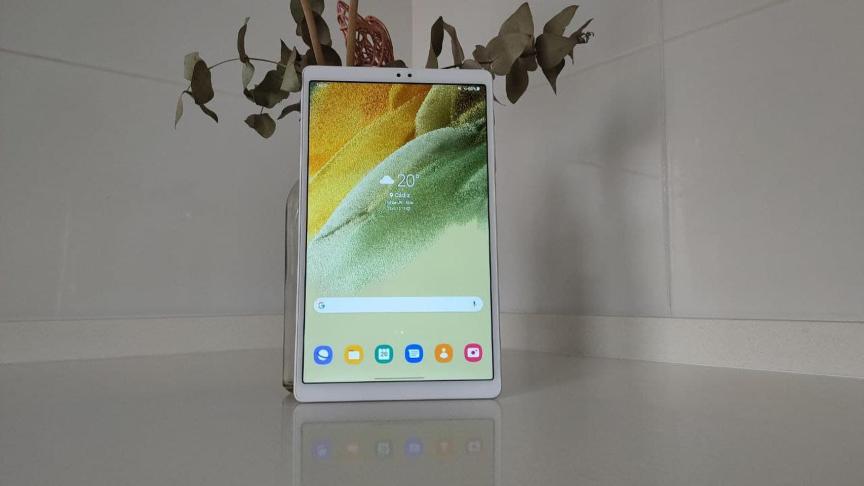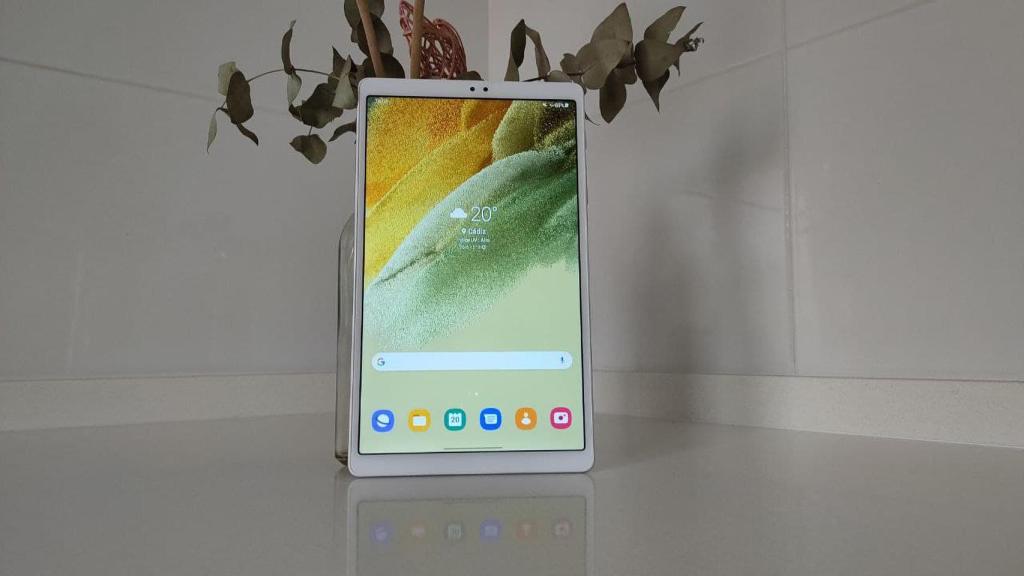 Features of the Samsung Galaxy Tab A7 Lite
Processor and memory
Processor: Mediatek Helio P22T
RAM memory: 3 GB
Internal storage: 32 GB
Micro SD: Yes
Screen
Size: 8.7 inch
Resolution: WXGA + 1340 x 800 pixels
Technology: TFT
Connectivity
802.11ac Wi-Fi
Bluetooth 5.0
GPS | GLONASS | GALILEE
USB 2.0 type C
Headphone socket
Autonomy
Battery: 5100mAh.
Fast charge: Yes, 15W
Other
Stereo speakers
65W charger
Protective case
Fingerprint reader under the screen
Operating system
Android version: 11
Manufacturer interface: One UI Core 3.1
Lightness and good touch as a distinctive sign
As soon as we hold the new Samsung Galaxy Tab A7 Lite in our hands, the first thing we notice is a feeling of robustness and good workmanship. Followed by a peso, 366 grams, which are comfortable for long periods of use.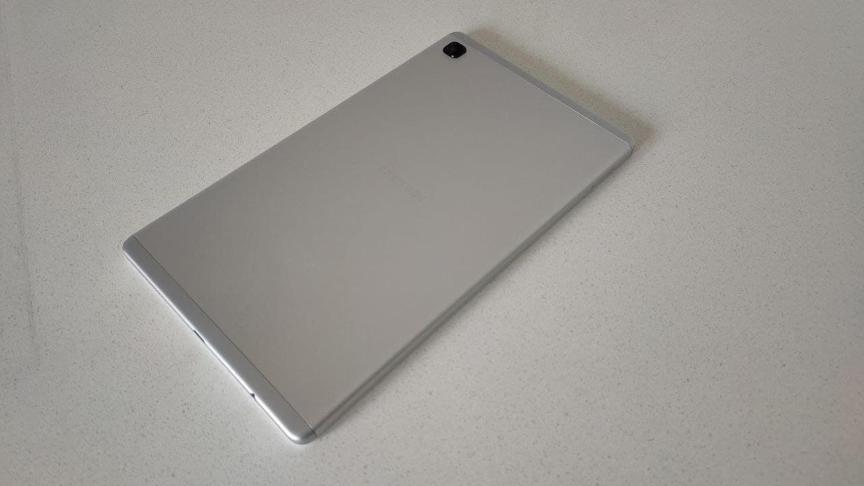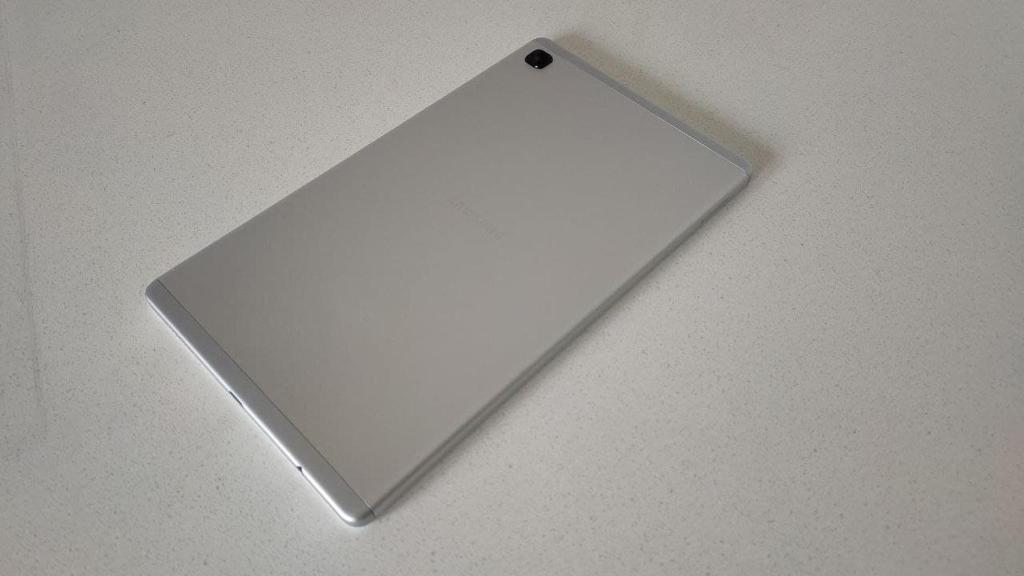 The main responsible for this robustness that we have mentioned is in its aluminum finish, on its rear panel. In which we find the Samsung logo and in the upper left corner the only camera sensor.
If we go to the front panel we do not find any surprises, we have a slight frame, in white in our test unit, which surrounds the 8.7 inch screen
.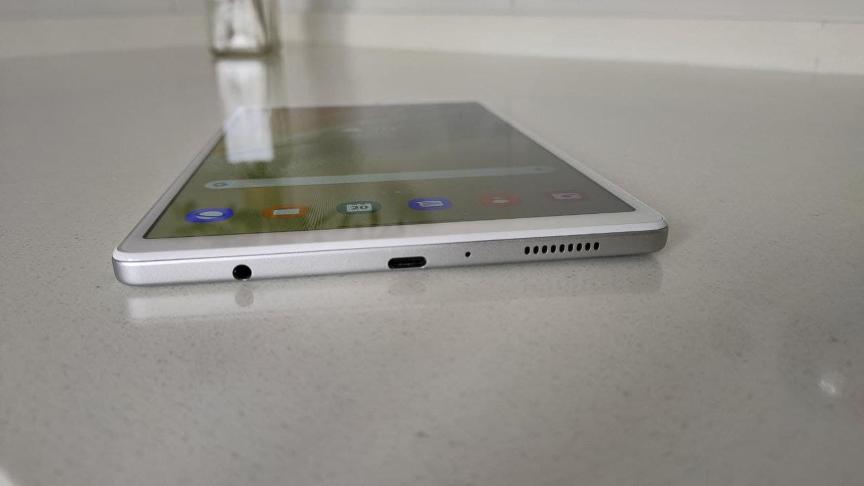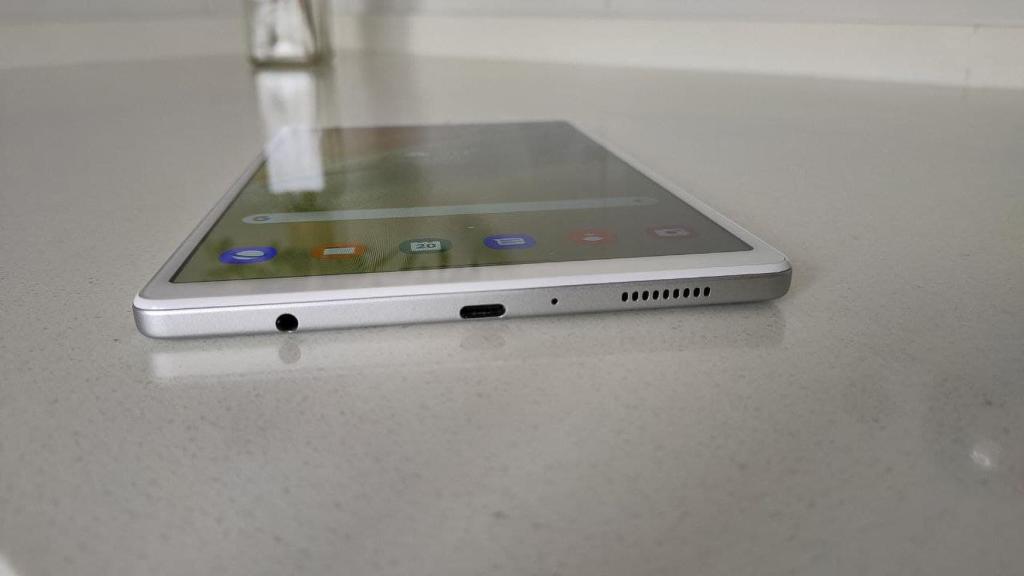 Where we find some interesting elements is in the frame that surrounds the device, starting with the headphone jack, the USB Type-C port and, above all, the stereo speakers.
The last will determine the multimedia experience what can we have using said Tablet and an addition that we will always positively appreciate on any device.
Unexpected screen on Samsung
As we mentioned earlier, the new Samsung Galaxy Tab A7 Lite has a screen of 8.7 inch, with a resolution of 1340 x 800 pixels. A resolution that on paper seems somewhat rare.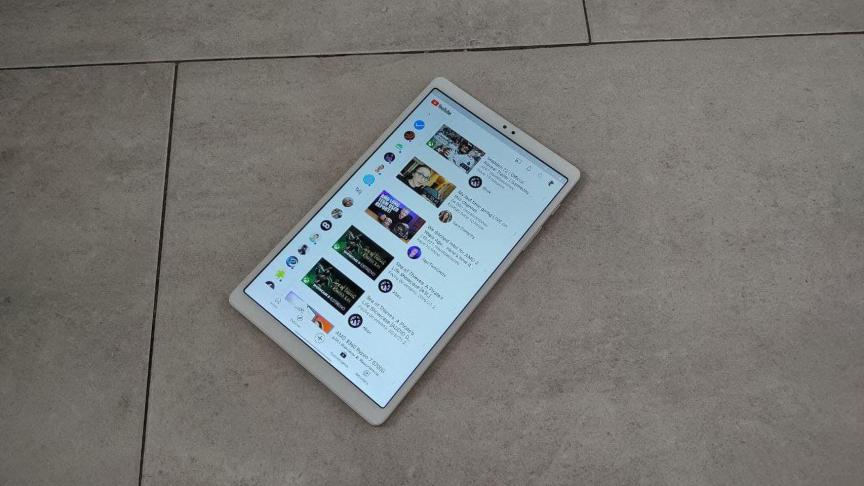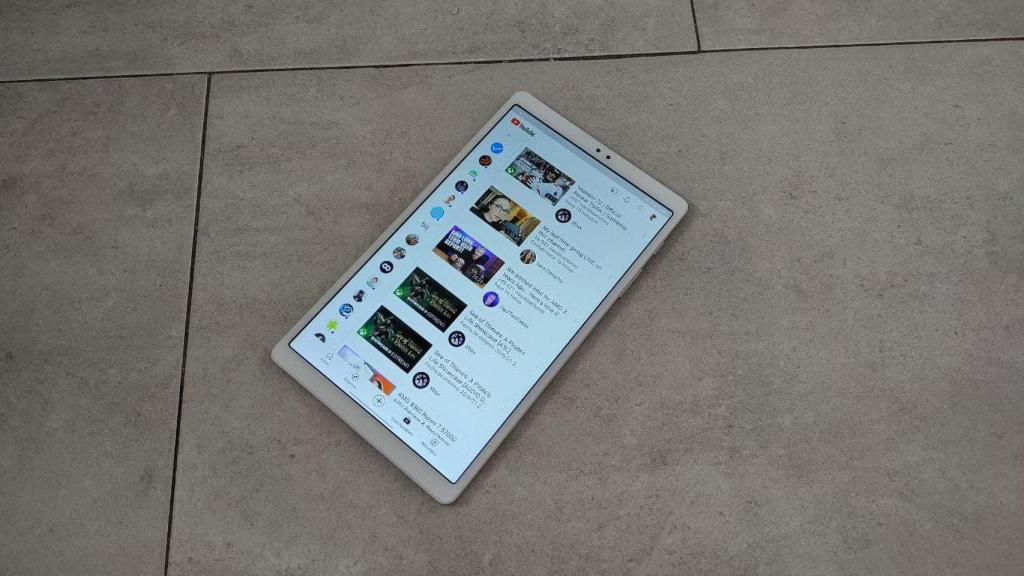 We won't find anything exotic like high refresh rates or AMOLED technology, one of Samsung's flagships. In fact, the screen in front of our eyes it's a little unexpected coming from who comes.
The color representation is correct, the viewing angles allow us to use the Tablet with a certain degree of tilt without problems. However, you notice a lack of sharpness fruit of its low resolution.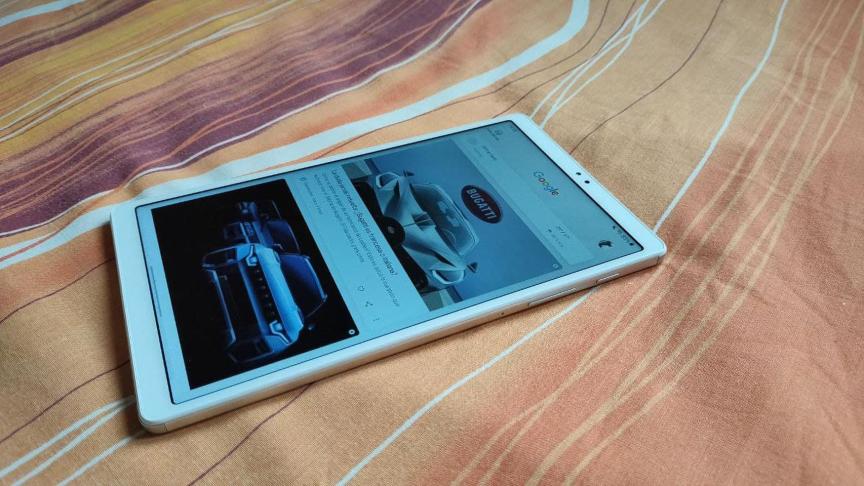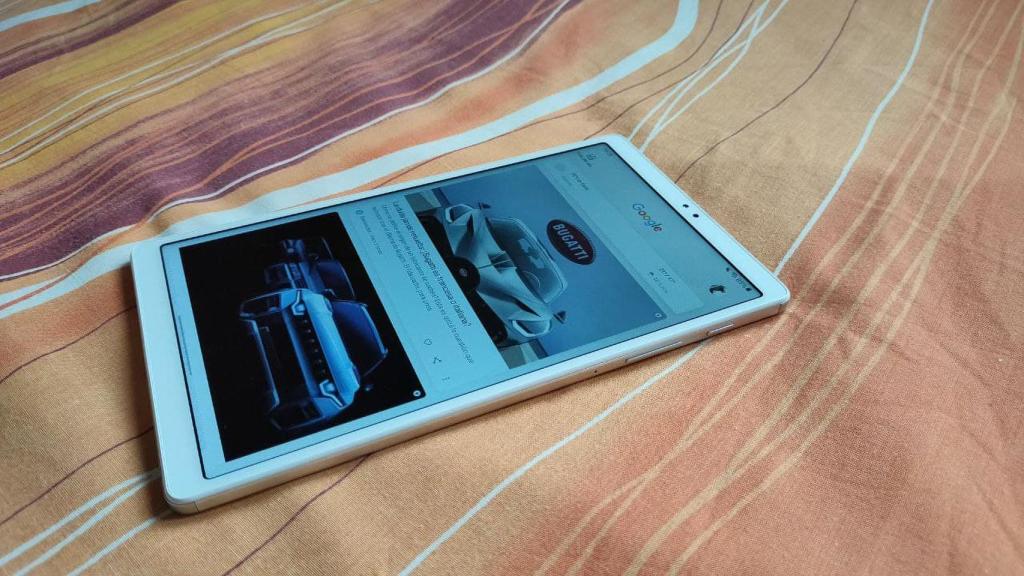 Something that becomes remarkable especially when we play certain games, because when it comes to browsing or watching multimedia content, we end up "getting used to it". We understand this is the Lite version, but have FullHD resolution would have been perfect in this one Tablet.
We have achieved one of the strengths of the device, your stereo speakers are noticeable and for good, listening to music or watching videos is a delight thanks to the immersion they provide. Too bad it is not accompanied by a screen that completes the great experience.
Performance without too many requirements
If the screen has left us with a bittersweet taste, we come to one of the aspects where the new Samsung Galaxy Tab A7 Lite raises the most questions. Your processor Helio P22T from Mediatek's hand, will he live up to it?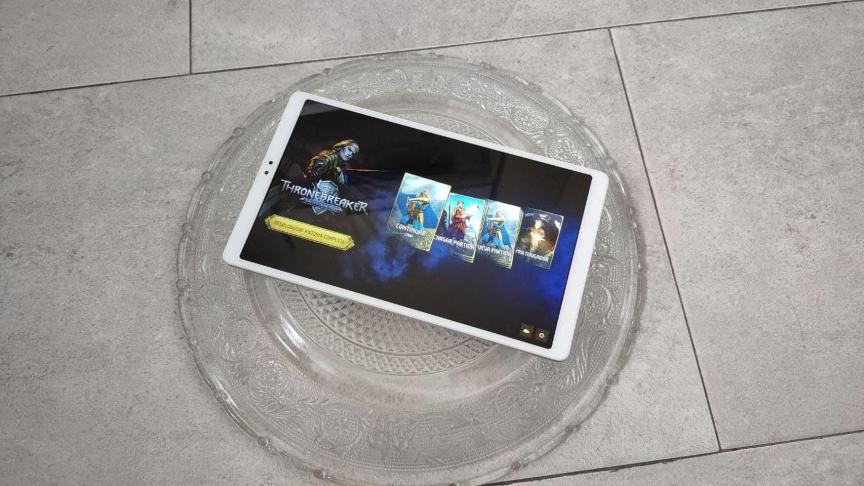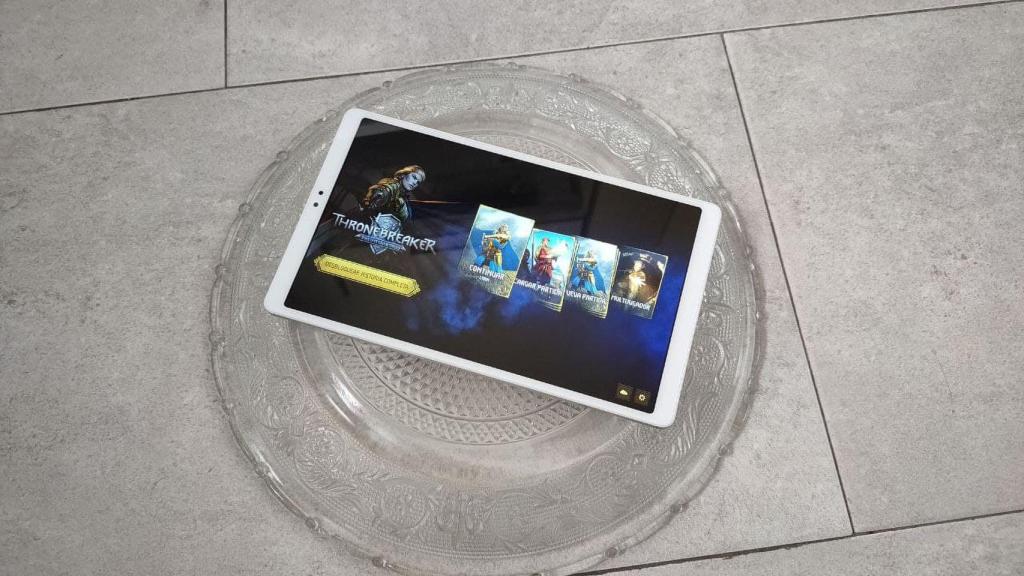 Before we solve the performance issue, we need to state that we only have one memory configuration. Specific 3 GB of RAM memory Yes 32 GB of storage
, the latter seem somewhat rare to us.
And if we can face the elephant in the center of the room, how does it behave? The reality is that it is a mixture of sensations, sometimes the experience is fluid although in a high percentage we find slowdowns and awkward response from the device.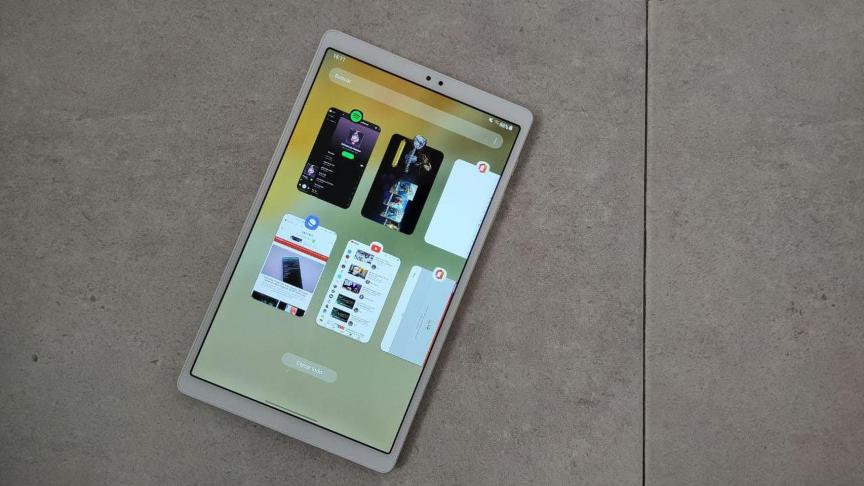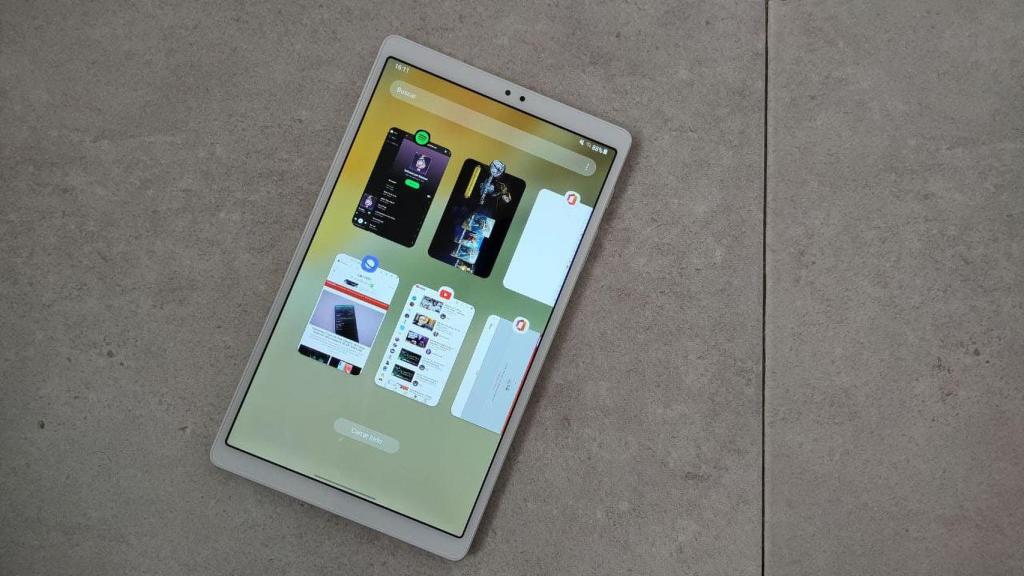 Something that doesn't improve if we get into the more fun aspect, we've tried demanding games like Asphalt 9 or Shadowgun War Games. Or the performances were very modest, touching the minimum required for a Tablet.
The feeling of moving around the interface, running apps and even playing very simple games is that you are always at the limit of your potential. Leave us doubts about your long-term performance.
Long battery life for a tablet
But all is not negative in the new Samsung Galaxy Tab A7 Lite and the section we come to is proof of that. The autonomy of our protagonist is excellent, which can make a worry-free prolonged use.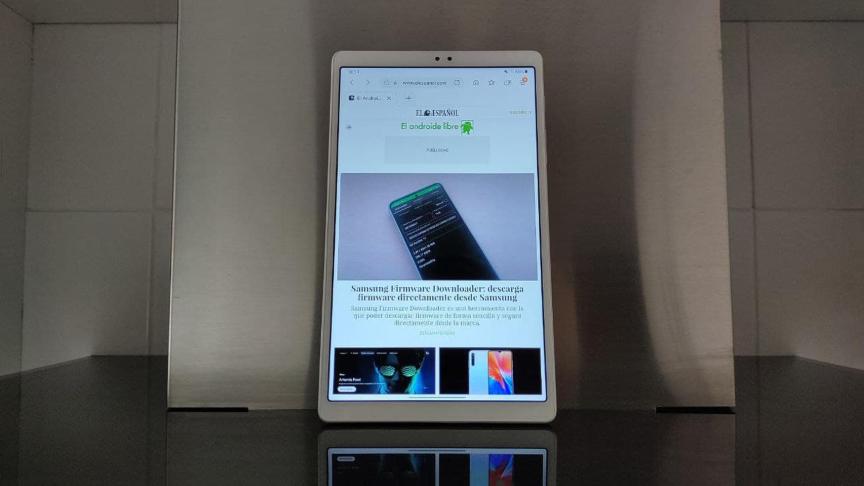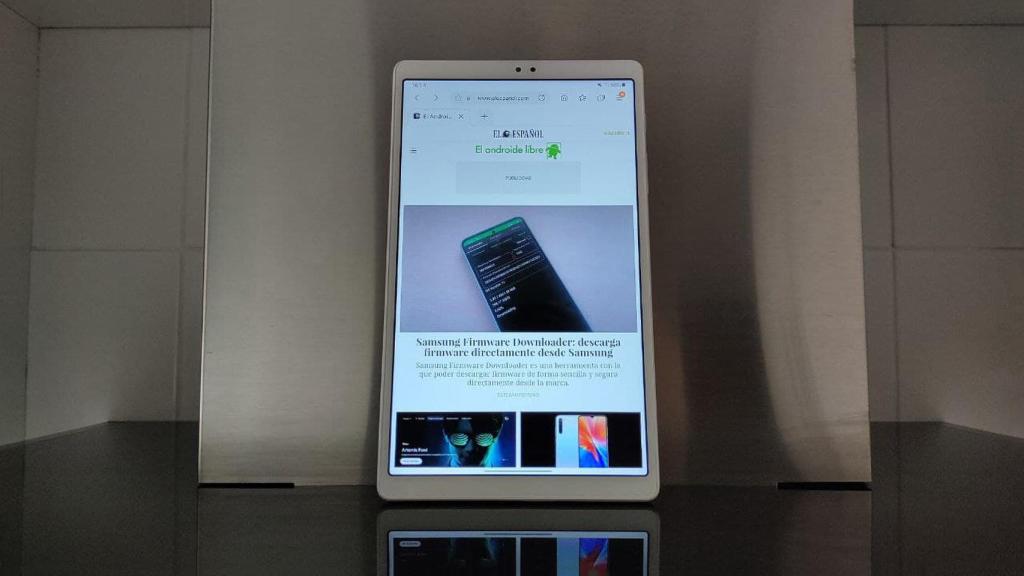 Your battery 5,100 mAh are noticeable, they are also accompanied by a Fast charge 15W. It is not as spectacular as other types of fast charging, but it allows us to have a 100% charge in a reasonable time.
The Tablet at rest it consumes almost nothing and uses it daily, we can enjoy for hours without worries. Something that contributes, unfortunately, to the low screen resolution and processor inside the Galaxy Tab A7 Lite.
Hardware overloaded software
the Software This is something Samsung has improved exponentially in recent years. And its interface User interface shows that you can have your own identity and provide a satisfying experience to the user.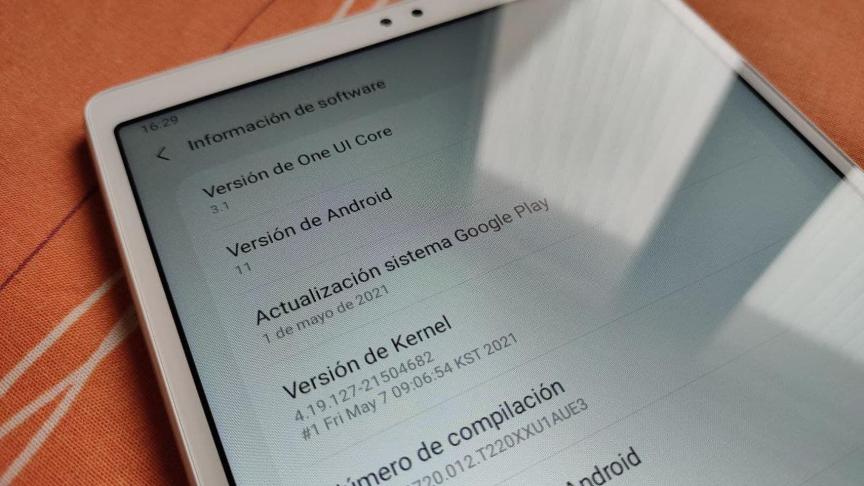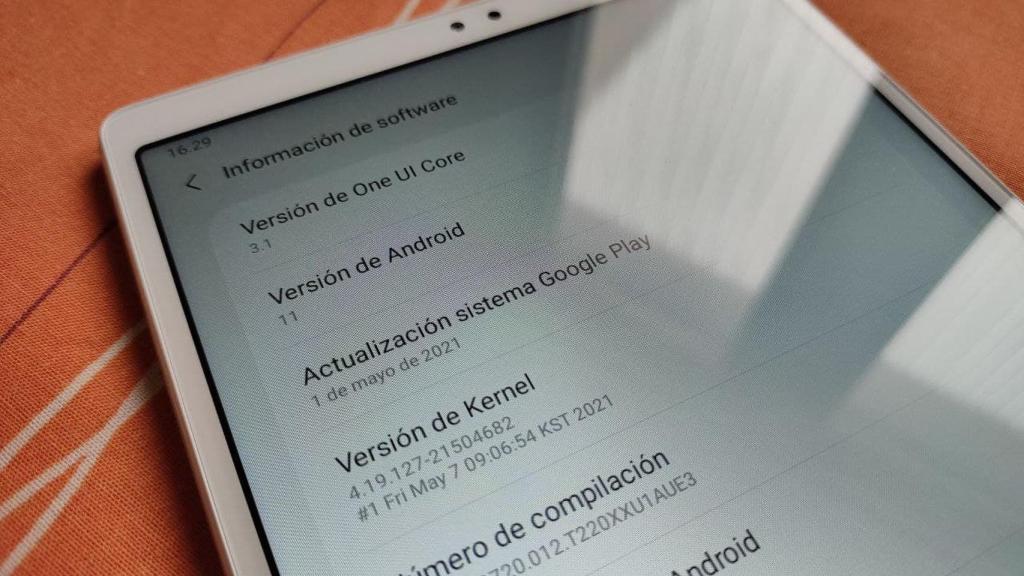 In the new Samsung Galaxy Tab A7 Lite we find A user interface kernel in version 3.1 with Android 11 run below. Have the security patch up to date April 1, 2021.
If we are talking about applications, except Netflix that we can not uninstall, we find the usual in a device of the brand. the Samsung's own, supplemented by those from Google and Microsoft.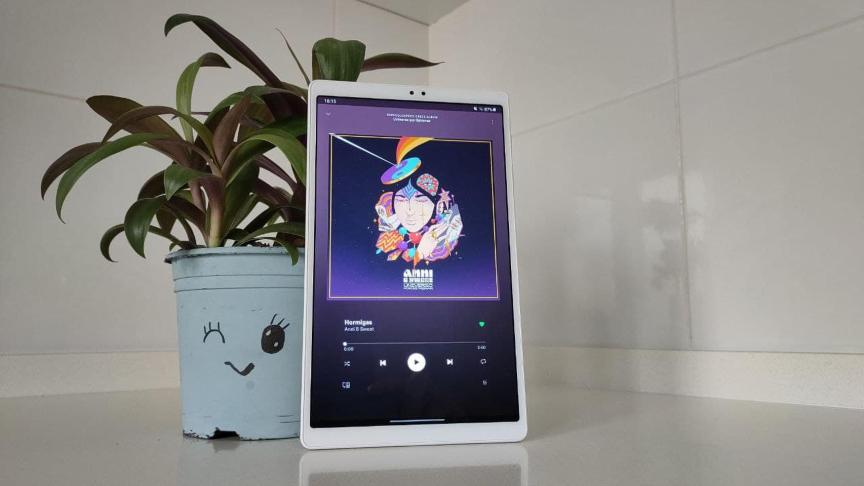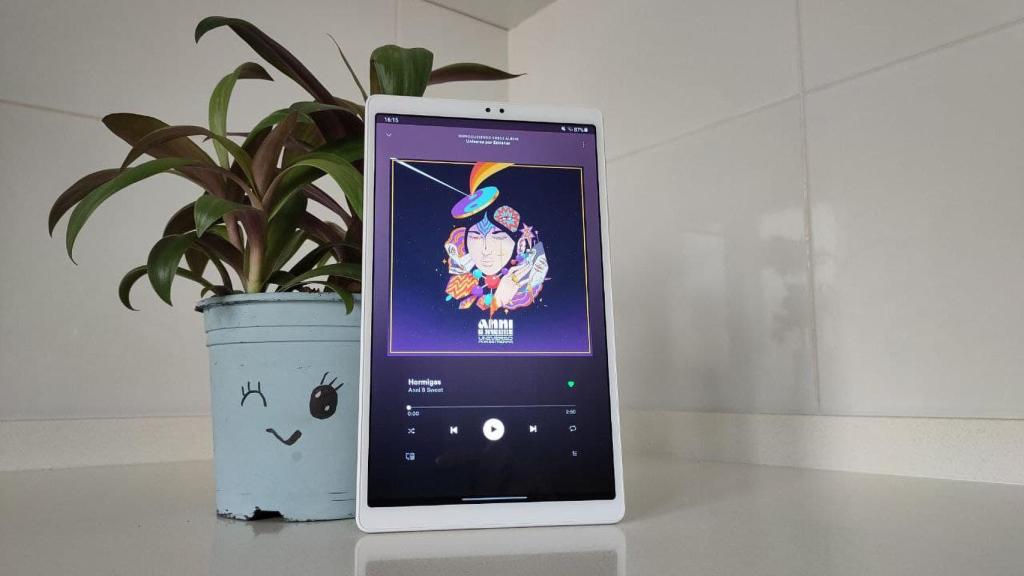 By emphasizing personalization, we have a high degree of adaptation to the user's taste. to which is added the range of options that Samsung integrates into One UI to your devices. A trademark that takes us away from the "spartan" experience that can be found in pure Android.
The the experience with One UI is really satisfactory, until we find some slowdowns or lags when running apps or navigating the interface. We assume that due to the limited performance of the processor.
Samsung Galaxy Tab A7 Lite, a big incomplete idea
As we mentioned at the start, Samsung is one of the few manufacturers that offers a wide range of tablets Android today. Be the Galaxy Tab S referent and the Galaxy Tab A its range for all audiences.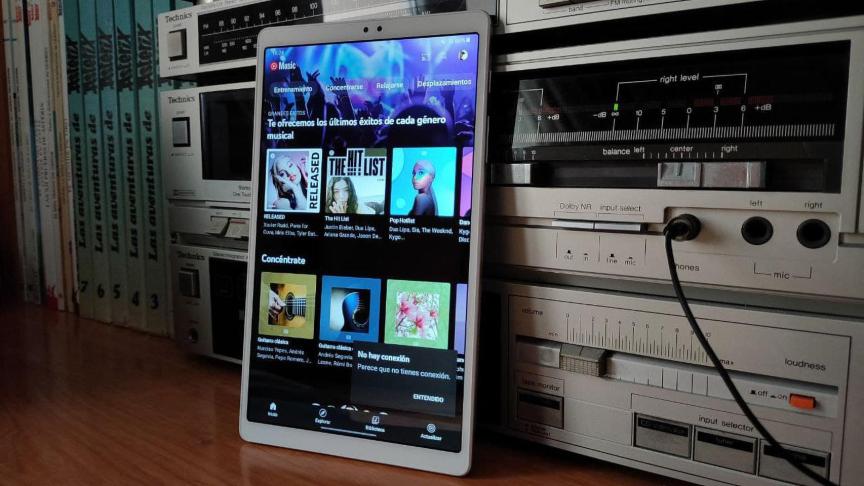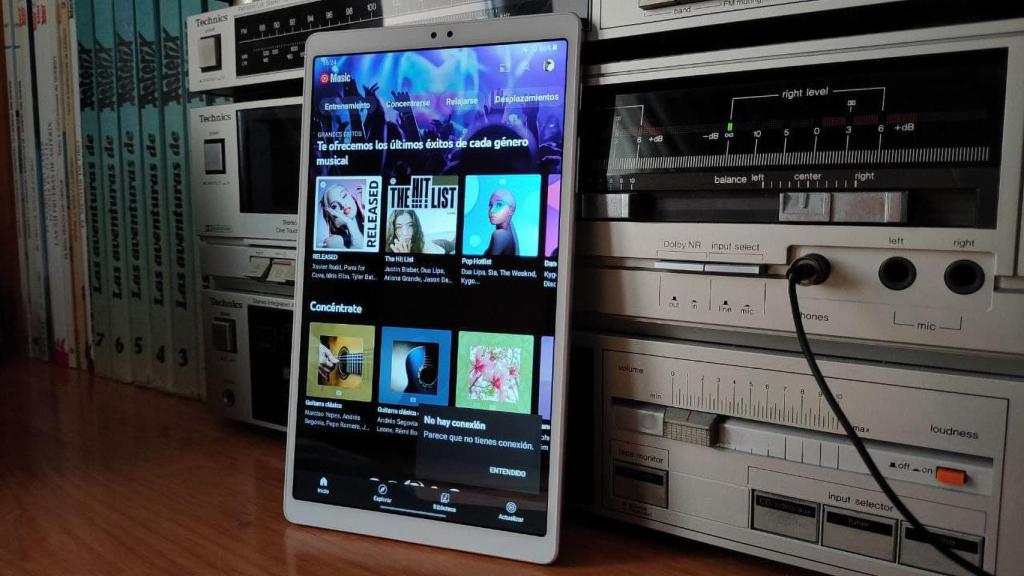 That is why we are surprised by the proposal he made in the new Samsung Galaxy Tab A7 Lite. We know Samsung knows how to do it better. There are things like lagging screen or performance provided that.
To this we add that its direct competitor is the Amazon Fire, a more balanced product and more affordable prices than our protagonist. Which makes us think that Samsung had an idea, but its execution is delayed provided that.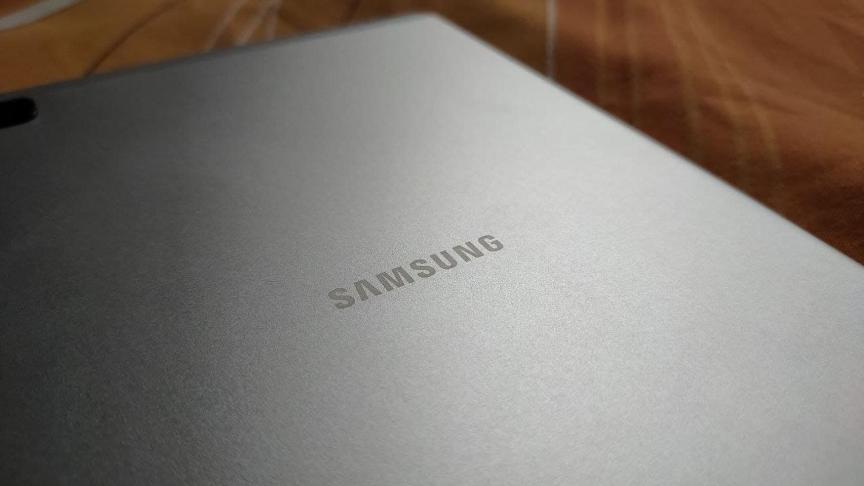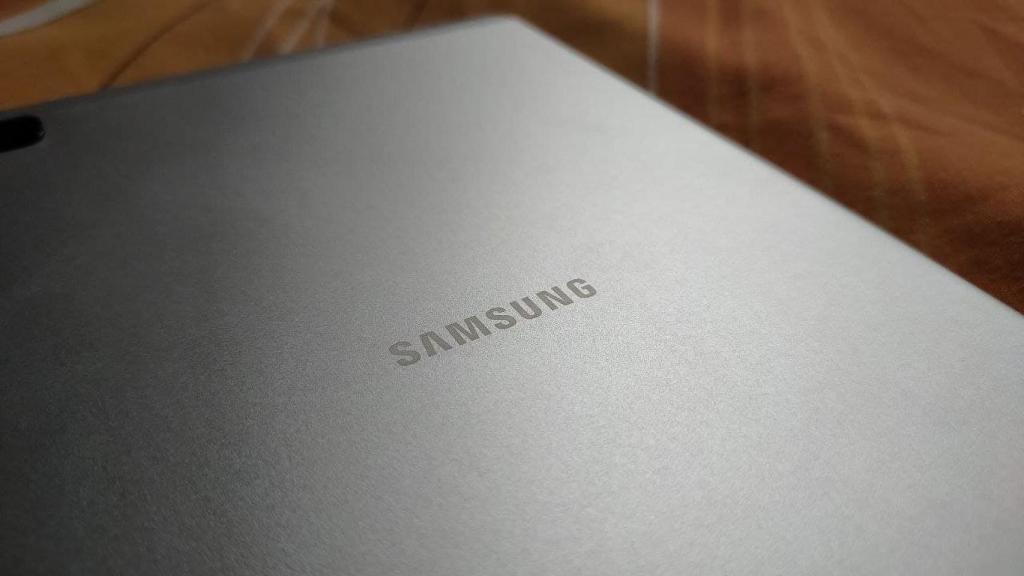 We can buy the new Samsung Galaxy Tab A7 Lite in Europe available in two colors, the payment -the analysis unit- and Grey. There is a unique configuration of 3 GB of RAM and 32 GB of storage for $ 169 on the official website of Samsung in Europe.
.