The "Feature removal" June is already here. While Apple presented in society all the news of iOS 16, Google announced the exclusive features that will arrive on your Pixel mobiles from today.
The new exclusive functions of the new 'Feature Drop' will arrive in the next few days from Pixel 4, and we find there music videos*, new wallpapers, **vaccination cards much more.
make your own music
The bone Google Pixel 5 or higher receive an exclusive new application called Pocket Operator, created in collaboration with Teenage Engineering. This curious application allows us turn everyday sounds into music
. To do this, simply make a video recording so that Google's TensorFlow machine learning analyzes and categorizes the samples to be able to create funny music videos.

Direct access to your COVID certificate
Users in Australia, Canada and the United States now have a new way to add their COVID certificate to their Google Pixel. Now they just need to take a screenshot of their digital vaccination card and Google will show a new option to add it as a **home screen shortcut**.
More useful information
Google is updating the "At a Glance" widget to show more useful information when needed. The Nest Doorbell Video Stream comes to the lock screen so you can see who rang the doorbell. This feature requires a compatible Nest Doorbell (sold separately) and the Google Home or Nest app. Also comes a new flashlight reminder which will inform us that we have the flashlight on, showing a shortcut to turn it off in case we have left it on by mistake. Soon in the United States, Australia and India will also arrive the new air quality alerts
.
new wallpapers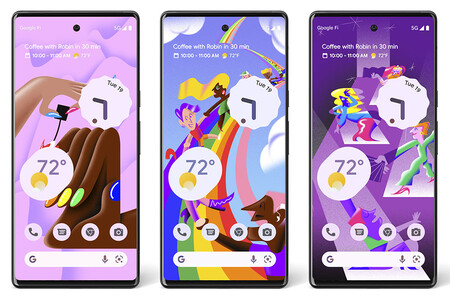 Because June is the month of Pride launched a new selection of wallpapers on the occasion of said celebration. The backgrounds were designed by illustrator Yann Bastard born in Zaragoza (Europe).
Goodbye background noise
The accessibility tool sound amplifier improve your talk mode to eliminate any background noise so the person can hear the sender more clearly. To do this we will have to use the camera to focus on the person we want to talk to. The app will tune to that person's voice to amplify it and reduce background noise.
Through | Google