We take an in-depth look at Stage Manager, or Visual Organizer, which is how the new iPad multitasking is enabled and used.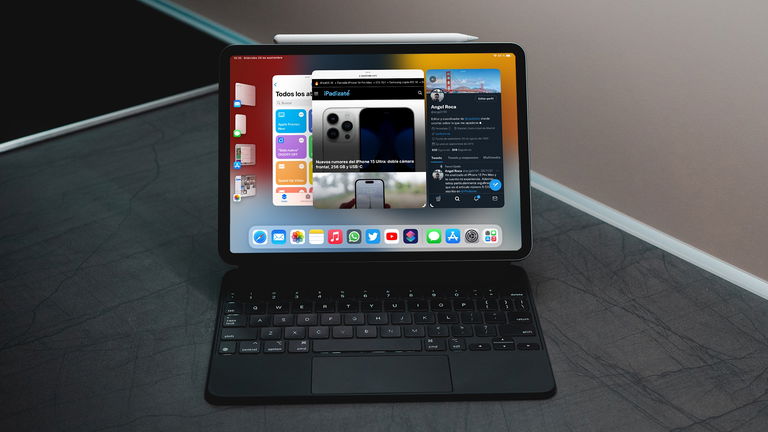 With iPadOS 16, a new way to multitask on iPad is called Stage manager, called Visual Organizer by Apple in Spanish. This new view allows us to have several application windows open at the same time on the iPad, to be able to resize the windows and to open several of them at the same time.
At first it was a function reserved for iPads with M1 chips, but it is official that it will also be compatible with iPad Pro from 2018. However, this multitasking works differently so, How to activate and use Stage Manager on iPad? We will explain it to you step by step.
Multitasking has never been easier. You can now resize windows to suit what you're doing and, for the first time on iPad, see them overlap
Activate and use Stage Manager on your iPad
It's a exclusive feature of iPadOS 16, so to use it you must have this update or newer installed. Moreover, it is a function that is not activated by default, so the first thing to do is to activate Visual Organizer or Stage manager on your iPad.
How to Activate Visual Organizer or Stage Manager on iPad
Activate it Visual organizer the manager on the iPad it's very simple and you can do it from the iPad's own settings, although we also recommend adding the button to the Control Center. Here's what you need to do:
Come into Settings and leaders at Home screen and multitasking.
to push on visual organizer.
Hit the switch Use Visual Organizer on iPad.
You can change whether you want recent apps and the Dock to show when you open Stage Manager.
Before we finish, in the settings, navigate to Control Center and Add a V isual Organizer Button

.
Once you enable this feature, either from Settings or by pressing the Control Center button, you can start using the new iPad multitasking on your device.
How to use Visual Organizer or Stage Manager on iPad
The The visual organizer or stage manager does not replace classic multitasking nor to Split View or Slide Over, it is an additional function, and that is why it is used in a special way. To access Stage Manager on iPad, follow these steps:
Make sure you have visual organizer enabled from settings or from the Control Center.
Come into any app of you iPad.
At the bottom right you will see a curved line in the corner.
slip into this line and adjust the size of the window to your liking.
You can group applications in Stage Manager drag new apps from the Dock or by tapping the 3 dots and Add another window.
For quitar apps of Stage Manager drag the first 3 points to the right or tap it and minimize.
You can exit Stage manager by pressing the control center button.
Which iPads are compatible with Stage manager or Visual Organizer
After the latest information, Stage Manager or Visual Organizer is compatible with the following iPad models. iPads with an M1 chip can display 8 apps at a time, iPads with earlier chips are limited to 4 apps at a time:
iPad Air 2022 (M1 chip)
iPad Pro 12.9″ 2021 (M1 chip)
iPad Pro 11″ 2021 (M1 chip)
iPad Pro 12.9″ 2020 (Chip A12Z)
iPad Pro 11″ 2020 (Chip A12Z)
iPad Pro 12.9″ 2018 (A12X chip)
iPad Pro 11″ 2018 (A12X chip)
These are the most amazing iPadOS 16 features you'll find
It's a new way to use the iPad, very interesting especially if you want to work with a keyboard and a mouse. Turn the iPad into a more professional device and now you know how to use it.