WiFi calls are one of the great little-known functions of Android, and activating them is a bit complex depending on the mobile we have. As usual, there is a section on "WiFi calls" in the settings of phones that support it but, for example, on Xiaomi phones, this menu is hidden.
We will show you how to reactivate this menu to configure WiFi calls on your Xiaomi, as well as to refresh you what they are and what they are for, because it is not as easy as calling by WiFi, although the name suggests.
What are VoWiFi calls
Surely you have called through WhatsApp or another messaging app before. To make this type of call, we use our WiFi, without further ado, it is not even necessary to have a SIM card in the phone. On VoWiFi calls we call with our own number, and the same price is charged as in a normal call (If you have an unlimited rate, there is nothing to worry about.
No need for mobile network coverage and you can call any phone using WiFi even if the other person is not connected to that network. The upside is that these calls don't consume megabytes of our tariff and that we can even save energy in certain situations, since at the technical level the mobile does not permanently connect to the various towers of the operator.
How to activate WiFi calls on Xiaomi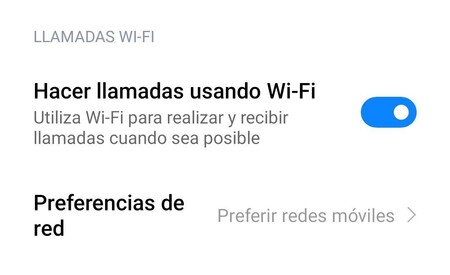 The case of Xiaomi is special, since the menu to activate WiFi calls is disabled. To activate VoWifi on your Xiaomi mobile you must follow these steps:

Open the phone app
Write this code *#*#869434#*#*
After that, a message will appear: "VoWiFi operator verification has been disabled"
Now we have to go to the phone settings
Click on "SIM cards and mobile networks"
We activate WiFi calls
It is important to stress that you need your operator to offer this service, so check before activating them. Currently in Europe, Orange, Amena, Movistar and O2 are some of the manufacturers that offer this type of call.