As every year at this time, we are about to launch the campaign to carry out Income statement for 2020. Although the project is not yet available, the Tax Agency already allows taxpayers to view tax data for the year.
How? 'Or' What? Thanks to its official application, which we can download to the mobile via Google Play. Then, we explain step by step what to do to view this data. So when you need to confirm or edit the draft in a few days, you'll be better prepared.
Your tax d ata in a few steps
For several years now, the Fiscal Agency an official app that can be obtained for free both in the App Store and in Google Play because, obviously, it is compatible with both mobile operating systems. Of course, it's important to be careful not to download any of the "bogus" rental apps that appear in app stores every year.
Once the official Tax Agency app has been downloaded (for Android 6.0 or higher), the next step is to agree to its privacy policy. The home page of the app will appear instantly, but to access any of the options you will need to identify yourself with one of the three methods available: a reference number, with the Cl @ ve PIN code or with an electronic certificate (the latter only via the browser, not the application).
If you choose the Cl @ ve PIN code (the simplest), you must enter the DNI and its validity date, in addition to the PIN you will receive in the Cl @ ve PIN application or by SMS. If you choose the reference number, you will have to put the alphanumeric code received in an SMS or a letter, or obtain the said reference after entering the number that appears in a specific box of the declaration of the previous year.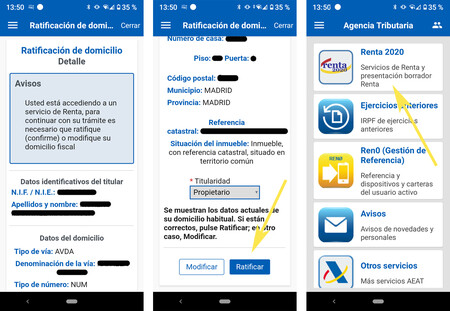 Once logged in, with your session already started, the first thing the app asks you to do is whether you change or ratify your tax address
. When you have corrected or confirmed the requested information, you will see the Home screen again. Click on the
first option (Income 2020)
and a new menu will appear with options:
Processing status: available from April 7).

Processing of drafts / declarations: available from April 7.

2020 tax data.

On appointment: available from May 4th.

Declarations from previous years– Includes returns for the past five years (2015, 2016, 2017, 2018 and 2019).

Ratification of tax domicile.

More services from Renta 2020: here you can consult a calendar with the most important dates of the 2020 revenue campaign.
As we can see, some options are not yet available, but the one we are interested in (2020 budget data) is. By clicking on it you can check what information for fiscal year 2020 does the Treasury have on you, including your data and tax address, income from work and bank accounts, help received, contributions, etc.
Tributary Agency