WhatsApp allows you to create polls in your chats, we explain how you can easily create them.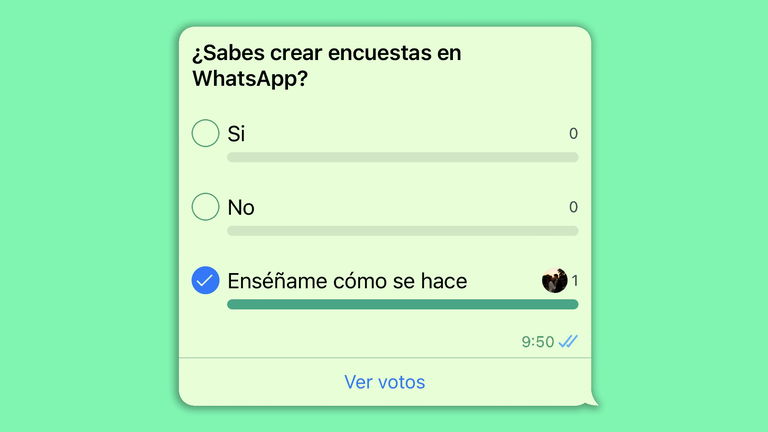 WhatsApp has been updated lately, introducing lots of new features. Among them, the reactions to the messages received or the new ways to migrate our chats from an Android smartphone to the iPhone, or from an iPhone to an Android smartphone. and recently we can also create surveys in our WhatsApp groups.

It is a function that has gone unnoticed but which can be very useful to us. A lot of groups are created specifically to make decisions

, where to dine or what gift to buy. And for this, WhatsApp polls can be a very useful and interesting option. Although you can also create a survey in a normal conversation with another user.
Here's how to create a poll on WhatsApp
Polls They are already active on WhatsApp worldwide and are available in iOS and Android versions, as well as desktop versions. Thus, you will be able to send your surveys without fear to all your contacts, all will be able to answer them.
To create a WhatsApp survey, you need to follow these steps on your device:
open the whatsapp app on your device.
Enter the chat where you want to create the survey.
hit the "+" button

to the left of the keyboard the clip on an Android smartphone.
Select Poll among the different options.
A menu will open in which we must fill in the question and answer choice fields.
minimum you have to put two answers, up to a maximum of 12.
click on Submit to send the survey to the chat.
Once the survey is sent to our WhatsApp chat, all members will be able to start voting for their preferred option. We will be able to see a progress bar and the votes that each option has had and the votes are not anonymous, anyone can see what each user has voted by pressing View Votes.
Polls will appear in a large box in the chat. In the The upper area shows the question and we have the different options below, with several points on which you can touch to vote. We can change our vote if we make a mistake or change our mind by touching another option.
How to Pin WhatsApp Chat on iPhone
WhatsApp is the most popular messaging app in the world, and although it wasn't like that in its early years, now it evolves very quickly and useful news arrives almost every month. Very good news for its millions of users.
For you